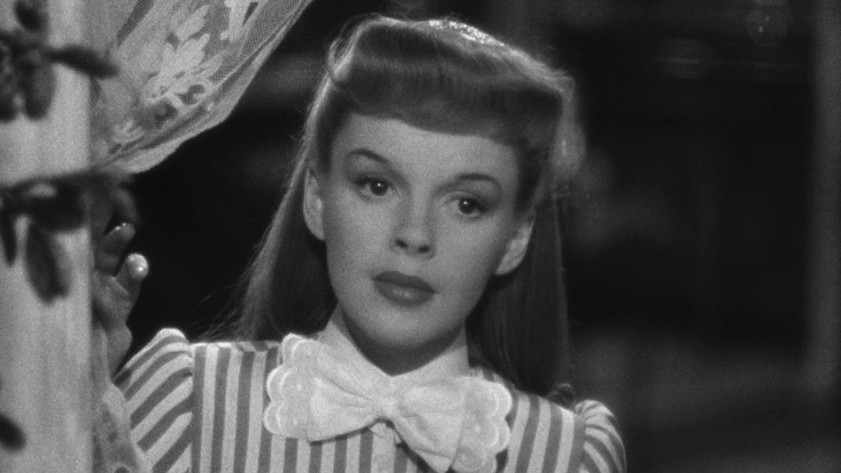 Frances Ethel Gumm, born in Minnesota on June 10, 1922, was the youngest of three girls by married couple Frank and Ethel Gumm. The family of five was settled in the city of Grand Rapids, where the former vaudeville parents had purchased a movie house. Little Frances was known only as "Baby," and at just three years old began singing with her sisters in between shows at their theater.
Searching for better business opportunities, the Gumms bid farewell to Grand Rapids and migrated across the country to California, where Frank purchased a new theater in Lancaster. There, Judy lived an average childhood for a little girl with a mother pushing her children to make it in show business. The Gumm sisters sang and danced their hearts out for performances both in California and across the country. But as time went on, it became clear that Baby Gumm was destined to become the star. She stood out among her siblings, and the audiences melted at the child's impressive, mature vocals and poignant performances.
It would be close to ten years before Judy finally got her chance at becoming a star. After a successful booking in Chicago in 1934, Judy returned to Los Angeles with a newfound confidence. In fact, it was during this trip that George Jessel gave the sisters the stage name Garland. Judy had chosen the name Judy after the song of the same name by Hoagy Carmichael. She continued perform at significant venues such as Grauman's Chinese Theater and the Cal-Neva Lodge. It was at the Lodge that Judy privately put on a chance performance for four important men from Hollywood. One of these men was agent Al Rosen, who finally convinced Ida Koverman of MGM to give Judy an audition. After vocal auditions, she was signed to the studio without a screen test. However, just as this beacon of light from MGM was shining her direction, she suffered a traumatic loss. Frank Gumm passed away just one month later as a result of fluid from an ear infection reaching his brain and spinal chord. This was a devastating loss, as Judy adored her father and was closer with him than her mother.
With the untimely passing of her father weighing heavily on her heart, Judy continued to pursue her work as an actress. She eventually landed her first role in a full-length film titled Pigskin Parade. She was disappointed in the final product, and in how she looked on screen. It was around this time that MGM began the deadly routine put upon many of its stars: taking prescription medication to control weight. At just fifteen years old, Judy was regularly consuming Benzedrine, Phenobarbital, and Seconal tablets.
By February of 1937, Judy's vocal coach, Roger Edens, saw an opportunity to utilize a studio event to showcase her vocal talent to her superiors: Clark Gable's birthday party. Using an original story and music by Carmel Myers, Edens rewrote material specifically for Judy to perform at Gable's party. That song was called "Dear Mr. Gable." She received an incredible reception from the crowd, especially from Gable himself. As a result of this event, Judy received just the boost she needed to become cast in a big feature film to be titled Broadway Melody of 1938, in which she performed the song she made famous at Gable's party that day.
Not long after, songwriter Arthur Freed was determined to find a vehicle specifically for Judy. That project became the timeless musical The Wizard of Oz. Several years prior, Mayer had bought the property where it remained in his studio's possession for years before it was decided that this would be the perfect film to center on a young, doe-eyed Judy Garland, who the public was vastly coming to adore.
Not long after Oz, Mayer awarded Judy a seven year contract at MGM. She was having a difficult time at home; her mother had recently eloped with a neighbor of the family who Ethel had been seeing even during her marriage to Frank Gumm. This was traumatizing for Judy, and distanced her even further from Ethel, who was already trying to control Judy's finances.  Her next film would be her first real adult role: For Me And My Gal. Judy campaigned for newcomer Gene Kelly to play opposite her in what would become his first picture.
It wasn't long before Judy met musical arranger David Rose. There was a large age difference; Judy was only nineteen years of age while David was thirty-one. Ethel made it known that she was against their union, but the two eventually married in the summer of 1941, a marriage that would last only a year and a half. They grew farther apart as time went on, each becoming too busy in both of their careers.
Judy then began a romance with director Vincente Minnelli beginning on the set of Meet Me In St. Louis. The two married in 1945. The first of Judy's children, daughter Liza Minnelli, was born the following March. It wasn't long before Judy was back to work at MGM, reunited with her former co-star, Gene Kelly, for The Pirate. By this time, she and Minnelli were already having difficulties in their marriage. They would remain together for only six years.
Her heavy reliance on pills made it difficult for her to appear at the sets on time. There were frequent changes in her behavior, and MGM was already putting her under enough pressure. In 1949, she was replaced by Ginger Rogers for the film The Barkleys of Broadway, and after that, Betty Hutton for the musical Annie Get Your Gun. These events would lead to her suspension from the studio, a suspension she was relieved of after just a few months of rest, to return to film Summer Stock. By 1950, she was officially fired from MGM.
Penniless with no job, Judy soon ran into manager and producer Sid Luft, who she had previously met several years before in Hollywood. They began to see each other while Judy's divorce from Minnelli was being finalized. She soon signed with the William Morris Agency, where she was thrust into the world of radio shows with big names such as Bing Crosby and Bob Hope.
In April of 1951, Judy received a tremendous reception for her stage comeback at London's Palladium, a performance that inspired a European tour. Judy became Mrs. Sid Luft in 1952, and she gave birth to second daughter Lorna that same year in November. After Lorna's birth, Judy dove straight into filming the musical remake of A Star Is Born (1954), after which her third and last child, son Joey Luft, was born.
******* With another marriage on the rocks, she struggled to pay off her debts with theater engagements after settling in London during another comeback at the Palladium. Her divorce from Luft, who had become her manager, wouldn't become final until 1965, after which she immediately began a romance with little-known actor Mark Herron, who she married that same year.
One of the highlights of her stage career came in April of 1961, when she put on a historic performance at Carnegie Hall. Still relentlessly adored by the public, she was able to reach audiences at home when CBS picked up "The Judy Garland Show," which ran for four years before it was dropped in 1964.
She divorced Herron in 1967, and in 1969, just months before her death, married night club businessman Mickey Deans. Tragically, at just forty-seven years old, Judy passed away suddenly as the result of an overdose of Seconal tablets.
"What it amounts to, really, is that I've been a little girl who hasn't quite known where she is going. But now, at least, I know. Finished? Why, I'm right at the beginning of something." –Judy Garland, 1967
Personal Connections
Judy was introduced to dangerous prescription drugs as a teenager at MGM to help her sleep, keep her awake, and control her weight. Marilyn also battled prescription drug addiction, frequently consuming large amounts of sleeping pills for her insomnia. Both women relied heavily on their therapists, and would both die from an accidental barbiturate overdose.
Both women were distant from their mother; Marilyn never saw her mother after the 1940's due to her mental illness and in Judy's case, the two only grew more apart as time went on. Ethel was overly controlling of her daughter's finances and personal life, and allowed her to be mistreated by MGM.
Judy was introduced to psychoanalysis early on in her career.. Marilyn began psychotherapy in 1952, but delved into it deeper beginning in 1955 at the suggestion of Lee Strasberg, and continued to see a therapist often throughout the rest of her life.
Judy and Marilyn even met on a few occasions. Two of which were the 1959 dinner to welcome Nikita Khrushchev to Hollywood, and the 1962 Golden Globes ceremony. In 1967, Judy spoke about Marilyn in an article for Ladies Home Journal:
"That beautiful girl was frightened of aloneness – the same thing I've been afraid of. Like me, she was just trying to do her job. To garnish some delightful whipped cream onto some people's lives. But Marilyn and I never got a chance to talk [about our struggles]. I had to leave for England, and I never saw that sweet, dear girl again. I wish I had been able to talk to her the night she died."
Marilyn and Judy had a lot in common in their personal lives, both negatively and positively. But, one thing can be said for sure about them both: neither will be forgotten. Their contributions to movies, television, and the tremendous light they gave to the world during their brief but beautiful time on this earth will live on forever.
-Ky Monroe for Immortal Marilyn