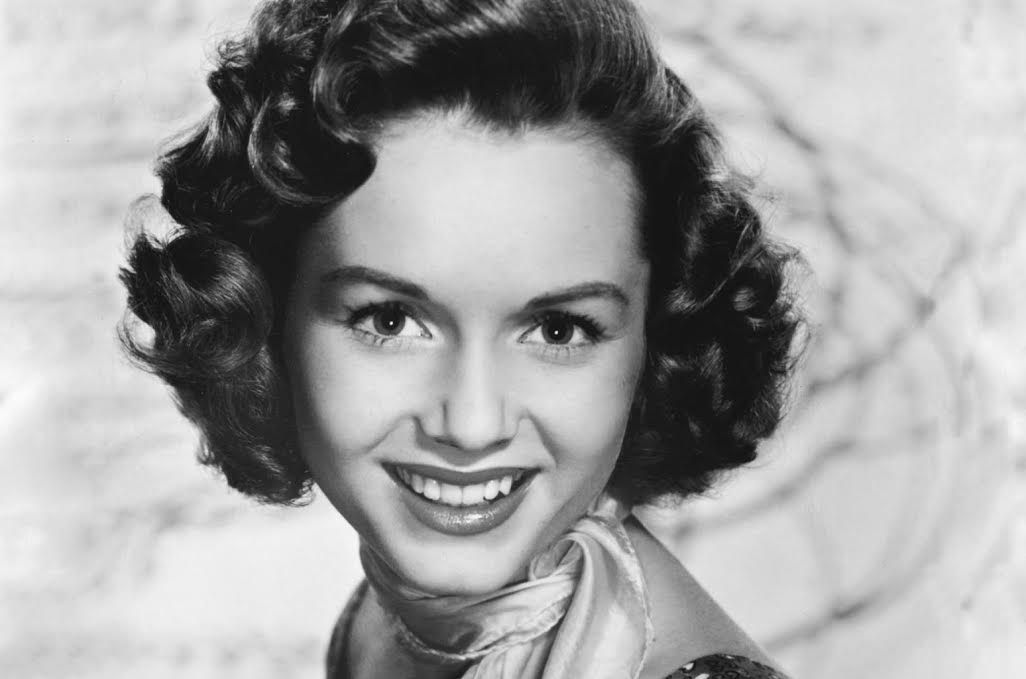 Life and Career
Mary Frances Reynolds was born on the 1st of April, 1932, in El Paso, Texas to parents Maxene and Raymond Reynolds.  Growing up during the Depression, Debbie spent the first seven years of her life in a very small house with her parents, brother William, and their grandparents. She never had her own bed, and instead to share one with her relatives. During this time, her father, who worked on the railroad, was saving up every penny in hopes of building a house to provide better living conditions for his family. That hope came true in 1939, when he purchased a lot in Burbank, California.
Although continuing to live modestly on the west coast, the Reynolds family was happier in California, and Debbie was raised with a relatively average upbringing, and even became a proud member of the Girl Scouts.
At sixteen years old, Debbie was preparing to participate in the local Miss Burbank beauty contest, upon hearing that all contestants would receive a free blouse and scarf. Debbie was only interested in the free clothes, but her parents convinced her to stick to her commitment and work for the accessories by going through with the contest. She unexpectedly won, catching the eye of talent scout Solly Baiano from Warner Brothers, who happened to be in the audience that night.
Before she knew it, young Mary Frances Reynolds from Texas was signed to a major Hollywood studio, her name changing to Debbie at the suggestion of a Warner Brothers executive, and became one of the youngest contract players on the lot at the time. From there, Debbie continued attending private tutoring to finish school, while juggling small parts in films. She appeared in bit parts in June Bride and The Daughter of Rosie O' Grady in the late 1940's before Warner Brothers began to cut back on musicals. Solly Baiano drove Debbie to the MGM lot where she auditioned for the upcoming film Three Little Words. Her talent was instantly recognized after singing and performing the same song and dance as she had in the Miss Burbank contest, and was hired at $300 a week.
After working on Three Little Words, nineteen year old Debbie was whisked away to start production on a film that would become her first big break, earning her a spot in one of  the most legendary classics of all time: Singin' In The Rain. However, the work behind the scenes was not as joyful as the final product. Debbie was new to dancing, and sweated through rehearsals for eight hours a day. Although they would become great friends and have a mutual respect for each other's'  abilities, she was driven to tears by co-star Gene Kelly for working her too hard, until Fred Astaire came to her rescue and helped her with her routines, reassuring her that "If you're not sweating, you're not doing it right." Debbie once said: "Making Singin' In The Rain and childbirth were the two hardest things I've ever done."
In 1954, while making Athena, Debbie met and fell in love with singer Eddie Fisher. A year later, the young couple married and Debbie learned she was expecting her first child. Carrie Frances Fisher was born on October 21, 1956, and in 1958, Debbie gave birth to her second child, son Todd Emmanuel Fisher, on February 24. Todd was named after producer Mike Todd, Eddie's best friend and mentor. The Fishers spent a lot of time with Mike and his new wife, actress Elizabeth Taylor, whom he had married in 1957.
Tragically, however, Mike was killed in a plane crash the following March, leaving Elizabeth, Debbie, and Eddie devastated. Not thinking much of it and wanting to help Elizabeth during this difficult time, Debbie allowed Eddie to go and stay with her and comfort her when she needed company. What resulted was one of the biggest scandals in Hollywood history. Debbie stated in one of her memoirs:
"[Elizabeth] was so devastated by Mike Todd's death that she looked for comfort in a convenient person who also was Mike's best friend. That connection made her grab on to Eddie in an attempt to get over the loss of her true love."
Although Eddie had initially not been around much as a father due to his work, Debbie still wished he would come home to her and the kids. But unfortunately, Eddie chose Elizabeth, and the two were married in 1959, after his divorce from Debbie. Despite the dramas of their past, Elizabeth and Debbie reconciled, and ended up developing a close bond that would last for the rest of their lives.
Debbie would endure two more failed marriages after Eddie. The second to Harry Karl, a successful businessman. Their marriage lasted thirteen years, ending in 1973 because of Harry's relentless gambling and cheating. The third would be to real estate developer Richard Hamlett. Debbie and Richard would be married for twelve years, and they even worked to open a hotel in Las Vegas in 1993 called the Debbie Reynolds Hotel, a place where Debbie could perform shows and finally start to realize her dream of building a museum to show off the precious movie memorabilia from her MGM days that she had begun collecting since the 1970's.
Debbie called her third marriage being "married to the devil." Not only was Richard wiping her out financially, but he was also backdating deeds to their shared estates and transferring them to his mistress. At one point, Debbie even feared for her life after Richard came home in the early morning hours from a rendezvous with his girlfriend, and Debbie confronted him. "I was sure he was going to toss me off the balcony. One shove and all his troubles would be over. I pictured myself plummeting twelve floors to the pavement."
Richard Hamlett would be her last attempt at marriage; they divorced in 1996. By then, her children were forty and thirty-eight years old. Todd had developed a successful career in the technical aspect of the entertainment industry, sound engineering, architectural design, and managing his mother's hotel. Carrie had become an accomplished writer, an internationally famous actress with her timeless role of Princess Leia in the Star Wars franchise, and also an advocate for the awareness of bipolar disorder and prescription medication addiction.
On December 23, 2016, Carrie was rushed to UCLA Medical Center after suffering a major heart attack on a flight to Los Angeles from London. She was placed on a ventilator, but the damage had already been done. She passed away five days later on December 28, at just sixty years old.
Debbie's biggest fear was her children pre-deceasing her. In her 2013 memoir, she poignantly and prophetically stated:
"It's not natural to outlive your child. This has always been my greatest fear. Too many mothers have lost their children, for thousands of different reasons. I don't know if I could survive that."
Debbie was completely devastated and broken by the loss of her daughter. The morning after Carrie's death, Debbie suffered a stroke, and passed away after being hospitalized at Cedars-Sinai Medical Center in Los Angeles, California. Her son Todd released the statement, "She went to be with Carrie."
Debbie was one of the few remaining Old Hollywood royalty we still had with us today. Her legacy has only just begun, and her memory and talent will continue to dazzle and warm the hearts of audiences around the world.
Marilyn Connections
In 2011, Debbie was forced to part with many items in her film memorabilia collection to pay off the seemingly endless debt leftover from her third marriage. She held the famous Debbie Reynolds Auction through Profiles in History. One of the hundreds of items on the auction block was Marilyn's white subway dress from The Seven Year Itch. The dress made headlines after selling for an unbelievable total of $5.6 million.
Both women were presenters at the 1951 Academy Awards.
Both women knew the pain of losing an unborn child. During the filming of My Six Loves (1963), Debbie became pregnant with her third child during her marriage to Harry Karl. She lost the baby during her pregnancy, and was forced to carry it to term for seven months, resulting as a stillborn. In the beginning of 1963, she became pregnant again, and again she learned that the baby had died during pregnancy, and this time labor was induced. "The pain was excruciating. The experience left me depleted and emotionally devastated."
In 1964, Debbie filmed Goodbye Charlie with Tony Curtis, who had worked with Marilyn on Some Like It Hot (1959). Debbie's role in Goodbye Charlie was originally offered to Marilyn in 1960.
In addition to causing problems with Marilyn in the press by making a heated comment that kissing Marilyn was "like kissing Hitler," Tony Curtis also made ridiculous claims that she carried his baby at one point, only coming forward after both Marilyn and husband at the time Arthur Miller had passed away. Curtis also caused problems for Debbie on the set of Goodbye Charlie. This was just a few years after Debbie's divorce from Eddie Fisher. Tony had been spreading Eddie's lies about her. "I didn't realize that Tony had been telling people around town that my marriage to Eddie Fisher broke up because I was a lesbian and a lousy lay. I'm not a lesbian. I may be a lousy lay, but Eddie was my first love."
Both Marilyn and Debbie have faced many hardships in life, and both will always be remembered for how strong they truly were. Both were raised in the heart of Hollywood, in and out of a studio every day in their adult lives. Debbie has always had nothing but respectful things to say about Marilyn, and her relentless efforts for the preservation of Hollywood memorabilia will never be forgotten. Both trailblazing women have earned iconic status in their own right, and will continue to be cherished for their contributions to film and to the world for generations to come.
-Ky Monroe for Immortal Marilyn