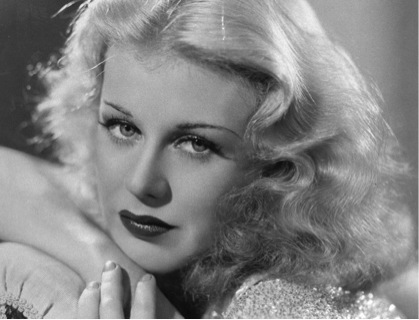 Life and career
In most cases, up-and-coming stars modify their birth names to something catchier with the help of their studio heads. This was not the case for Ginger Rogers, born Virginia McMath on the 16th of July in 1911. When her cousin Helen was a toddler, she had trouble saying the name "Virginia," so instead began saying "Ginga," and the rest is history.
Ginger's parents, William McMath and Lela (Owens) McMath were estranged before Ginger was born. William even attempted to kidnap his daughter on two occasions, succeeding the first time. Little Ginger went missing for several days, but with the relentless praying and sleuthing conducted by her mother and the town of Independence, Missouri, she was located at her father's parents' house in Kansas City. Her mother remarried to John Logan Rogers in 1920.
"My mother told me I was dancing before I was born."
Ginger's career began in 1925 when a fellow schoolmate taught her how to perform the popular dance of the 20's: the Charleston. Ginger performed remarkably well, which prompted her to enter a Charleston dance contest. The competition brought her to Fort Worth, Texas, where she claimed victory and was offered a chance to perform in the Interstate circuit for four weeks. Later, after getting together with a small group of friends, the stage act "Ginger and the Redheads" was formed. At fourteen years old, Ginger and her trio traveled across the country from 1925 to 1928 performing shows at several theaters. Once they disbanded, Ginger continued to pursue more roles onstage and began getting more and more noticed. Through this, she gained valuable stage experience.
After catching the eye of Walter Wagner of Paramount and being screen tested, Ginger was signed to a seven year contract in January of 1930. Her first film under a major studio was Young Man of Manhattan (1930). She soon divorced Jack Pepper, whom she had married at seventeen, the first of her five eventual divorces. In June of 1931, she was contacted by a producer at RKO who was interested in signing her on for a picture for Pathe Exchange. After successfully cancelling her contract with Paramount, she was off to Hollywood, bringing her strong-hearted mother, who also acted as her manager, with her.
It was there in 1933 that Ginger began her legendary on-screen partnership with Fred Astaire. Beginning with Flying Down To Rio and ending in 1939 with The Story of Vernon and Irene Castle, the handful of Astaire-Rogers productions that were made went down in history. These days, rumors love to circulate about the true nature of their relationship, but the truth is that they were only close friends. Years before working together, Fred and Ginger did go on a date after they met in New York, but nothing serious came of it. Both had a mutual respect for each other's work, and by the time they were reunited in Hollywood, Fred was married to Phyllis Potter, who wouldn't even allow them to kiss on screen. Although the dancing duo eventually parted to pursue more diverse roles with different co-stars, they will forever be remembered as two of the most beloved dancers in cinema history.
Once her memorable stint with Fred was completed, she moved on to receive more parts in comedies and dramas rather than TV musicals. In 1941, she won an Oscar for her performance in Kitty Foyle. Throughout the rest of her career, she appeared in countless films, not to mention a long list of stage productions and several television spots. In 1971, she performed the Charleston for the first time in decades for a television episode of Lucille Ball's Here's Lucy. She divorced five times, the cause most often because of her spouse's problem with alcohol. Ginger was raised with a prominent Christian Science background which she practiced and carried her entire life. She was adamantly against drinking and serving alcohol. Instead of beer, the bar at her Hollywood home served ice-cream soda.
Her final film performance was in the 1965 film Harlow, in which she played Jean Harlow's mother. Her last public appearance was in 1995, when she was honored with the Women's International Living Legacy Award. That year, she suffered a stroke, leaving her wheelchair bound. As a believer in Christian Science, she chose not to receive modern medical help. She passed away of a heart attack on April 25, 1995.
"Looking back at my life's voyage, I can only say that it has been a golden trip. A thousand words are not enough to express my gratitude for the excitement, glamour, adventure, and infinite variety I have experienced."
Marilyn connections
Billy Wilder – Directed Ginger in his first American film The Major and the Minor (1942). Directed Marilyn in The Seven Year Itch (1955) and Some Like It Hot (1959).
Jean Louis – A favorite designer among both women. He worked with both for several years.
Harry Cohn – Terminated Marilyn's contract with Columbia. Paid to test Ginger in the early 30's but did not sign her. Ginger was disgusted by the passes he made at her. "I stood up fearlessly to his advances by reminding him that I knew his wife."
Christian Science – Marilyn was surrounded by the influence of Christian Science beginning in her early teen years. Her mother became a Christian Scientist once she was introduced to the belief system by Marilyn's Aunt Grace and Aunt Ana, who were also believers. Lela Rogers was an adamant Christian Scientist, and Ginger was raised the same way from birth. She carried her faith with her throughout her life.
Misquoting – Although Ginger isn't misquoted nearly as much as much as Marilyn is, she does occasionally fall victim to her name being wrongly attached to phrases she did not say. The most popular example would be "I did everything [Fred Astaire] did, but backwards and in high heels." A clever and true quote, but one that has relentlessly been attributed to not only Ginger herself, but a plethora of other individuals. This quote originally comes from a newspaper comic by Bob Thaves.
While Marilyn and Ginger never became close friends, they worked well together on two films, Monkey Business (1952) and We're Not Married (1952). Both actresses also did not have children.
In her 1991 autobiography, coincidentally titled Ginger: My Story, Ginger tells of a time in which she was at work for 20th Century Fox on Black Widow while Marilyn was in the middle of filming There's No Business Like Show Business. According to Ginger, Marilyn stopped by her dressing room one day for a visit, and recalled Marilyn getting slightly emotional and teary-eyed when Ginger asked how things were going with Joe DiMaggio, who Marilyn had been newly married to. Another memory with Marilyn is one Sunday morning when Ginger was attending her regular church on North Crescent Heights Boulevard in Los Angeles. Upon looking towards the back, she observed Marilyn seated in the last row.
"It was the only time I saw her there. Perhaps if Marilyn had become seriously interested in this way of thinking, the tragic end of her life might have been avoided."
Ginger Rogers will always remain one of the brightest stars of her time, as will Marilyn Monroe. Although Ginger is most commonly remembered as the dance partner to Fred Astaire, she rightfully earns her spot as one of the most talented actresses on the silver screen for her large variety of other film credits. She will continue to illuminate screens across the world with her grace, talent, and loveable charm for generations to come. Both Ginger and Marilyn have earned iconic status in the hearts of millions in their own unique way.
-Ky Monroe for Immortal Marilyn