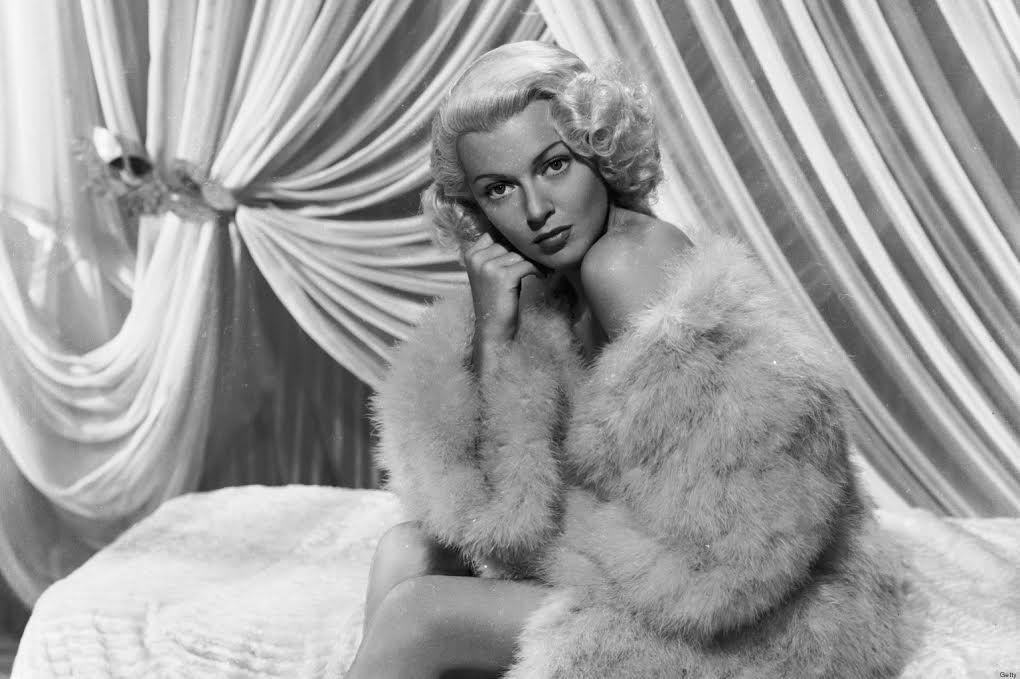 Life and Career
Lana was born Julia Jean Turner of Wallace, Idaho in 1921. Her father was murdered in 1930, and a year later, she moved to Los Angeles with her mother. Turner's 'discovery' – while sipping a Coke at the soda fountain outside the Top Hat Café on Sunset Boulevard and after skipping a typing class – is the stuff of legend. She was just sixteen years old. Billy Wilkerson, publisher of the Hollywood Reporter, was struck by her youthful good looks, and in 1937 she was signed by MGM under a new name, 'Lana'.
While initially more celebrated for her looks than her acting, Lana proved her critics wrong with a dramatic turn as an alcoholic starlet in Ziegfeld Girl (1941.) Perhaps her best-known performance is as the adulterous Cora Smith in the classic thriller, The Postman Always Rings Twice (1946.)
Turner married seven times, and once said of her many failed relationships, "I'm so gullible. I'm so damn gullible. And I am so sick of me being gullible." In 1957, her teenage daughter was charged with stabbing Lana's boyfriend, gangster Johnny Stompanato, to death after she found him beating her. It was later ruled as justifiable homicide.
She earned acclaim for her performances in The Bad and the Beautiful (1952), Peyton Place (1957), Imitation of Life (1959), and Madame X (1966.) Turner's career continued until the early 1980s, when she acted in TV soap opera Falcon Crest. She died in 1994.
Marilyn Connections
Sweater Girls: In her movie debut, They Won't Forget (1937), Lana played a character loosely based on Mary Phagan, whose murder in 1913 led to the lynching of an innocent man. Lana's first scene, in which she walked down a street wearing a form-fitting top, led to her being labelled 'The Sweater Girl', a name she detested. This trend was later adopted by Marilyn. She joked about it during a performance for US troops in 1952: "You fellows are always talking about sweater girls. I don't know what the fuss is about. Take away their sweaters and what have they got?"
Mickey Rooney: Another of Lana's early films was Love Finds Andy Hardy (1938), with Judy Garland and Mickey Rooney, America's most popular young star at the time. In his 1991 autobiography, Life is Too Short, Rooney claimed that he and Lana had an affair and that she aborted his baby. "Mother was livid and adamantly denied it," Cheryl Crane noted. "I know that it was very important to her to fight this accusation because she even phoned her attorney … If Rooney's story had been true and she wanted to keep it a secret, it would have been more like her to act as though he didn't exist."
Rooney also claimed an affair with Marilyn, and even that he invented her name. In the latter case, it is well-known that her name was created in 1946 by Marilyn herself and the Fox talent chief, Ben Lyon. ('Marilyn' was inspired by a Broadway star of the 1920s, Marilyn Miller, while 'Monroe' was the maiden name of Marilyn's own mother.
MGM: As her career rocketed during the early 1940s, Lana was managed by Johnny Hyde, "a dear friend for years" according to Cheryl Crane. In 1949, Hyde met Marilyn in Palm Springs, and was instantly smitten. "He said that he had discovered Lana Turner and other stars," she recalled, "and that I had more than Lana and it was a cinch I would go far."
Marilyn had sought an MGM contract as early as 1947, while under the management of Lucille Ryman Carroll, a talent scout for the studio. Ryman had earlier served as a mentor to Lana Turner. But with Lana on their payroll, the studio didn't need another sexy blonde. Then in 1950, Johnny Hyde secured a breakthrough role for Marilyn in MGM's The Asphalt Jungle. All that year, Hyde tried to negotiate with Dore Schary to take on Marilyn permanently. But though Monroe would make two more films for MGM – Right Cross and Hometown Story – Schary wasn't interested.
When Lana's career began, MGM was Hollywood's most lavish studio. Marilyn, on the other hand, made her name at Fox during the 1950s, when the studio system was in decline. She never enjoyed the protection that stars of Turner's generation had.
In 1951, Dore Schary replaced Louis B. Mayer as head of MGM. Lana felt unsupported by Schary, and left the studio for good in 1956.
Drama Queens: Turner was generally cast in romantic dramas, but Monroe also shone in comedies and musicals. Of all the roles she played, the most similar to Lana's characters was that of amoral Rose Loomis in the film noir, Niagara (1953.) Like Cora in The Postman Always Rings Twice, Rose persuades her lover to murder her husband. While Niagara was not as compelling as Postman, it looked spectacular and in one famous scene, Marilyn was filmed taking the longest walk in cinematic history.
Lana was also famed for her style of walking. "She would try to teach it to me, but I never quite got the hang of it," Cheryl Crane admitted. "It was a manner of twisting the ball of the foot with each step. One unusual feature of hers that had an effect on it was that her left leg was a bit shorter than the right … She also wore high heels, usually four inches, sometimes with platforms. Hers was a rolling, subtle kind of glide, not a hip-swinging Marilyn Monroe walk."
Dancing Girls: Though Lana, unlike Marilyn, was not an outstanding singer, she danced superbly and was once nicknamed Hollywood's 'Nightclub Queen'. In The Merry Widow (1952), she worked with choreographer Jack Cole. "The Waltz musical sequence featured a chorus of beautiful dancers dashing about all in pink," author Cindy De La Hoz observed. "It appears Cole looked back to his work in these moments the following year in his choreography of Marilyn Monroe's 'Diamonds Are a Girl's Best Friend' number" (in Gentlemen Prefer Blondes.)
Betty Grable: From the 1940s onward, Lana was friendly with another glamorous blonde, Betty Grable. 'At the height of their fame, fans who ran into them would mistake them each other occasionally,' Cheryl Crane revealed. 'Mother happily obliged them with a "Betty Grable" autograph.' Monroe, who was often shy around others, nonetheless bonded with Grable when they starred together in How to Marry a Millionaire (1953.)
Otto Preminger: Marilyn's 1954 western, River of No Return, was by her own estimation, "a grade-Z cowboy movie." Director Otto Preminger bullied Monroe, and she reputedly considered him 'a pompous ass'. In 1958, Lana was offered a role in one of Preminger's best films, Anatomy of a Murder. After clashing with Preminger over her wardrobe demands, however, Turner rejected the part, and later reflected, "God forbid my family should ever be so hungry that I have to work for him."
Clark Gable: In 1941, Lana starred alongside the 'King of Hollywood', Clark Gable, in Honky Tonk, a western which became MGM's highest grossing movie that year. She and Gable were featured on the cover of Life magazine, and went on to make three more films together. Gable and Turner were branded 'The Team that Generates Steam'. In 1942, while they were filming Somewhere I'll Find You, Gable's wife, actress Carole Lombard, was killed in a plane crash. Gossip spread that Lombard had taken an early flight because she was nervous about leaving Gable 'alone with Lana Turner,' which she denied.
Gable was one of Marilyn's childhood idols, and she realised her dream of working with him with The Misfits in 1960.  Sadly, it was to be the last film either star would complete. Gable died of a heart attack shortly after filming ended, and Marilyn was devastated by reports that Gable's widow, Kay Spreckles, blamed his collapse on Marilyn's erratic behaviour during filming. But Kay later reassured Marilyn by inviting her to the christening of Gable's son.
Children: Lana's chronic endometriosis made her unable to have more children, but she remained close to daughter Cheryl throughout her life. Marilyn, who also suffered from endometriosis, endured at least two painful miscarriages and would never have children of her own.
Legends: In Lana: The Memories, the Myths, the Movies, co-written with Cindy De La Hoz (author of two books on Monroe), Cheryl Crane states that her mother "thought Marilyn Monroe was a fine actress besides being a fascinating personality."
Marilyn's death is considered one of Hollywood's greatest tragedies. While Lana never found lasting love, ultimately she survived. Both women came from humble backgrounds, and achieved immense fame through their beauty and talent. Like so many sex symbols, they were rarely given the respect they deserved, and their difficult private lives contrasted poignantly with the upfront glamour they projected.