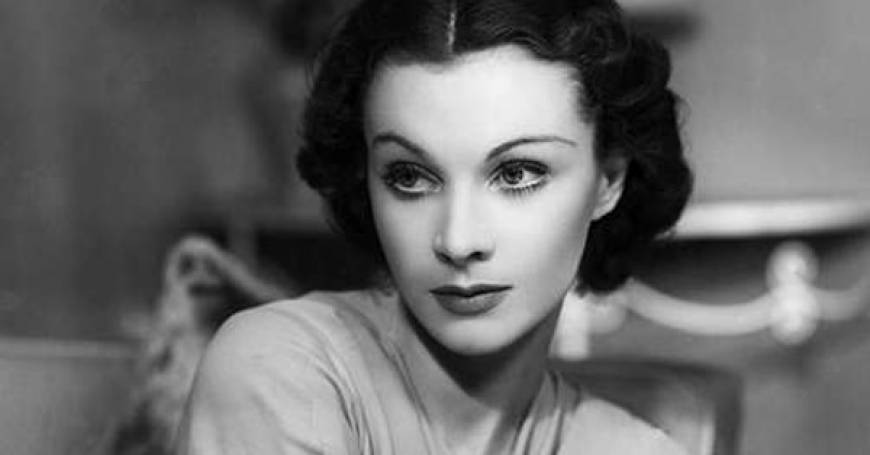 Life and Career
Vivian Mary Hartley was born in 1913, in Darjeeling, India, where she took to the stage for the first time at the age of 3 to recite Little Bo Peep.  She travelled around Europe with her parents and was educated in multiple schools in locations like London and Paris.  In 1931, the family settled back in England, and Vivian began her efforts to be an actress in earnest.  She enrolled at the Royal Academy of Dramatic Art that same year, and also met the man who would become her first husband, Leigh Holman.  They were married in 1932.
Although marriage and the birth of daughter Suzanne took her away from acting, she was drawn back.  A small role in the film Things Are Looking Up led to an agent and a new name: Vivien Leigh.  She soon after took a stage role in The Mask of Virtue, and it was in this play that she caught the eye of actor Laurence Olivier.  It was the beginning of one of the great love stories in Hollywood history.
By the time Vivien and Laurence appeared together in Fire Over England in 1937, their friendship had developed into an affair; both were still married.  Vivien had read the novel Gone With the Wind and set her sights not only on Olivier, but on the most coveted role in Hollywood.  As David O'Selznick hunted for his Scarlett, Vivien's star was on the rise.  She appeared in multiple stage productions and films, gaining notice in America.  When Olivier headed to America to film Wuthering Heights, Vivien followed, and presented herself as the future Scarlett O'Hara.  The rest, as they say, is history.
With filming already underway, Vivien threw her hat in the ring and won the role of Scarlett O'Hara in Gone With the Wind opposite Clark Gable, in spite of having been previously considered "too British" to play a Southern Belle.  She would win the Best Actress Oscar award for her role, and became one of the biggest stars in the world.
In 1940, both Vivien and Laurence divorced their spouses, and were promptly married in California.  Devoted to each other, the two aimed to take on as many projects together as possible, both on the stage and in films.  While both enjoyed film success, their hearts were in the theatre.  In 1947, when Olivier was knighted, Vivien Leigh became Lady Olivier.
Leigh won her second Academy Award for Best Actress in A Streetcar Named Desire in the role of Blanche DuBois, which she had previously played on the stage.  It was 1951, and a young actress named Marilyn Monroe was rising to stardom.  Meanwhile, troubles were ahead for Vivien Leigh.
Previously diagnosed with tuberculosis (which didn't stop her from a lifelong smoking habit), Leigh now faced mental illness.  In 1953, she had a breakdown on the set of Elephant Walk.  She was replaced by Elizabeth Taylor in the film.  Olivier took her home to England, where she faced months of recovery.  Later that year, she recovered enough to return to the stage opposite Olivier in The Sleeping Prince.  Three years later Olivier would film the movie version with Marilyn in the role originated by his wife on the stage.
During this same time period, a miscarriage led to another period of mental trouble for Leigh.  She had been diagnosed with manic depression, and her marriage to Olivier was nearing the end.  They divorced in 1960.  Vivien would battle mental illness for the rest of her life.
Vivien continued to have success on the stage and screen, winning a Tony Award in 1963 for Tovarich.  In 1965, she made her final film appearance in Ship of Fools.  Two years later, tuberculosis claimed her life at the age of 53.
Marilyn Connections
Vivien Leigh's most obvious connection to Marilyn was The Prince and the Showgirl, the film version of The Sleeping Prince which starred Marilyn opposite Laurence Olivier.  The strain in the Olivier marriage was already evident during filming, and Leigh's mental illness no doubt had an impact on the difficulties that plagued the set.  In 1960 Vivien stated in an interview that it was her idea to cast Marilyn, having seen How to Marry a Millionaire:
"I thought, heaven help me, that she was very funny. I said to Larry: This girl is wonderful in comedy"
Aside from that movie, Vivien and Marilyn had other connections.  Vivien famously starred opposite Clark Gable in Gone With the Wind – Marilyn would star opposite him in The Misfits.  Another Gone With the Wind co-star, Rand Brooks (Charles Hamilton) starred opposite Marilyn in her first starring role in the film Ladies of the Chorus.
In A Streetcar Named Desire, Vivien starred opposite Marilyn's friend and Actor's Studio colleague, Marlon Brando.  The film was also directed by Marilyn's friend Elia Kazan.
The original director of Gone With the Wind was George Cukor, who would go onto direct Marilyn in Let's Make Love and her final unfinished film, Something's Got to Give.  Unlike Marilyn, Vivien was said to have gotten along well with Cukor.
Like Marilyn, Vivien frequently felt that her beauty kept her from being taken seriously as an actress:
"People think that if you look fairly reasonable, you can't possibly act, and as I only care about acting, I think beauty can be a great handicap, if you really want to look like the part you're playing, which isn't necessarily like you."
Both women faced a struggle with depression, and both also suffered from severe insomnia.  Like Marilyn, Leigh's mental illness put serious strain on her marriage and was a factor in her divorce from Olivier.  Sadly, both also passed away too young.
-Leslie Kasperowicz for Immortal Marilyn