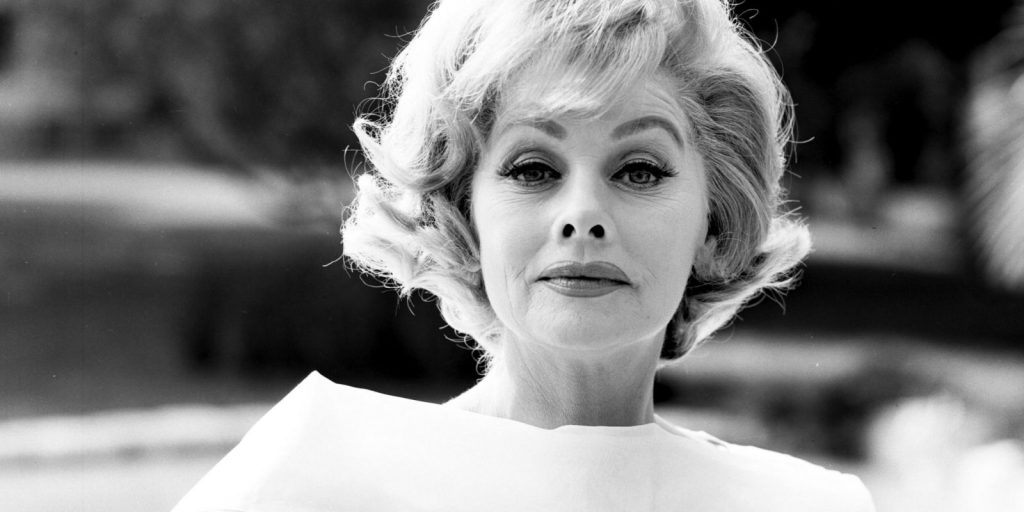 Before the world's most iconic blonde came the world's most beloved redhead. Lucille Désirée Ball was born on August 6th, 1911 to mother Désirée "DeDe" (Hunt) Ball and father Henry Ball. When Lucille was three years old, the family moved to Detroit for Henry's work. "DeDe tried dressing me in ribbons and bows, but I rebelled, never being the prissy doll type. My father roughhoused with me as he might with a boy, tossing me to the ceiling and catching me a few feet from the floor, and giving me piggybacks. I screamed with delight while DeDe worried about the tomboy she was raising."
Sadly, Lucille's time with her father was cut short in 1915 when he died of typhoid fever at twenty-eight. DeDe was only twenty-two, and five months pregnant with her second child, Freddy, who was born shortly after Lucille and Dede returned to DeDe's parents' Jamestown apartment.
After DeDe remarried to Ed Peterson in 1918, the family was back under one roof again by 1920 in Celoron, New York. Lucille, Freddy, and their cousin Cleo were the best of friends, and often put on stage plays at home to entertain the adults. Lucille, the oldest, spent much of her time taking care of the children, making beds, and cooking dinners while her mother worked full-time selling hats at a dress shop to make ends meet.
Lucille developed a passion for performing on stage. She took part in many school productions throughout her high school career and cherished the joy and laughs she could provide for an audience. However, she was a feisty teenager and often got into fights at school. She would run away, taking her little fox terrier, with her. DeDe, becoming increasingly worried for her daughter's future, but always supportive of her acting aspirations, decided to help her attend dramatic classes.
Lucille began her training in New York at the John Murray–Robert Milton theater school where Bette Davis was also a student. She worked incredibly hard but couldn't dance or sing, and was dismissed as talentless by her teachers and fellow pupils.
After leaving the academy, Lucille wandered around New York, managing to get cast in bit parts in a few musicals, but rarely stayed long enough to be part of the finished product. She earned money by modeling until a chance meeting became her ticket to Tinseltown. Theatrical agent Sylvia Halo recognized Lucille on the street from a billboard she had posed for to advertise Chesterfield cigarettes. MGM had chosen twelve poster girls to appear in a film called Roman Scandals, and one of the girls had dropped out last minute. Lucille was hired on the spot by Sam Goldwyn's New York agent, and was off to Hollywood three days later.
Following Roman Scandals, Lucille landed a contract with RKO. This led to an essential build up in her career, training under the renowned Lela Rogers, mother and manager of Ginger Rogers. The late 1930's were a happy time for Lucille; she made friends and reunited with her family who moved into her bungalow in Hollywood. She was given small parts in Astaire-Rogers productions including Top Hat and Follow The Fleet.
At the end of 1939, Lucille met her "Cuban skyrocket," Desi Arnaz. They met for the first time in New York where Arnaz was starring in a Broadway show called Too Many Girls. They instantly fell head over heels in love, and it wasn't long before they slipped away to Connecticut to elope in November of 1940. The young couple had countless verbal fights, but were passionately devoted to each other. Lucille called it their way of love-making. Years later, Lucille delivered two healthy babies: Lucie Arnaz and Desi Arnaz Jr.
Desilu Productions was formed in 1950. After collaborating for a vaudeville act, CBS agreed to finance a television show starring the husband-wife duo. I Love Lucy ran from 1951-1957 before switching to a longer time slot for The Lucy-Desi Comedy Hour, which ran from 1957 until their divorce in 1960. During this time, Desilu made a huge financial decision: the company bought out RKO Pictures for over $6 million. By 1960, their marriage had fallen apart but still they finished working on The Lucy-Desi Comedy Hour.
Shortly after her divorce, Lucille started a romance with stand-up comedian Gary Morton after being introduced to each other by mutual friends in New York. Morton loved Lucille, was great with the kids, and after a busy career, was ready to settle down with a family. In November of 1961, the couple married.
By 1962, Lucille and Desi kept in touch more often, communicated easier about the children, and got along nicely. They would even collaborate on The Lucy Show (1962-1968) in which they brought back beloved I Love Lucy star Vivian Vance. Soon after, Lucille made the decision to buy Desi's controlling interest in Desilu Productions, making her the first female in Hollywood to become president of a major television studio.
Lucille went on to film Here's Lucy (1968-1974) and made a comeback in 1986 with Life With Lucy. She made several films and musicals in between. She received a plethora of awards throughout her career and donated an incredible amount of time and money to various charities and benefits. She passed away suddenly at her home in Beverly Hills at the age of seventy-seven from an acute aortic aneurysm on April 26, 1989.
Career Similarities
Both Marilyn and Lucille pursued modeling before being signed to major studios. Their common flaw was being told by their superiors that they were "un-photogenic." This, although discouraging, didn't stop the girls from working even harder to succeed. Lucille modeled fashion while Marilyn's photos were cheesecake style. Marilyn was known among photographers and the head of her modeling agency that fashion modeling just wasn't for her. Lucille was skinny and avoided bathing suit shots.
Both went through the usual up and coming procedure of an actress by appearing in a lot of bit parts in films, Lucille being casted in more A-films and Marilyn in B-films. They have many studios in common such as MGM, RKO, United Artists, Columbia Pictures, and 20th Century Fox.
Each woman published a posthumous autobiography. As her career was reaching its peak, Marilyn worked with Ben Hecht on a story of her life in the form of magazine articles, but they were not published in book form, titled "My Story," until 1974, when it was compiled by Hecht using his original interviews and notes. In the early 60's, Lucille began working with Betty Hoffman to create an "as told to" autobiography. She wrote a manuscript and recorded herself telling the story of her life up until 1964, when the project was shelved. The discovery of this work didn't come until Lucille's attorney was sifting through file boxes after Lucille's death. The contents became "Love, Lucy" published in 1996.
Personal Connections
Unfortunately, a tragic similarity can be found in these two women. Marilyn suffered an ectopic pregnancy in 1957 and a miscarriage in 1958. She desperately wanted to have children, but was never able to. Lucille had children later in life, but before then, she also endured the pain of two miscarriages, which occurred in 1942 and 1950.
Name and other Connections
Sydney Guliaroff – Began styling Marilyn's hair at MGM for The Asphalt Jungle during her short time at MGM. Styled Lucille when she was signed again to MGM in 1942
Ginger Rogers – Became quick friends with Lucille at RKO in the late 1930's. Marilyn worked with Ginger in We're Not Married (1952) and Monkey Business (1952).
Harry Cohn – Terminated Marilyn's six month contract with Columbia Pictures in 1949, and is said to have made some degrading remarks about her.  In 1950, Lucille was also having trouble with Cohn; he wouldn't let her pursue an important role at Paramount. Lucille outsmarted him in the end. Her contract required one more film of her to which she would earn $85,000. She agreed to appear in a "Class E" film that only took five days for her to complete. She pocketed half the film's budget.
Keith Andes – Starred alongside Marilyn in Clash By Night (1952). Starred alongside Lucille in the musical Wildcat (1960).
HUAC – Arthur Miller, Marilyn's husband at the time, was famously called to appear before the HUAC in 1956, although there was no evidence to substantiate him belonging to the Communist party. In 1936, Lucille registered as a Communist at the insistence of her grandfather so that her and her brother could vote for his friend who was running for city council at the time. Lucille never actually voted Communist or contributed to Communism in any way, and after a long struggle, she was cleared.
Marilyn and Lucille even met on at least one occasion at a party for Walter Winchell at Ciro's nightclub in Hollywood in 1953.
Both Lucille Ball and Marilyn Monroe have achieved legendary status in their own ways. Lucille will always be treasured as the zany redhead who "made some noise" in Hollywood and throughout the world, just as she set out to do. Marilyn will live on in the hearts of millions as the blonde who challenged the censors and took her career by the horns. Both timeless, classy ladies were two of the most successful women in Hollywood, leaving behind countless films and other media and will be honored forever.
-Ky Monroe for Immortal Marilyn