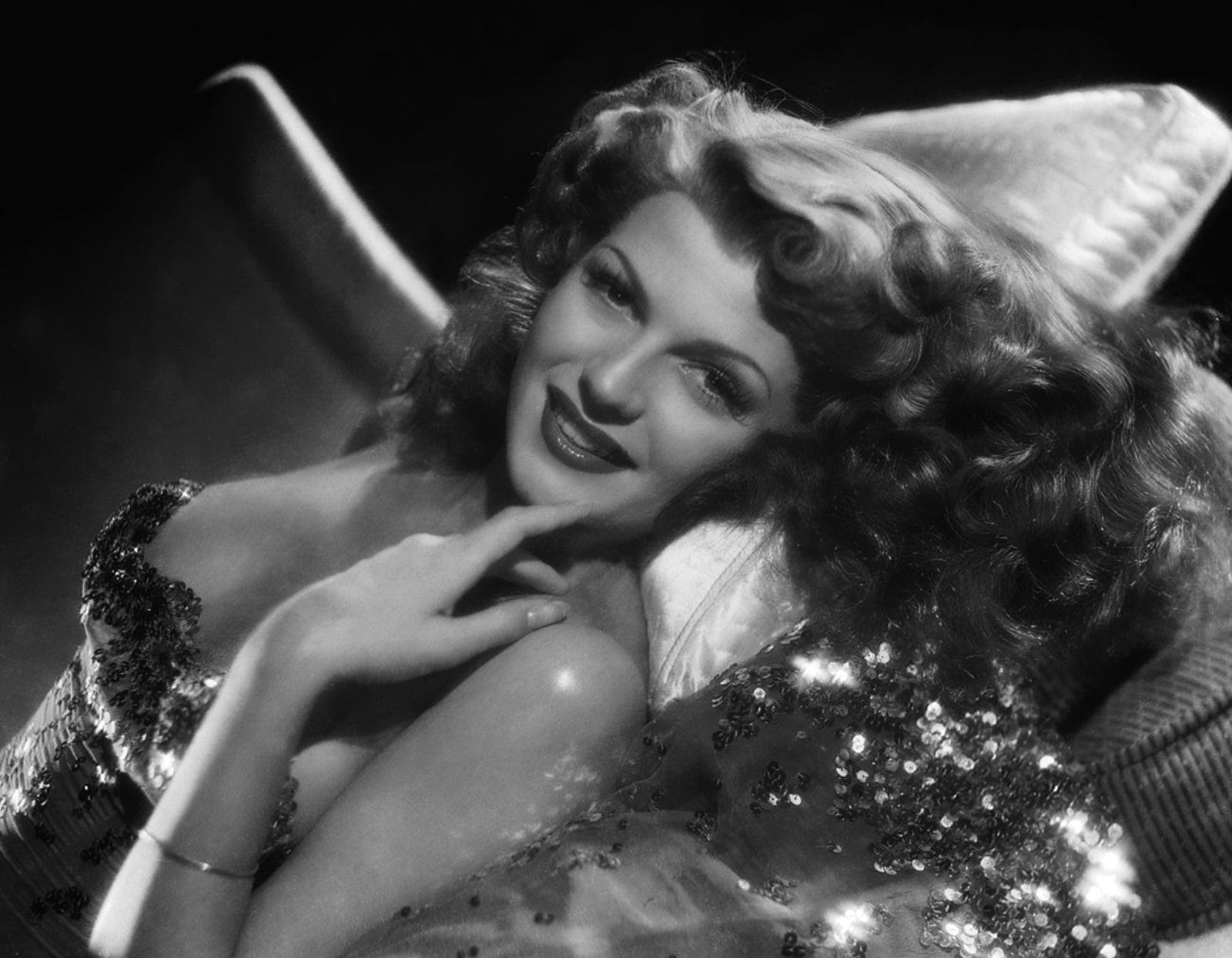 Life and Career
Margarita Carmen Cansino was born in Brooklyn in 1918. Her father, Eduardo, had emigrated from Spain five years before, as one half of The Dancing Cansinos. He was newly married to showgirl Volga Haworth. In 1927, the Cansinos moved to Hollywood, where Eduardo established a dance studio.
At thirteen, Margarita left school and replaced Elisa as her father's dancing partner. Between shows, Eduardo urged his daughter to mingle with the guests, including many Hollywood executives.
Margarita had already played bit parts in a few movies, and Max Arnow, then casting director at Warner Brothers, arranged a screen test. Winfield Sheehan – then Vice-President of the Fox Film Corporation – was so impressed by Margarita's beauty that he offered her a short-term contract. But when Sheehan was ousted by Darryl F. Zanuck, Rita was also sacked.
Aged seventeen, Rita began dating Eddie Judson, an older businessman who quickly recognised her potential. They married in 1937, shortly after she was signed by Columbia, the 'Poverty Row' studio headed by Harry Cohn. She underwent a dramatic makeover, and began using the surname 'Hayworth' (a modification of her mother's name.)
Rita landed her first important role opposite Cary Grant in Howard Hawks' Only Angels Have Wings (1939.) Realising he had a valuable property on his hands, Harry Cohn loaned her out to Twentieth Century Fox for Blood and Sand. "She had a tremendous magic back then," said bandleader Fred Karger, "and you've got to remember this town was full of beautiful women."
But while her career continued to soar, Rita's marriage had turned into a nightmare. Judson pressurised her to sleep with studio executives, and when Harry Cohn invited the couple to join him and his wife for a weekend on their yacht, Judson urged her to seduce Cohn. This was the last straw for Rita, and an ugly, protracted divorce ensued.
As America entered World War II, a string of hit musicals allowed Rita to show off her warm, vivacious side. She was paired with Fred Astaire in You'll Never Get Rich and You Were Never Lovelier. In Cover Girl, an early Technicolor musical, Rita danced with Gene Kelly.
Her second husband was the most brilliant, controversial man in Hollywood. Orson Welles had recently seen Bob Landry's seductive photo of a negligee-clad Rita in Life magazine, and vowed to marry her. Rita was delighted by the birth of their daughter Rebecca, but Welles had no interest in children or domesticity; and though he adored Rita, his career would always come first.
By 1946, Rita had separated from Welles, but was reluctant to get a divorce. She had also started making a movie that would change the course of her career. A definitive 'film noir', Gilda told the tale of a wild, free-spirited dancer who runs into an old flame. While many critics found Gilda immoral, the public loved it. Rita would forever be associated with the role, confiding sadly to a friend, "Every man I have ever known has fallen in love with Gilda, and awakened with me."
Harry Cohn was further aggrieved by Rita's attempts to reconcile with Orson Welles. Nonetheless, he agreed to allow Welles to star alongside her in The Lady From Shanghai – another classic film noir, but in an even darker vein.
Still hoping to save her marriage, Rita sailed to Europe. The spark was not rekindled, but at a party in Cannes, Rita was introduced to Prince Aly Khan – son of the Aga Khan, spiritual leader of the Muslim world. Although married, Aly had been separated from his wife since the war. In 1949, after Aly's divorce was finalised, they married in a whirl of publicity. Their daughter Yasmin was born in December. However, life with Aly Khan did not bring the security Rita had hoped for. Like Orson, he had fallen for Rita Hayworth, the love goddess – not the insecure woman she really was.
In 1953 she married Dick Haymes, a former big band singer who exploited her star status to revive his ailing career. After a rocky two-year marriage,she divorced him. She starred opposite Frank Sinatra and Kim Novak in Pal Joey (1957), her last film at Columbia. Her final marriage, to producer James Hill, ended in 1961.
By the early 1960s, Rita was frequently missing cues and blowing lines, which seemed out of character for such a consummate professional. Her final, abandoned role in Tales That Witness Madness (1973) was a sad coda to a magical career.
In 1981, she was diagnosed with Alzheimer's Disease. Friends and colleagues who had been frustrated with her behaviour now realised the truth of her situation. Rita's daughter, Princess Yasmin Aga Khan, was appointed her legal guardian. Rita died in 1987, aged sixty-eight.
Marilyn Connections
Early Years: Marilyn also married young in the hope of escaping a difficult childhood. By nineteen she was divorced, and using a stage name inspired by Broadway star Marilyn Miller, and (like Rita) her own mother's maiden name.
Bob Landry: In 1947, a young Marilyn was photographed by Bob Landry, who had immortalised Rita Hayworth six years before. When Landry worked with Marilyn again, she was a cover girl in her own right. Then in 1953, she was photographed by Milton Greene in a white negligee with black lace overlay, similar to the garment worn by Rita in Landry's famous pin-up.
Fred Karger: In 1948, Marilyn was briefly under contract at Rita's home studio, Columbia. While playing the lead in Ladies of the Chorus, she was coached by Columbia's Head of Music, Fred Karger. He encouraged her to develop her fine singing voice, and an affair began. But he was often cruel, undermining her self-esteem.
Harry Cohn: Marilyn also incurred the wrath of Harry Cohn, refusing to join him for a weekend alone on his yacht. She was quickly dropped by the studio – a decision Cohn would live to regret.
Johnny Hyde: On the advice of her agent, Johnny Hyde, Rita asked Harry Cohn for a 25% share in the net profits of this and all her future films. When he refused, she went on suspension and formed an independent production company – becoming one of the first women in Hollywood to do so. Cohn was forced to concede. Hyde later guided Marilyn through her first significant roles in The Asphalt Jungle and All About Eve.
Jack Cole: In Tonight and Every Night, Gilda and Down to Earth, Rita was choreographed by Jack Cole. I evolved a working routine with [Rita] that I used a lot later, when working with Marilyn Monroe," Cole told author John Kobal. "So I rehearse with Rita a couple of times around and we're ready to start. Well, baby, I don't know what hit me when they turned the camera on. Monroe was the same way – when it was for real, it was like look out!"
Gentlemen Prefer Blondes: Marilyn achieved stardom in this 1953 musical comedy. Director Howard Hawks' description of her as "unreal," with a "fairytale" quality, echoed his earlier assessment of Rita. For her signature number, 'Diamonds Are a Girl's Best Friend', Marilyn wore a strapless sheath gown and long gloves – similar to Rita Hayworth's attire when she danced to 'Put the Blame on Mame' in Gilda. Marilyn was choreographed by Jack Cole, and would work with him many times more.
Cohn vs Zanuck: "The only thing [Rita] got worked up about was Harry Cohn," Cole recalled. At Columbia, he said, "they didn't treat Rita the other way other studios treated a star … Zanuck was that way with Monroe," he added. In 1955, Marilyn won a bitter legal battle with Twentieth Century Fox, and formed her own production company in a bid for better roles.
The Story on Page One: "Marilyn Monroe and Jayne Mansfield can have all the headlines," Rita said in 1958. "From now on the only headlines I want are on my acting." Rita played a battered wife in Clifford Odets' The Story on Page One (1959), a role first offered to Marilyn. Something's Got to Give: Marilyn died of an overdose in 1962, shortly after being fired from her last, incomplete movie.  Rita later said of Marilyn:
"Marilyn wasn't put on.  Her femininity was real, and there are very few who are really women on screen – I like to think I was. But I never met Marilyn, so I don't really know…"
Like Marilyn, Rita was over-worked and under-appreciated during her studio heyday; but as time passed, her myth grew. Both women were named among the roll-call of Hollywood icons in Madonna's 1990 hit, 'Vogue'; and in the acclaimed 1994 film, The Shawshank Redemption, one scene shows the hero, wrongly imprisoned for murder, gazing at his only possession – a poster of Rita Hayworth.