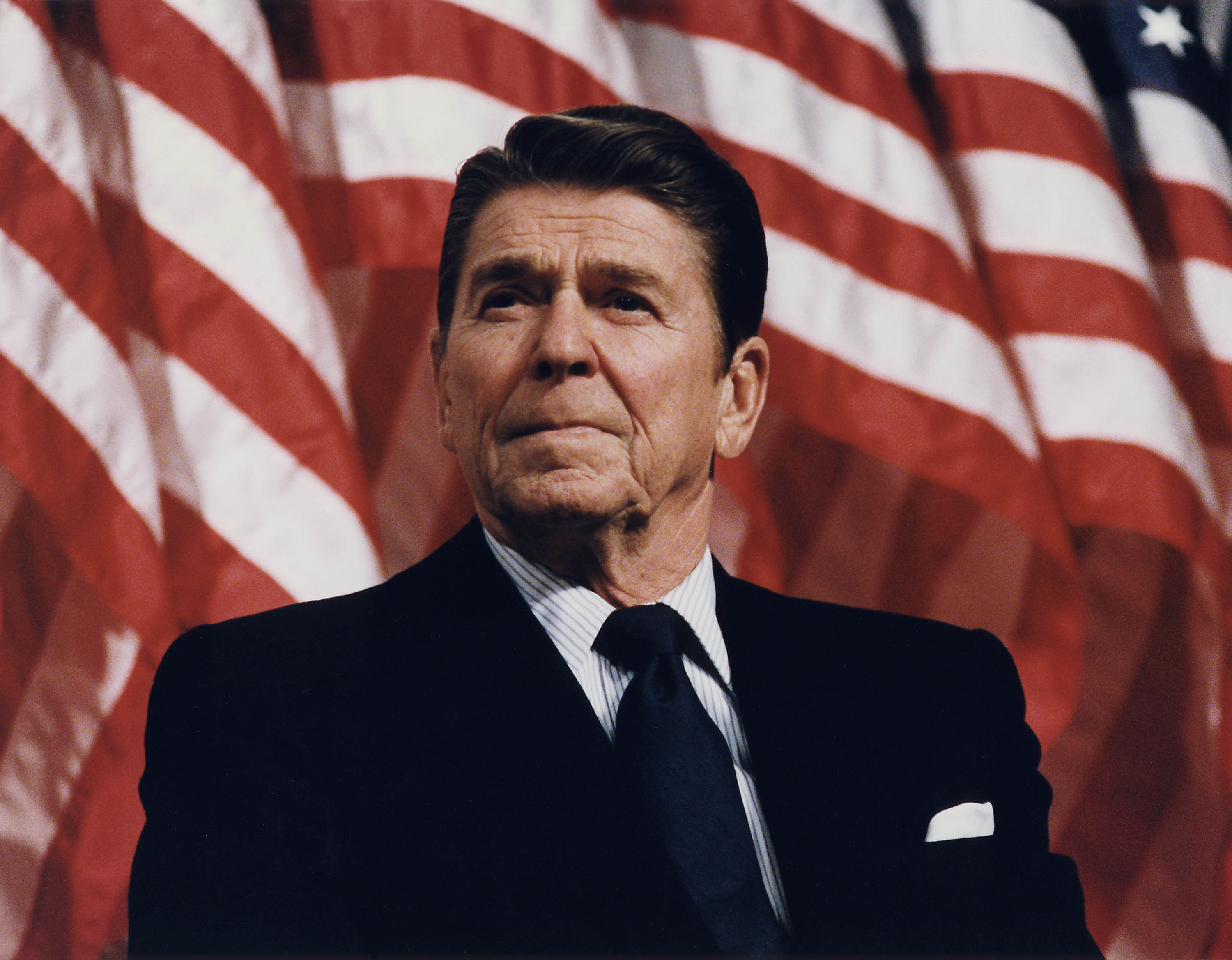 Life and Career
Ronald Wilson Reagan started his life inauspiciously, born on February 11, 1911 in Tampico, Illinois to a working class family.  His early life was marked by a strong faith and an early belief in civil rights.  Nicknamed "Dutch" by his father for a rotund appearance, the young Reagan slimmed down by his teen years and became a lifeguard.  Moves around the Midwest in his youth eventually landed him in Des Moines, Iowa, where his life in the public eye began.
Starting out as a radio announcer, Reagan eventually landed a job announcing games for the Chicago Cubs; it was this job that took him on the road with the team and to California, where he landed a screen test.  Radio and film collided in his first on-screen appearance in the film Love Is On The Air.  Two years later, his film credit count was up to 19.  His appearance in the film Knute Rockney, All American earned him a new nickname that would last a lifetime: "The Gipper", but it was the 1942 film Kings Row that cemented him as a star.  During his rise to fame, Reagan met and married actress Jane Wyman.  The couple had two biological children although sadly the second child lived for only a day.  They later adopted a third child.
WWII interrupted Reagan's film career, as it did for so many, and although he returned to films in 1945, he never rose to the same heights.  In 1948 political differences led to the end of Reagan's marriage to Jane Wyman.  He continued to appear in numerous films; a notable film near the end of his movie career was Hellcats of The Navy – memorable because it was the first and only time he made a movie with his then-wife Nancy.  The pair had met in 1949 when she requested his assistance with the blacklisting of her name as a Communist, and married in 1952.  Their marriage would be among the longest of Hollywood unions, lasting until Reagan's death and producing two children.
After his final film appearance in 1964, Reagan moved into television work.  In the meantime, his political aspirations were growing.  Originally a staunch Democrat, Reagan's leanings moved to the right over time, and by 1962 was a Republican. In 1966 Reagan ran for, and won, the job of Governor of California on a strong anti-Socialism platform.  He made several major and controversial legislative moves, and spent two terms in the position before setting his sights higher.
In 1976, Reagan made his first bid for the Republican nomination for the Presidency, losing to Gerald Ford, who in turn lost the election to Jimmy Carter.  1980 was a different story.  Reagan led the Republican party to a landslide victory over Carter, and became the 40th President of the United States.  Reagan survived an assassination attempt shortly after taking office, in 1981.  He won a second major victory in 1984, earning a second term in office.  Reagan's 8 years in office included major controversies and changes, including his financial policies which were dubbed "Reaganomics", the "War on Drugs", a highly criticized response to the AIDS crisis, and the "Iran-Contra Affair".  His Presidency also saw the escalation and eventual end of the Cold War and the fall of the Berlin Wall.
After leaving the White House, Ronald and Nancy Reagan returned to California.  In 1994, the former President was diagnosed with Alzheimer's disease.  The progressive disease, along with pneumonia, led to his death in 2004.  Nancy outlived him by more than a decade, dying in 2016.
Marilyn Connections
Although Marilyn and Reagan were in Hollywood during the same time period and eventually met, Reagan's first connection to her occurred long before Marilyn Monroe was even an idea.  It was Reagan, working for the Army's First Motion Picture Unit, who assigned photographer David Conover to the task of photographing attractive young women in factories aiding the war effort.  One of those young ladies was Mrs. Norma Jeane Dougherty, who was working at the Radioplane factory in Burbank.  The 1945 photos were her first modeling shots and started her career.
Marilyn later met Reagan at a party for the birthday of Charles Coburn, Marilyn's co-star in Gentlemen Prefer Blondes (and Reagan's co-star in Louisa), in June of 1953.  It is the only time they were photographed together.
In spite of claims to the contrary, Marilyn did not have an affair with Reagan – he is one of many alleged lovers for whom there is no evidence.
Marilyn and Reagan do have a connection through Jane Wyman – she later married Marilyn's one-time vocal coach with whom she had a love affair, Fred Karger.
The two co-starred with some of the same people, although at different times.  Marilyn had one of her first big breaks in All About Eve, starring Bette Davis.  Reagan appeared with Davis in 1939's Dark Victory.  Reagan also appeared in That Hagen Girl with Rory Calhoun, who would appear in River of No Return with Marilyn, and in The Voice of the Turtle with Marilyn's We're Not Married co-star Eve Arden.  He starred with Barbara Stanwyck in Cattle Queen of Montana, who appeared in another pivotal film for Marilyn, Clash By Night.
Reagan had an uncredited role in Jean Negulesco's first solo directing credit, the short Alice in Movieland – he would go on to direct Marilyn in How To Marry a Millionaire.
A controversial political figure, Ronald Reagan started life with no sign of who he would become.  He became one of the most influential people in U.S. history – and played a small role in launching the career of Marilyn Monroe, another person who started from humble beginnings to rise to great heights.
-Leslie Kasperowicz for Immortal Marilyn