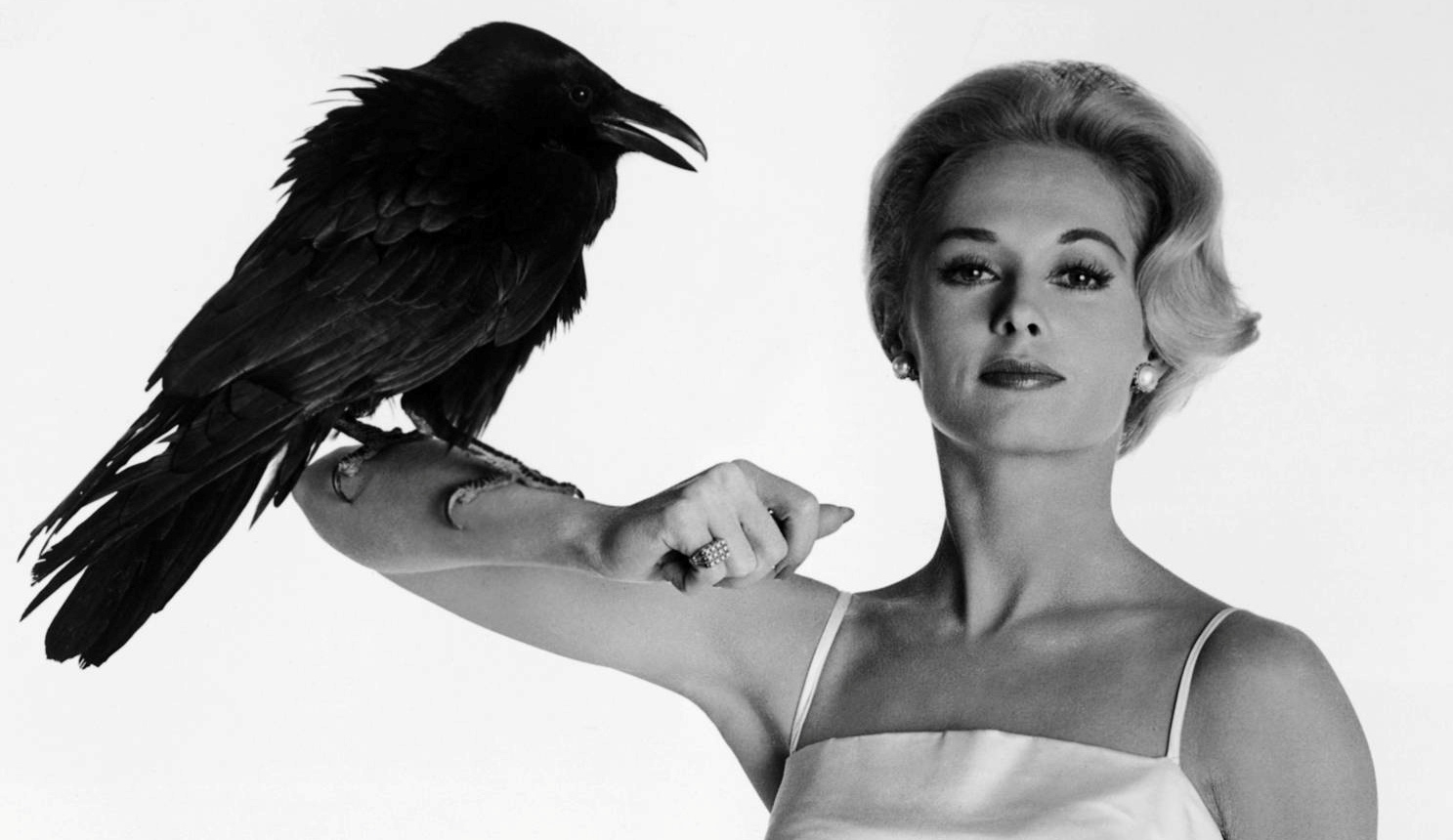 Life and Career
Nathalie Kay Hedren was born in the small town of Lafayette, Minnesota, on January 19, 1930 to parents Dorothea and Bernard Hedren, becoming the baby sister to Patricia Hedren, who was four years older. The name change to "Tippi" came not from a studio, but from her adoring father, who called her tupsa as a child, the Swedish term for "little sweetheart," which soon evolved into "Tippi."
Tippi was incredibly shy as a child, but quickly developed a passion for figure skating, fantasizing about one day becoming a professional figure skater when she grew up.However, once a severe inflammation in her left heel prevented her from escaping to her favorite childhood hobby for a long while, she decided to consider other career opportunities, until a chance meeting on her route home from school.No sooner had Tippi stepped inside the local drugstore did a woman she'd never met approach her and hand her a business card.  She wanted Tippi to model in the town's fashion shows. Tippi was overjoyed, and soon fell in love with the business, and her hard work paid off. She was earning money and experience through several modeling jobs, a career path she embraced for about ten years.
After graduating high school in 1947 and briefly attending Pasadena City College, she received a call from Eileen Ford of the Ford Modeling Agency in New York. Ford was interested in meeting Tippi, who had phoned a few weeks before. The hopeful model immediately boarded a train straight to the east coast.While working for Ford, she gained valuable modeling experience, was taught by the best, and was always booking jobs.
While on set for a small role in the TV series The Aldrich Family, Tippi met Peter Griffith, a former child actor, and the two quickly fell in love after he saved her from falling off of a stage. The couple married in 1952, and in 1956, Tippi learned she was pregnant.
Daughter Melanie Griffith was born on August 9th, 1957, and became the ultimate source of happiness in Tippi's life. "Melanie Griffith was and is my great fortune, my best friend, my love, my luckiest blessing in a life that's been filled with them."
Unfortunately, Tippi and Peter's marriage wasn't doing so well. Peter was unfaithful and was hardly around. In 1961, Tippi obtained a divorce, and she soon took Melanie and made the move to Los Angeles, where the next major chapter in her life would begin.
On October 13, 1961, after Tippi was settled on the west coast, she received a call. A representative of MCA was on the line, asking if she was the girl that had appeared in a recent Sego diet drink commercial. Apparently, a powerful director in Hollywood was interested in meeting her, but she would not see this person face-to-face until she was already under contract.
That man was the legendary Alfred Hitchcock.  Once her contract was signed without much hesitation, she was on her way to Paramount Studios to meet with the infamous director.  The two enjoyed a pleasant conversation over lunch and not once spoke about acting, a field which Tippi had virtually zero experience in. All she knew was that she was now under a lucrative contract, which was about to provide her the money she needed to take care of herself and her young daughter. Although she did not expect to become such a prominent Hollywood star, she was excited about the prospect of working with such a reputable and talented man, trying out real acting, and being able to provide for her family after their big move.
The filming of her only two Hitchcock films was a complete nightmare. At first, Tippi was beyond elated; Hitch wanted her to star in his next big thriller: The Birds. What should have been a rewarding experience turned into a horrible couple of years. Hitchcock soon became obsessed with the young blonde, stalking her and making unwanted sexual advances on her. She firmly refused him multiple times, and he became angry with her. As a result, he made her days on set as aggravating as possible. In one famous incident, he replaced the mechanical birds that should have been used during an attack scene, with real ones. "The [attack] scene lasted a minute in the final cut of The Birds. Hitchcock spent five days filming it before he finally decided he had all he wanted."  Despite the horror she was enduring, Tippi courageously kept returning to work, and soon dove into her final Hitchcock film: Marnie.
In her 2016 memoir, she speaks of one incident during Marnie: "I'll simply say that he suddenly grabbed me and put his hands on me. It was sexual, it was perverse, and it was ugly, and I couldn't have been more shocked and more repulsed."
Once Marnie was finished, Tippi demanded to be let go from her contract, and Hitchock made a promise that he would ruin her career. He did for a while, turning down big names and offers for Tippi to appear in various films and at various events while she was still under contract. Even though those few years were a nightmare, Tippi was still grateful that he had given her a chance as an unknown, and for teaching her valuable acting techniques.
The next life journey she would embark on would be a wild one.  In 1964, Tippi married for the second time, to her agent, Noel Marshall. Not long after, she was offered to star in a film called Satan's Harvest, which would be shot on location in South Africa. It was on this trip that Noel and Tippi would have an encounter that would change the course of their lives forever. The couple visited a game preserve, and were fascinated by a "Portuguese-style" structure that housed an incredible amount of lions. They were so greatly inspired by these breathtaking creatures that they soon decided to dedicate their lives to creating a massive film about the preservation of lions. But it would be many years before this dream was realized. They could not just pluck whatever big cats they wanted and place them into their feature film. On the expert advice of lion trainers, they had to be comfortable around the lions, and the lions had to be comfortable around them. And in order for that to happen, they would need to perform the dangerous task of raising their own lions in close quarters. And that's exactly what they did.
From the time Noel and Tippi fantasized about this idea in 1969 until the time the final product was finally realized and released in 1981, the couple and their children (Melanie, along with Noel's three sons from a previous marriage) spent their lives surrounded by large cats, familiarizing themselves with the creatures and even going to such great lengths as allowing them to sleep in their beds, walk around their house, and play in their backyard. While the original project was to be centered around lions, it eventually evolved into the addition of tigers as well. For years, the Marshall family worked endlessly on not only the film, but taking in abused and/or homeless lions and tigers into their home, nurturing them, and placing them in their own "lion pride" house they had built on their elaborate film set in Soledad Canyon. Tippi, decades later, however, did later admit that, "I cringe when I see those pictures now. We never should have taken those risks."
Despite the backlash she received, and still does today, for living in such close quarters with these animals and allowing them around her daughter, Tippi became a dedicated advocate for the preservation and protection of these beautiful cats, providing a safe haven for them, and today continues to maintain her spacious preserve and speaks out against important causes involving the mistreatment of them. She is currently President of the Roar Foundation.
Marilyn Connections
Milton Greene – close friend, business partner, photographer of Marilyn's. Photographed Tippi many times and she became friends with he and his wife Amy. Shot Tippi's her first Life magazine cover.
Marilyn and Tippi were even at Milton's house at the same time, but whether or not they met is up for debate. In her memoir, Tippi recalls: "I looked up to see her descending the stairs, presumably to come down and join the group. Instead, she stopped on the landing, where she sat down in the corner and stayed there.  I never saw anyone approach her, and I kind of lost track of her. Later I noticed she'd just disappeared. Perhaps back to her room or who knows where. I wrote it off to terrible shyness or insecurity and left it at that. So that was the perfectly lovely Sunday afternoon in Connecticut when I either did or didn't meet Marilyn Monroe."
John F Kennedy- Friend of Marilyn's. In her memoir, Tippi also claims that Kennedy, in the early 50's when Tippi was still only a young model, was briefly introduced to her in France. After she returned to her hotel room that night, she received a call from the concierge who relayed to Tippi that Kennedy had a car waiting for her outside the hotel. Tippi, furious, refused to meet him and hung up.
Although the two led very different lives, they both entered Hollywood by storm, leaving a modeling career behind them and delving into the world of acting. They can both be considered Hollywood royalty: Marilyn the blonde bombshell of the 50's and Tippi one of Hitchcock's greatest leading ladies.
Ky Monroe for Immortal Marilyn