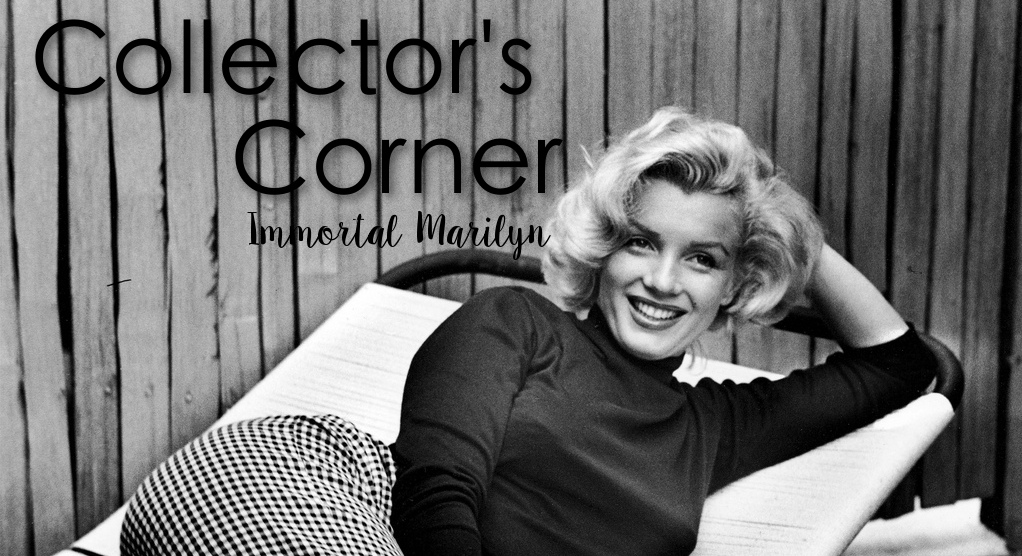 Welcome back to Collector's Corner!  This month we meet lifelong fan Kimmarie DePalma.
How long have you been collecting?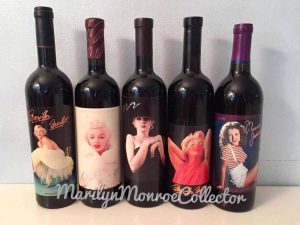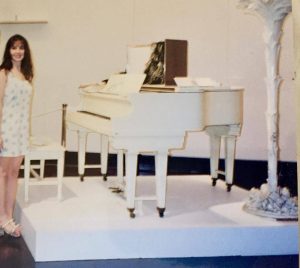 I was born into collecting Marilyn. My father loved Marilyn as a kid, and collected her photos and books. I grew up with framed photos of Marilyn all over my childhood home. I have a photo of myself when I was 7 years old standing next to a Marilyn picture. In 1989, I started building my own collection.
What is in your collection? Do you focus on one particular area or collect all kinds?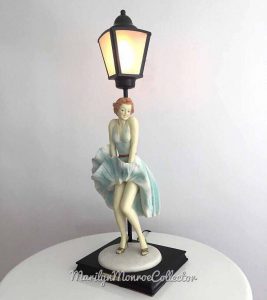 You can say I collect all kinds of her merchandise, but my favorite are vintage magazines.
My collection consists of magazines, collector plate sets, Marilyn Merlot wine, porcelain dolls, vinyl dolls, vintage ads, pool cues, statues, lamps, books, some signed by the authors. Photos and art. Marilyn dinnerware and champagne glasses with Andy Warhol art. Christmas ornaments, cross stitch, stamps, collector card sets and Marilyn inspired clothing by Warners.
What is your most prized possession?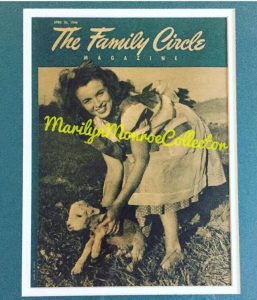 My most prized item is Marilyn's 1946 Family Circle magazine in mint condition that I won at an auction in 1993. I love that there is a photo of her posing with this magazine. I also treasure a calendar I have of her from 1953, as Norma Jeane posing with a Great Dane.
What would you like most to add to your collection?
What I want the most for my collection was sold at the Christie's auction in 1999. Marilyn's platinum diamond wedding band from Joe DiMaggio. When I went to Christie's Auction in July 1999, I couldn't stop looking at it. Joe DiMaggio was my favorite husband of Marilyn's.
Any advice to new collectors?
My advice to new collectors is to display your collection, and enjoy it as much as possible. My collection is in storage, so I don't get to enjoy it as much as I used to.​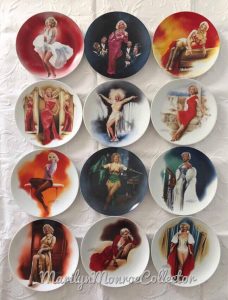 What do your friends and family think of your Marilyn collection?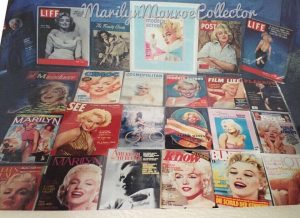 My friends and family are so used to me loving Marilyn. My husband, who was my boyfriend in 1999, was the one who took me to Christie's each day ​to see her items. It was en experience I'll never forget. Especially seeing her Happy Birthday President dress being sold for the first time. It's always nice when someone tells me when they see Marilyn, they think of me. But- only true fans understand what's it's like to be in love with a girl named Marilyn.