Cursum Perficio: Marilyn Monroe's Brentwood Hacienda
By Gary Vitacco-Robles
1999 iUniverse
ISBN 0595010822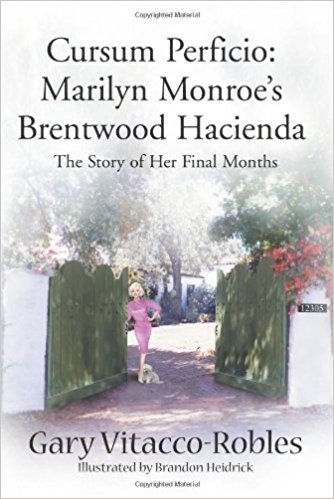 For anyone who might be planning on going down to Los Angeles this August, one of the major highlights will be the annual trek to 5th Helena, the small cul-de-sac that ends with the gates leading to Marilyn Monroe's final home. To be able to actually walk up to these gates is an experience no member of the Marilyn Community will ever be able to forget. The one drawback however is the frustration that you can't go any further. You can stand in front of the gates, you can jump up as high as you can for a micro-second glimpse, but you can't do what literally every MM fan dreams of—stepping onto the property and going inside.
Of course, even if by some miracle the folks who live there decided to invite you in, it wouldn't be the same. The house has changed since 1962; the images you hold in your mind of her furnishings, her wall hangings, her presence, are long gone. But, thank God for Gary Vitacco-Robles because due to this one man's dream and persistent research, you can go inside. Better yet, you can go inside in 1962. His book Cursum Perficio pushes those gates wide open and says Come on in, let me show you around.
For those of you new to Marilyn lore, the first thing you are probably asking is just what the heck is Cursum Perficio? The Latin phrase appears on a group of four tiles forming a coat of arms at Marilyn's front door. The loose translation comes to "End of My Journey." Although the original owners of the home obviously meant the phrase to mean that they have found their small haven at the end of a long journey, a cozy place of respite, after Marilyn's death the tiles took on a more prophetic feel, one several biographers have focused on with a kind of doomsday music playing in the background. I seriously doubt Marilyn herself ever thought of those little tiles in that way. I'd rather believe that she found them charming and hoped that she really had found a tiny haven at the end of a strenuous journey. But there is so much more to those words once they graced the door of one of the most fascinating women of the 20th century. Gary's book will fill you in on nearly everything having to do with the modest hacienda style house at the end of 5th Helena Drive.
Like any Marilyn Monroe fan, you've seen dozens and dozens of pictures of Marilyn's house—the forecourt, the pool, her bedroom, her kitchen, her bathroom. You've pored through the auction catalogs to see much that was once in this house, everything from her glassware to ashtrays, from wall hangings to her stereo. But where did everything go? Which room led into which? You can study the pictures but it's still difficult to get a good idea of how the house was laid out, what one would see when the front door was opened. Here again, Gary provides his readers with everything you need and want.
The book is lushly illustrated with drawings and photos, (among the illustrators is one Eric Monroe Woodard of Hometown Girl), floor plans, layouts of the home and property as well as the furnishings. Items that had appeared in the Christie's auction return to their natural setting, arranged as Marilyn had placed them while decorating and planning her small nest in Brentwood.
But there's a lot more here than just "and this is where she had her coffee table." Following Marilyn's last year from her return to Los Angeles, her initial sessions with Dr. Greenson and her introduction to Eunice Murray, the reader is allowed to follow Marilyn through her final months from house searching to the purchase of 12305 5th Helena, from her trip to Mexico and her furniture buying spree to the careful placing of each object. Much has been written about the house's "barren" aspect without any mention that the house was a project "in progress", that Marilyn was a busy woman who was taking her time and doing it right. Cursum Perficio allows the reader to visualize Marilyn's overall decorating plans as well as showing just how far she had come in realizing her dream of the perfect home.
It doesn't end there — the book also covers such items as Marilyn's daily schedule before and after the Something's Got To Give filming, where she shopped, what her daily routine was while renegotiating her contract. We see Joe DiMaggio reenter her life, her friendships with Frank and the boys, her plans for upcoming projects such as "I Love Louisa," (later made as What A Way To Go! with Shirley MacLaine). Add the coming together of her final photo sessions with Stern and Barris as well as her last interview with LIFE magazine writer Richard Meryman, and you've a wonderful book capturing her final summer.
Although the book does cover Marilyn's passing, there is no investigation or speculation here. And that's as it should be. The book is about Marilyn's last months of life, the planning and decorating of her home, her plans for the future. And that is what should appeal most to those interested in Marilyn's final abode. This is not a book about where Marilyn Monroe died. Cursum Perficio is a book about where she lived.
David Marshall