Hi there Marilyn fans!  It's time to round up all the headlines our girl has been making lately!  As usual she's in the news…
Think your home has a Marilyn theme?  It may not be on the same level as this Dublin house, which made headlines for its Marilyn-intensive and very colourful interior when it went up for sale recently.  The home features Marilyn – and a lot of bright decor – in nearly every room, leading headlines to call it "garish".  What do you think Marilyn fans?  A fabulous Marilyn shrine or a little too much?
In other real estate news, a condo in the building where Marilyn once lived has hit the market for a whopping $5 million.  It's not Marilyn's apartment, but the building certainly comes with a lot of history.
The Marilyn Monroe Spa brand is expanding out of the United States and into…India?  Reports say the company has struck a deal to build 250 of their themed spa franchises in cities like Mumbai.  Although India isn't the first international location most people will think of when they think of Marilyn's fandom, multiple Bollywood stars from the nation have been named in the "channeling Marilyn" department, or compared to her.  The company clearly thinks there is a market there, and plans to expand to further international locations in the future.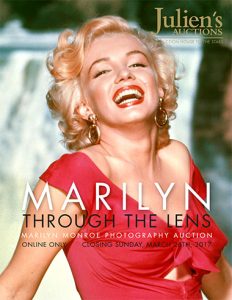 The battle over the rights to Marilyn's name and image continues in court.  This week a U.S. District Court heard further arguments as to whether or not the name Marilyn Monroe is in the public domain or can be held as a trademark by the estate.  The ultimate question: is "Marilyn Monroe" too generic to be owned by the estate?  The ongoing case will eventually determine whether the estate can continue to have sole ownership of her name, contrary to what the company involved in the suit claims.  Stay tuned…
On the heels of the huge November 2016 auction of Marilyn items come two further auctions from Julien's.  On now and online only is the Marilyn Through the Lens auction, featuring images of Marilyn taken by multiple photographers throughout her career.  Some of Marilyn's famous jewelry will be featured in an upcoming Treasures From the Hollywood Vault auction.  Included are the earrings worn with the gold lame dress in Gentlemen Prefer Blondes, among other items.
Shockingly, we don't have any new installments to the "Who Channelled Marilyn?" list this week, but Cosmopolitan does have an interview with former Universal Studios Marilyn impersonator Danica Kennedy, who talks about what it's like to play Marilyn and how it impacted her career.
That's the news for this week – Happy St. Patrick's Day!