It's Friday once again, and it's time to see how our girl popped up in the headlines this week!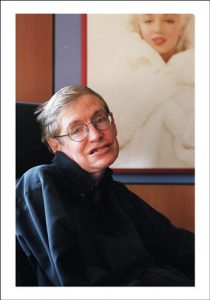 Who would Stephen Hawking choose to life with him on a desert island for the rest of his life?  In a recent interview for Good Morning Britain! Hawking named Albert Einstein, Galileo, and….Marilyn Monroe.  Famous physicist Hawking is known to be a big Marilyn fan; he decorates his office with her posters and has a Marilyn mug on his desk.  Without a doubt Marilyn would be touched to be included among such an illustrious group, particularly Einstein, a man she greatly admired.
Remember that Marilyn-themed house we reported on last week?  Well it turns out the place is drawing a lot of interest.  The owner is likely to get her asking price for the place, given the fact that her realtor reports there have been calls from all over to view it.  The home has gone viral on the internet, drawing the curious to see just how much Marilyn one can fit in less than 1200 square feet (A LOT).
No word on how the auction this past week went for the fan footage of Marilyn on the set of Some Like it Hot – in colour no less – that recently surfaced.  The estimate, according to the report, was around $4000, but give what Marilyn items go for these days, it would be no surprise if it went higher.
Model Karlie Kloss, the face of Swarovski, gave tribute to Marilyn in a performance celebrating the company's history.  Wearing a pink one-shouldered gown, Kloss gave a Diamonds are a Girl's Best Friend-esque performance – perhaps arguing in favour of Swarovski crystals over real diamonds?  Lorelei Lee would most certainly beg to differ.
That's it for this week – enjoy the weekend!