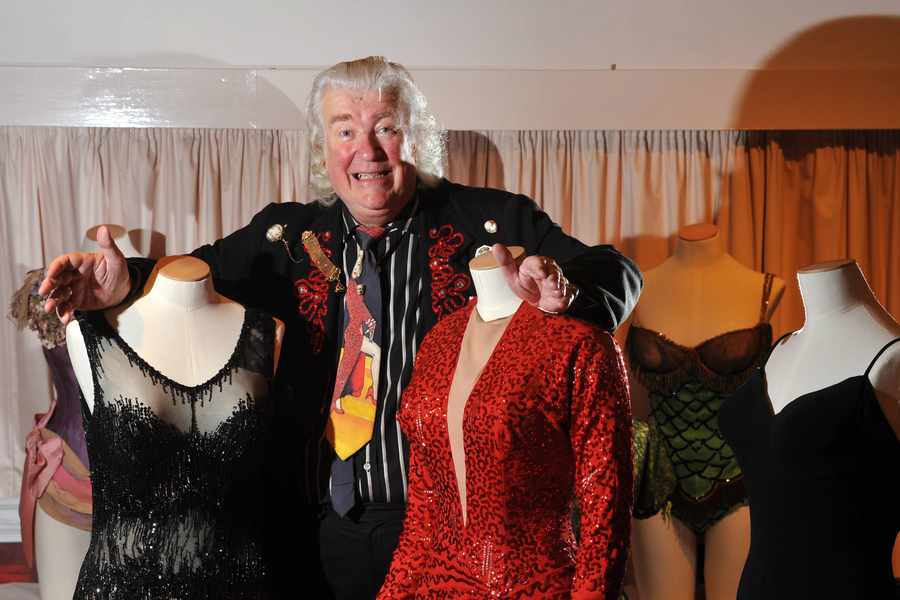 David Gainsborough-Roberts was a legend in the world of Marilyn collecting, in fact, collecting full stop. He will be known to every Marilyn fan as the owner of one of the biggest collections of personal/film worn memorabilia in the world.
And yet, we knew him. He was not one of those anonymous collectors who scoops up a precious item and never allows it to be seen again. He was extremely kind and generous with his pieces, displaying them all over the world, giving accompanying talks on Marilyn and interacting with her fans. Always friendly, always charming.
His passion for collecting began when he was nine and an elderly aunt gave him a fragment of HMS Victory.
Born in Buxton, Derbyshire in 1943, His early aspirations to become an actor soon waned and he became a promoter for of all things, professional wrestling. This was followed by a period working for his father's merchant bank, Hardy Roberts & Sons. In true David style, he then entered the world of music promotion (his clients included The Kinks).
However, his life changed forever when he purchased Marilyn's dress from 'There's no Business Like Showbusiness' at Christie's in 1991.
"I was buying certain stuff, not with any idea of buying Marilyn, when, in 1991, I bought her dress from There's No Business Like Show Business. The sale became such a big smash hit. It got in the papers and everybody seemed to be talking about it. There was a near riot in Christie's when I bought it. That was how it all started: April 29th 1991. It was a day that changed my life – and goodness knows I had no intention of it doing so. When I got back to Jersey, my mother said: I don't know what you've been doing, but the phone won't stop ringing!"
Even though you could say Marilyn was the biggest part of his collection, it was a mere fragment in an unbelievable time capsule. Other items included keys and coats from the Titanic, Winston Churchill's hat, John Lennon's cufflinks, Elvis' ring, guns owned by Billy the Kid and John Dillinger, and even, Queen Victoria's underpants. There were hundreds of items, and he was content to share them all. He once described his passion for collecting as 'turning the pages of a history book'. However, it was Marilyn that people wanted to know about 'she kind of took over' he said. People from all over the world would contact him and he was always happy to respond.
He made his home in Jersey, and was a huge part of island life. The Jersey Museum commissioned a portrait of him in 2016 to thank him for their most successful exhibition ever, on, of course, Marilyn.
In November 2016 David sold his collection, raising £1.5m for charities on his beloved Jersey. On selling, he said "I hope my insatiable appetite for the curious, the famous and the infamous will inspire a new generation of custodians".
His brother described him as someone who had a zest for life whom everyone loved, a character. And it was true.
Thank you, David, on behalf of Marilyn fans everywhere.