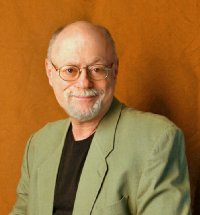 James Spada's Monroe: Her Life in Pictures is a must-have on every Marilyn fan's bookshelf, and now it's a must for your Kindle or any other wireless device as well. With the publication of his definitive pictorial biography in ebook format, Mr. Spada reflects on his memories of Marilyn, her continued popularity, and even talks about the possibility of another Marilyn book.
Mr. Spada was a young fan when Marilyn passed away. "I was twelve," he says, "a little kid with a Marilyn scrapbook." The news of her death came first from his brother's friend, who called knowing Spada was a fan. He turned on the radio and heard the official word. "I burst into tears," he remembers of that sad day. But at the time, he couldn't have guessed what a lasting impact Marilyn came to have on the world.
"I really would not have believed it if someone had told me that. Not that I didn't think Marilyn deserved to be celebrated forever, but after she died there wasn't much interest in her in the press–not like there is today." Spada points to the publication of Norman Mailer's book Marilyn in 1973 on the heels of a magazine cover the year before as the time when Marilyn started to see a revival. Ten years later, on the 20th anniversary of her death, Spada's book hit the shelves, becoming a Book-of-the Month club selection and going on to be published in both French and German. It was the same year that an official investigation into her death was re-opened, and since then Marilyn has been an unstoppable phenomenon. Spada credits her timelessness and of course that Monroe magic.
"When I first saw a photo of her in the newspaper, I was totally enamored. And I think that happens again and again over the years as young people see her photos or her films for the first time. Another reason is Marilyn's timeless quality. By 1962 Jean Harlow's look was hopelessly dated. In 2013, Marilyn's still seems fresh." He also believes that both her fascinating life and the mystery surrounding her death have helped to keep interest high. He doesn't think we' ve come near to exhausting our interest in her.
Though Spada's book is a treasure trove of great photos of Marilyn both candid and posed, he says Sam Shaw's 1958 Long Island shots are among his favorites. "She looks delicious," he says, "like a fantasy of Daisy Mae, and also very happy." He also loves the Bert Stern glamour shots for Vogue.
Like most fans, Spada has his own idea of what Marilyn might have gone on to do had she lived. In spite of some of her own aspirations, Spada doesn't think she would have wound up in the theater. He does think she would have continued a successful movie career, free of her dumb blonde image. "I was watching My Fair Lady just this morning, and I thought 'Marilyn could have played this role.' It's a nice fantasy."
With the release of Monroe: Her Life in Pictures as an ebook, fans now have a new way to enjoy a classic book. While Spada says that "there will always be something special about a printed book that you can put out on your coffee table," he says ebooks now give fans the opportunity to "carry photos of Marilyn around with them all the time." The book can be downloaded to a Kindle, Nook, PC, Mac, or any number of other devices instantly, and readers can get Amazon's free app to read ebooks even without an ereader like the Kindle.
While he has kept busy with other biography projects, including a biography of Peter Lawford in which the Kennedy in- law's connection with Marilyn is explored, he says he might write another Marilyn book one day. "I'd love to do another Marilyn Monroe book. So keep posted." I think it's safe to speak for all Marilyn fans and say we'd all love to see that happen.
Interview conducted by Leslie Kasperowicz.