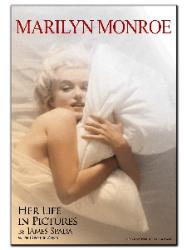 This is the classic photo biography of Marilyn Monroe, first published to commemorate the 20th anniversary of the stars death in 1982. It became a hugely successful, was well publicised and also a book of the month in the mail order bookclubs that were popular at the time.
The book is in seven parts that cover the following themes:- 1) The Early Years 1926-1945; 2) Starlet 1946-1950; 3) The Latest Blonde 1951-1952; 4) Phenomenon 1953-1955; 5) The New Marilyn 1956-1957; 6)Acclaim 1958-1959; 7 Decline 1960-1962.Each section covers in fine detail the important events in Marilyn's life with some of the most stunning and iconic photos of the legend in process, each with a brief description of what is going on. It's almost like reading how these would have been reported at the time in the newspapers around the world.
There's a colour section with 14 stunning images of some of her most popular pin-ups.While the book itself has been out of print for many years, it can easily be found second hand on the Internet and has recently been made available on kindle.
By Fraser Penney