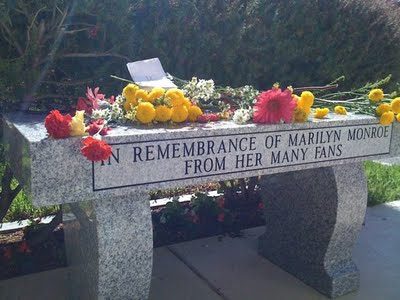 The time is nearing for the 54th anniversary of Marilyn's passing. IM will begin taking donations for her Memorial Flowers now. If you are want to be a part of our special tradition here at IM to show your love for Marilyn together with your fellow fans/friends, this is it. Please read this carefully for details.
No dollar amount is too small, every single dollar is acknowledged and appreciated.
Your name will be included on a card created by Ashlee Davis for Immortal Marilyn and will be placed with Marilyn's flowers from us.
A short sentiment can be included on the card from you as well. Please include this with your donation. If using PayPal, add the sentiment in the message box. Thanks

🙂

You can donate via PayPal, the email address immortalmarilyn@gmail.com or contact me privately for details on donating via snail mail.
Jackie will be there and get photos of Marilyn's crypt with the flowers placed for her, ours, as well as many others will be there too.
Continuing our tradition of including Animal Haven of NYC in our funds raised, the amount above what is spent for Marilyn's flowers will be donated to this worthy cause http://www.animalhavenshelter.org/
We'll need all sentiments in by the 31st July for your name to be included on the card.
Donations can be given until the memorial anniversary on the 5th August.
You can look at Immortal Marilyn's Flower page to see all our flowers given to Marilyn several times a year since 2002. I will include with this post a photo of last years memorial flowers from IM.
We also have some wonderful gifts which will be offered in a drawing held on August 5th. Everyone who contributes, no matter the amount, will be included in this drawing! Thank you to Nathalie Desiree and Alberto H. Fernadnez for contributing these prizes to IM!
If you have any questions, do not hesitate to ask.
Thanks so much!
Mary and the IM Contributors