Happy Friday – and before we go on, a moment of silence for Remembrance Day, and a moment of thanks to all veterans who fought for freedom!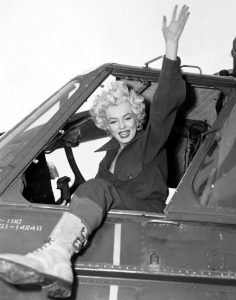 Marilyn in the news this week includes some odd and some interesting tidbits!  First off, the Sunday Post seems to have taken advantage of election week to write an odd article entitled "Marilyn Monroe Could Have Been President".  Unfortunately, what might have been a fun, if unrealistic article, was dragged down by the same old, same old.  More on the Kennedys and claims that Marilyn thought she was going to be First Lady…if only we could put that nonsense to rest.  Sigh.
The battle over who gets to make money off Marilyn continues.  Reports came in this week that her estate is suing a lingerie company for using her name and image to sell their wares.  While officially licensed Marilyn items are all over the place, so are unlicensed products – even products with photoshopped images and images that aren't even Marilyn on them – maybe those companies aren't making enough money to be of notice?
Not much else to report this week – it's not like it's been a slow news week, so that's no surprise.  With everyone gearing up for the big Julien's auction that takes place next week, no doubt there will be more to report!  Have a great weekend Marilyn fans.