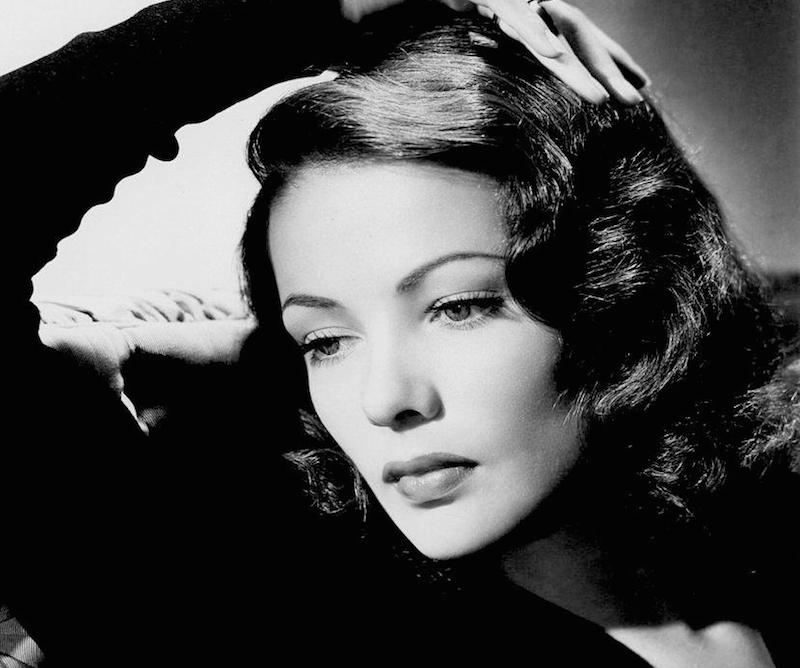 Welcome to the first installment of IM's new feature: Marilyn's Contemporaries.  This regular feature will discuss other actors and actresses who were working at the same time as Marilyn.  We'll talk about career similarities and differences, connections to Marilyn, and generally look at the players on the Hollywood stage throughout Marilyn's career!
Our first installment focuses on Gene Tierney.
Gene's Life
Born in New York in 1920, only six years before Marilyn, Gene would rise to fame in the 1940s, when Marilyn was still a fresh-faced teen named Norma Jeane.  After a few brief appearances on the stage, Gene signed her first screen contract in 1938.  Like Marilyn, she did a brief stint at Columbia Pictures before landing at Fox.  Most of her most memorable screen roles were in the 1940s at Fox, including Laura and her Academy Award nominated role in Leave Her To Heaven.
By 1952, when Marilyn was poised to become the world's biggest star and Fox's biggest moneymaker, Gene's contract with Fox expired and she was free to pursue projects as she liked.
Unfortunately, the next few years saw mental illness begin to cast a shadow over her career.  She spent time in psychiatric hospitals and underwent shock treatment for severe manic depressive episodes, which she later said caused serious memory loss.  Tierney would eventually become an outspoken opponent of the use of electroshock therapy.
Things came to a head for Tierney in 1957, when she stood on a ledge 14 stories up while staying with her mother in Manhattan, causing police to arrive at the potential suicide scene.  She later recounted the experience as the opening to her autobiography, Self Portrait.  She wrote that the apartment was across the street from the building where Marilyn lived with Arthur Miller, and recounted how when Marilyn passed away she thought of that moment, standing on the ledge looking out at Marilyn's building:
"I do not like to think that in 1958 I had a grim impulse to commit suicide, but there is no nicer way to describe it.  I survived.  Some don't.  When Marilyn Monroe took her own life a few years later, the scene on the window ledge came flooding back to me.  I remembered with a chilling clarity that morning, the wind plucking at me, staring at the building where Marilyn lived.  Now Marilyn was gone, and I endured."
Gene spent a year in an institution after this event.  She was finally released and made a return to films, although she retired in 1964, making one more appearance on television in the 1980s.  Gene passed away in 1991 of emphysema, the result of a many years as a heavy smoker.  She had picked up the habit in the 1940s in an effort to lower her voice on film; it eventually ended her life.
Gene had two children with husband Oleg Cassini.  During her first pregnancy she contracted rubella from a fan, resulting in a premature birth and severe disabilities in daughter Daria.  The couple's second child, Christina, was healthy, but the marriage never recovered from the stress of Daria's birth and eventual placement in an institution – as well as other issues including Cassini's playboy ways.  The divorce became final in 1948.  Ten years later, Gene would wed Texas oilman and former husband of another dark-haired beauty, Hedy Lamarr, W. Howard Lee.  The couple remained together until his death in 1981.
Gene's open and honest discussions of her mental illness and all she suffered during treatment in her autobiography offer a window into how bipolar disorder was treated in the 1950s.
Marilyn Connections
Aside from living across the street from Marilyn in 1957 when she reached a low point in her battle with mental illness, Gene also had some other connections with Marilyn.
In 1941, Gene married fashion designer Oleg Cassini, who created many costumes for her on-screen roles.  Among them was a red velvet gown worn by Gene in Where the Sidewalk Ends, 1950.  The gown wound up in Cassini's shop, where Marilyn purchased it as she was rising to fame as a starlet.  Marilyn wore the gown on multiple occasions, including to accept her Henrietta Award in 1952.  A second Cassini gown worn by Gene in On The Riviera would be worn by Marilyn for several photo shoots, as well as to the premiere of Monkey Business in 1952.
Gene worked with many of the same people as Marilyn, including directors Otto Preminger, Nunnally Johnson, and Jean Negulesco.  Like Marilyn, she starred opposite Clark Gable, and also appeared in a film with character actress Thelma Ritter.  In one of her final film appearances, Toys in the Attic, Gene starred with Dean Martin, who was Marilyn's last leading man in the incomplete Something's Got to Give.
Of course, one of the saddest connections the two shared was that of suffering through mental illness.  Gene speaks candidly in her autobiography about her depression and suicidal impulses.  She mentions Marilyn when talking about how her illness began to affect her memory, giving her new insight and empathy into Marilyn's difficulty remembering lines on set.
Although Marilyn's "affair" with JFK is mostly rumor and conjecture – in spite of it being considered a well-known fact – Gene did in fact have a relationship with Kennedy shortly after her separation from Oleg Cassini in 1946.  The Kennedy family didn't consider Gene an appropriate bride for their political aspirations, however, and the relationship ended.
It's been rumored that Gene didn't like Marilyn and spoke rudely of her after her husband Oleg Cassini, known for his philandering, had a brief affair with the rising starlet and brought her to a party.  There's no evidence to support that this ever happened, and Gene's attitude towards Marilyn in her autobiography is clearly kind and sympathetic.  She doesn't mention this event happening; however, she admits that her mental illness caused her to behave in ways she regrets and that she has lost portions of her memory, so it is possible she forgot speaking unkindly of Marilyn.
Like Marilyn, Gene worked at Fox, dealt with the studio system, and struggled with depression.  Unlike Marilyn, however, Gene was lucky enough to have a support system and – eventually – the right help.  Although there's no clear record that the two knew each other (it's likely they did attend the same events and probably met at some point, and there remains the claim that Cassini was seeing Marilyn), it's clear from Gene's autobiography that she thought of Marilyn frequently after her death, and felt a great deal of empathy for Marilyn.  Although the timing didn't work out, it seems possible that the two might well have been friends given the right opportunity.
– Leslie Kasperowicz for Immortal Marilyn