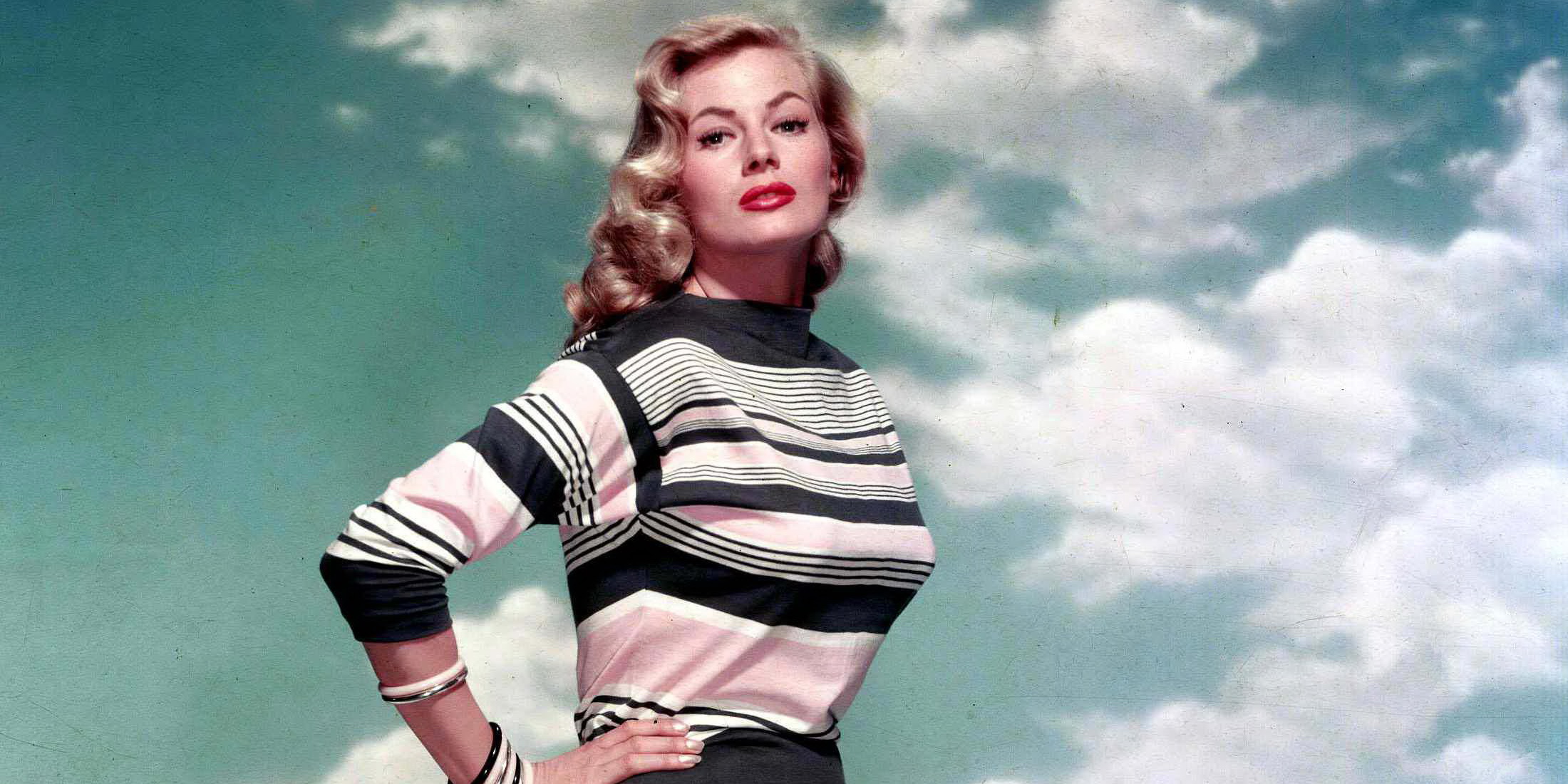 Anita's Life and Career
Anita Ekberg was a popular fellow blonde in the 1950's who originally hailed from Sweden. Born on September 29, 1931, Anita was the sixth of eight children. Her father was a foreman for a coal company while her mother stayed home to raise her children. Anita graduated high school at sixteen and quickly found work as a department store fashion model. She soon found a side job introducing acts at a hotel show (akin to a Vegas variety show) wearing a skimpy costume before finding more stable work as a fashion model in hotel fashion shows. At 19, Anita was discovered by photographer George Oddner. Oddner and her mother quickly convinced her to enter a local beauty pageant and Anita was elected Miss Sweden in August of 1951. This victory allowed Anita to go to the United States, including visiting the 1951 Miss America pageant, to compete as Miss Universe. While Anita didn't win, she was spotted by a Universal-International talent scout and soon received a nonspeaking role in Abbott and Costello Go to Mars. Unfortunately, with her heavy accent, Anita was dropped after a few of these nonspeaking roles and returned to Sweden where she threw herself into learning English while again resorting to modeling. In February of 1952 she entered another beauty pageant, this one in Holland, and lost by a single vote. Luck was again on Anita's side being she was spotted by an RKO talent scout and returned to the US within three months.
Anita was not going to risk returning to Sweden again and according to her, "I figured my bust line would carry me far. Up to that point, I hadn't paid much attention to my measurements. So you can really say that I owe it all to a tape measure." Anita knew how to promote herself and was soon spotted on the arm of the likes of Tyrone Power and Gary Cooper and got herself signed with John Wayne's Batjac Productions in late 1953 or early 1954. On December 31st Anita started a USO trip with Bob Hope to Labrador and Greenland. Meanwhile, Wayne apparently did not know what to do with the gorgeous Swede and she appeared in nothing particularly noteworthy until she was loaned out for War and Peace in 1956. This led to her being cast in Zarak with Victor Mature. Anita now earned $75,000/picture and her contract with Wayne was publicly declared to be worth $1,000,000. While advertised as "Paramount's Marilyn Monroe" it doesn't appear that Paramount ever officially took over, just that they borrowed her from Wayne for a number of films. The late 1950's led to Anita having a bit of a decline in unmemorable films. Anita soon bounced back into 1961's La Dolce Vita.
La Dolce Vita has Anita playing an American actress named "Sylvia." Sylvia has a definite Marilyn influence and features one of the most famous movie scenes of all time that involved Sylvia playing in Rome's Trevi Fountain. Anita would go on to make three other films with the director, Federico Fellini. Anita's career slowly traveled downhill but she made over 25 movies and television appearances after La Dolce Vita, not retiring until 2002. Anita sadly passed away in 2015 but her beauty will live on the screen forever.
Marilyn Connections
"I think she (Marilyn) was a good actress. You can't play stupid unless you're very intelligent." 
Marilyn and Anita crossed paths once, at the October 29, 1956 London screening of The Battle of the River Plate where Marilyn, Anita, Joan Crawford, and a host of other celebrities were introduced to Queen Elizabeth II.
One of the more interesting connections between Marilyn and Anita is Andre de Dienes. Andre is probably most famously remembered for being one of the first professional photographers to work with Marilyn. Dienes would work with Marilyn from 1946-1953 and worked with started working with Anita in 1954. In the July 1956 issue of Modern Man Magazine, Andre recalled:  "Anita Ekberg could be the greatest of them all."
The title of Andre's article?  How I Discovered Anita Ekberg. Marilyn would deal with the same claims from Andre through the years as well. While there is no denying that Andre gave these women an incredible boost with his photography, the idea that he "discovered" them is a bit of a stretch. Andre boosted, mentored, and helped but certainly didn't discover either bountiful blonde. Anita did pose nude for Andre, something Marilyn refused to do.
Marilyn and Anita also shared a boyfriend (albeit at different times), Frank Sinatra. Marilyn dated Frank in 1961 while Anita saw him between 1954-1955 (off and on). Neither relationship seems to have been particularly serious but both women spent a considerable amount of time with him.
Besides Frank, Marilyn and Anita shared various co-stars. Lauren Bacall was with Anita in Blood Alley and Marilyn in How to Marry a Millionaire, Tony Randall starred with Anita in The Alphabet Murders and starred with Marilyn in Let's Make Love, and finally Dean Martin was to co-star with Marilyn in her last, uncompleted picture Something's Got To Give but starred with Anita in two pictures, Hollywood or Bust and Artists and Models. Marilyn was also to star with Frank Sinatra in 1955's The Girl in Pink Tights but she bowed out of the picture. Anita actually did get to work with Frank in 1963's 4 for Texas.
One of the things that both women did was fight the studio to be taken seriously. Anita was horrified when she learned that her voice had been dubbed in War and Peace by an English actress. Anita wanted dramatic parts like Marilyn but, unlike Marilyn, she was able to achieve her goal. Both women have gone down in film history with Some Like It Hot being rated the number one comedy of all time by AFI while La Dolce Vita is considered one of the greatest movies of all time. Anita, like Marilyn, was more than a voluptuous blonde and wanted to be more than "Paramount's Marilyn" and luckily for her, she accomplished that.
-April VeVea for Immortal Marilyn