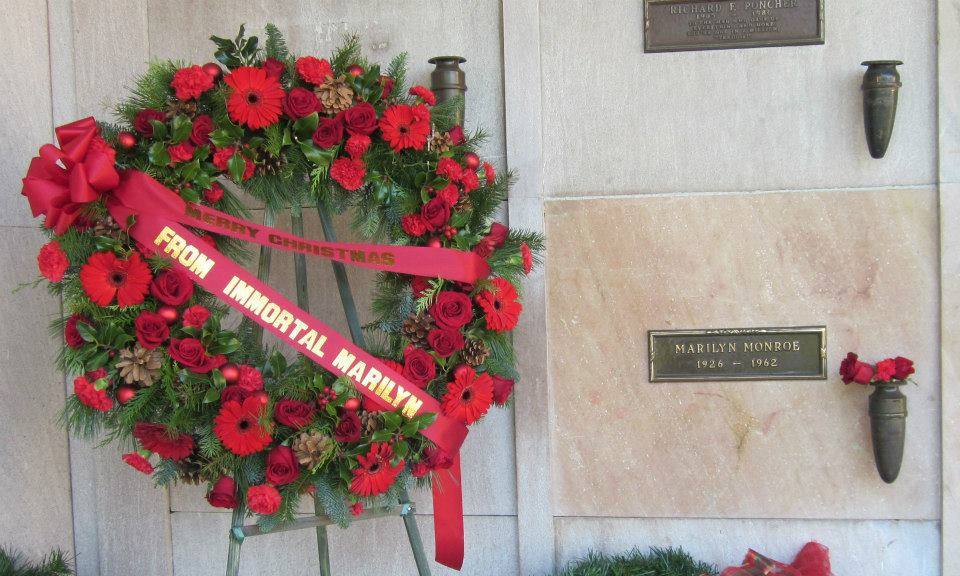 Hello all of Marilyn's fans,
Please read this carefully, and if you have any questions, do not hesitate to contact us.
It is that time of year again with the holidays upon us. As always, Immortal Marilyn will be holding our annual Christmas fund raiser. A holiday arrangement will be placed at Marilyn's crypt from her IM fans, along with a card including the names of all who contribute.
Jackie Craig, Immortal Marilyn's LA Representative will be at Marilyn's crypt to take photos for us when they arrive, thank you Jackie!
Everyone who donates will be included in a drawing for a Marilyn gift!
We will spend approximately $200.00 on flowers and card, and anything above and beyond that raised will be donated to Animal Haven of NYC in Marilyn's name.
No donation is too small, and every donation is greatly appreciated, and recognized.
Immortal Marilyn's NEW PayPal ID is immortalmarilyn@gmail.com if you want to donate that route. If you wish to donate via snail mail, email me at immortalmarilyn@gmail.com for the address.
Along with your donation you can include a short sentiment to be included with your name on the Christmas card if you wish.
The deadline is December 17th to have a sentiment included with your donation, otherwise we will continue to accept donations for Marilyn's flowers and Animal Haven until December 24th. On that day we will send our donation to Animal Haven.
Immortal Marilyn fundraisers are held four times a year, Valentine's Day, June 1 (Marilyn's birthday), August 5th, and December, for the Holidays.
The tenative date for flowers to be placed at Marilyn's crypt is December 21st.
I will include some flower photos of Christmas's past with Immortal Marilyn.
REPEATING ONCE MORE: IMMORTAL MARILYN'S PAYPAL ID HAS CHANGED, IT IS NOW immortalmarilyn@gmail.com
On behalf of all Immortal Marilyn's Contributors, we wish you a Merry Christmas, Happy Hanukkah, Season's Greetings, Happy Holidays, and a healthy, contented and prosperous 2016!
Ho-Ho-Ho!
Mary and the IM Admins & IM.com Contributors
Throw wide the doors and welcome Christmas's dawn!
—Harvey Peake