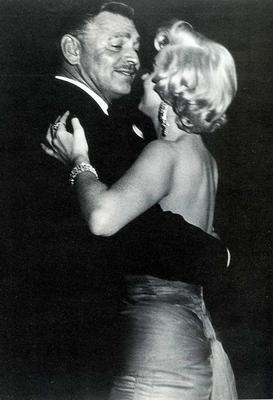 Norma Jeane Mortenson never knew her father. Her mother, Gladys, worked as a film cutter in Los Angeles. Unable to care for Norma Jeane full-time, Gladys paid a small allowance to a Christian family for her daughter's upkeep.
Gladys was a pretty, distracted woman in her late twenties. On a rare visit to her mother's apartment, Norma Jeane noticed a man's photograph in the bedroom. He was dark-haired with a moustache, and wore a trilby hat. When Norma Jeane asked who he was, her mother replied that he was her father.
He was in the movie business, Gladys added – most likely a supervisor in one of the laboratories where she worked.
In 1933, seven year-old Norma Jeane moved into a house near Hollywood with Gladys. A lodger sometimes gave her enough money to go to a matinee alone, and it may have been on one of these occasions that she first saw Clark Gable.
The 'king of Hollywood' was the envy of men and the idol of women worldwide. But young Norma Jeane fell for Gable because he looked like her father. His broad grin and easy charm fed into her fantasy of having a loving dad, and a secure family life.
Clark Gable was born in Ohio in 1901, the son of an oil-well driller. He followed his father's path until a female friend encouraged him to act. Despite his hard, physical lifestyle, Clark was an educated man who liked to read Shakespeare.
He worked in theatre for several years before breaking into the film industry. Graduating from bit parts to romantic leads, Clark became Hollywood's biggest male star. Despite the adulation he inspired, he was modest about his looks and talent.
He starred in six films with blonde bombshell Jean Harlow, another of Norma Jeane's idols. Harlow died suddenly during filming of Saratoga in 1937, and Gable was forced to complete the film with a stand-in.
Meanwhile, he had found personal happiness with actress Carole Lombard. A down-to-earth, spirited tomboy, she accompanied him on fishing and hunting trips. They bought a ranch in Encino and lived together comfortably until 1942, when Carole flew west to sell war bonds.
The airplane crashed near Las Vegas, and Carole was killed. Friends say that Gable never fully recovered from the loss of his wife.
He enlisted in the army, then returned to movies after World War II ended. By the mid-1950s, the movie industry was in flux. Gable continued making films and refused lucrative offers to work in television.
Even as the studio system fell into decline, another star was on the rise. Norma Jeane was now Marilyn Monroe, and as great a sex symbol as Gable had been in the thirties. In 1954 a party was held in her honour to celebrate her latest hit, The Seven Year Itch. All of Hollywood's elite attended, including Humphrey Bogart, Sam Goldwyn, and the king himself – Clark Gable.
That October night at Romanoff's represented to Marilyn the fulfilment of a long-held desire. She approached Gable timidly and asked for his autograph. He gladly obliged. As they danced, he told Marilyn that he had seen her movies, and 'you have the magic.'
Marilyn and Clark got their chance to work together in 1960, in The Misfits. But the ingénue of 1954 was now a world-weary, lonely star. The film was written for her by husband Arthur Miller when their marriage was steady, but it had since been rocked by their inability to have children. Marilyn grew increasingly depressed and addicted to prescribed drugs, and an affair with singer Yves Montand drove her marriage to the brink.
But she and Arthur were still committed to The Misfits, a thoughtful and serious western which she hoped would win her the respect she still craved from her peers.
Gable thought it the best script he had ever read, though he confessed he didn't fully understand it. Nonetheless, the role of likeable drifter Gay Langland seemed ideal.
Filming at sizzling temperatures in the Nevada desert, Gable insisted on doing his own stunts. He was frustrated by Marilyn's constant lateness, reflecting that in Hollywood's heyday, no actress would have been so indulged.
But Gable remained concerned for Marilyn, insisting that she rest between takes. While she slipped into despair, Gable's private life was happier than in years. His wife, Kay, was expecting a baby.
The day after shooting ended, tragedy struck. Gable suffered a massive heart attack and died ten days later. Asked what had killed him, Kay was reported to have said, 'it was the endless waiting…'
Though Gable's age, workload, heavy drinking and smoking seemed like obvious causes, the press rounded on Marilyn, insinuating that she was to blame for his death. She had lost a good friend at the worst possible moment. Having left Arthur Miller, she retreated to her New York apartment.
When John Clark Gable was born in 1961, Kay invited Marilyn to his christening. She wore a black veil but her mood brightened when Kay asked her to hold the baby, indicating that she held no grudge.
The premiere of The Misfits was a muted affair, with a gaunt Marilyn clinging to her co-star, Montgomery Clift. The quality of the acting, especially Gable's, was noted by the critics. In him, Marilyn had found a screen partner whose charisma matched her own.
But Gable's untimely death tainted the movie, and it was not the success Marilyn had hoped for. The Misfits was the last film that either Clark or Marilyn completed, for within a year she too was gone.
By Tara Hanks