Author and friend of the Marilyn community John Gilmore died Thursday, October 13, in California. Most known among Marilyn fans as the author of Inside Marilyn Monroe, detailing his friendship with her, he is also well recognized as a  author of true crime, noir, and Hollywood memoirs.
John's life was steeped with all things Hollywood….his mother was a contract player for MGM and his father was both an LAPD officer and writer and actor for radio shows. John started out as a child actor, appearing in Gene Autry's film The Last Roundup and went on to perform in numerous late 1950s-early 1960s television shows including  Naked City, Lawman, and Bonanza. Although he wrote screenplays and acted in a few commercial films, John's biggest talent emerged as a writer. Starting with pulp novels in the 1960s, John went on to become a master of true crime and noir, covering such subjects as The Black Dahlia, Charles Manson, and Bonnie and Clyde. Suspense Magazine said of his writing: "John Gilmore prefers working on his own terms—in the trenches, down and dirty, sleeves rolled up, often moving to locales where the story takes place….He knows where the bodies are buried; has seen the skeletons in the closet; understands everyone's strange peccadilloes. Gilmore is a literary surgeon whose pen is like a scalpel. He peers into souls, reads minds and isn't afraid to crack open the cadaver to find out what's inside. He divulges the secrets of the rich and famous and cold-blooded killers alike."
John seemed to have an ability to be in the right place, at the right time, with the right people. Many of his books trace a direct line from him to an encounter with his subjects. Most renowned for his book about Elizabeth Short, Severed:The True Story of the Black Dahlia Murder, he claims he met Miss Short when he was eleven years old. His acclaimed book about the Charles Manson cult, The Garbage People, reveals that he had briefly met Sharon Tate on the Fox studio lot. He wrote about his friendship with  James Dean in The Real James Dean and caused considerable controversy with his claims about Dean's sexuality in his memoir Laid Bare: A Memoir of Wrecked Lives and the Hollywood Death Trip. Laid Bare also recounts John's experiences with a virtual who's who of Hollywood: Dennis Hopper, Jack Nicholson, Jayne Mansfield, Janis Joplin, Brigitte Bardot, Jane Fonda, Steve McQueen and many more.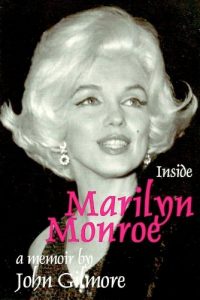 John's book Inside Marilyn Monroe tells of his casual meetings with her. Unlike many other authors that have written about being in the same circles as Marilyn, John does not embellish or exaggerate his role in her life. His friend Jill Kaiser Adams said of him "He didn't want to write it as he thought he had no story tell. He said "Listen Jill, I knew her as an actress, I wasn't there when she died. I didn't have a romantic relationship with her, so who will care?" I told him that he had an honest story to tell and we love honest stories about her. " He first met her through a friend at her Doheny Drive apartment, saw her a few times on the Hollywood circuit, and had a memorable encounter walking through the park in the rain with her in New York City when they were both at The Actor's Studio. There was an unsuccessful attempt for them to work together on the film The Stripper. John wrote of Marilyn: "I confess my timidity or selfishness for the half dozen or so times I was in Marilyn's company and never reached past her fame to engage our spirits….I failed because I was intimidated by Marilyn's success." He roundly denounces those who have attempted to seek fame for themselves through brief or nonexistent relationships with her, and laments that she has continued to be a victim of commercialization and conspiracy.
John was a member of the Marilyn Remembered fan club and often was a guest speaker at the club's memorial services for her. He enjoyed telling stories about his heyday in the Hollywood scene from his perspective of the grit under the glamour. His good friend Holly Beavon says of him "John was one of the original leather jacket wearing, motorcycle riding bad boys of Hollywood. He would get that charming, sweet, mischievous giggle as he'd describe those days at Googies and being considered dangerous by the studio. "
In an email to his friend Ian Ayres, John wrote "All I need is a table or booth with a wall at my back, a paper cup or two of coffee and about a three-hour flight of speaking the language of what I do, one sentence racing into the next and then the next, a nonstop express. Then another day is done and it is time for lunch."
John is survived by his son Carson and his daughter Ursula.
His tribute to Marilyn written for Immortal Marilyn can be read here.
-Marijane Gray for Immortal Marilyn