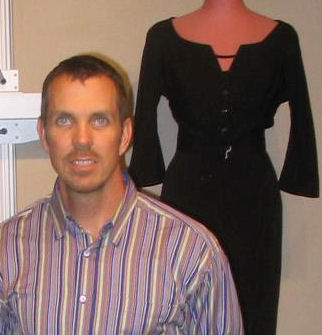 For being considered one of the world's leading authorities on Marilyn Monroe,  Scott Fortner is surprisingly personable and gracious, both with his collection of Monroe-owned items and with his knowledge of the star. He often will assist renowned auction houses in authenticating as well as helping the everyday fan learn whether an autograph is genuine. His collection of personal belongings of Marilyn's, one of the largest in the world, is currently on exhibit in conjunction with his good friend Greg Schreiner's collection at the Hollywood Museum. While many collectors of Marilyn memorabilia hide them away out of public sight, Scott has held several displays of his vast collection for public view in order to let Marilyn's many fans get close to their idol. His popular blog www.themarilynmonroecollection.com serves as an educational tutelage in all things Monroe. He can frequently be found in press reports by the likes of Reuters and the AP, has appeared on television shows like Mysteries At The Museum and  Inside Edition, as well as the feature length documentary 'With Her". He and Greg Schreiner, as part of the Marilyn Remembered fan club, recently held the 50th Anniversary Memorial for Marilyn at Westwood Cemetary with great success, as a way to both honor her memory and gather together the many people who still love her not by mourning her death but by celebrating her life. Scott continues to avail himself to Marilyn fans, both new and established, by answering questions by email or on his Facebook page (http://www.facebook.com/TheMarilynMonroeCollection) I had a few questions for him myself about what it's really like to own things that belonged to Marilyn Monroe.
1.        What first sparked your interest in MM?
This is one of those questions that I'm asked regularly: "How did this all start?" Unfortunately, I just don't know. I know people who can remember the very first time they encountered Marilyn. They saw her in one of her movies, or they remember seeing a photo of her for the first time. I don't have one of those stories. I don't remember the first time I saw a Marilyn Monroe photo or film. I just don't remember a time when I wasn't fascinated by her. My interest in Marilyn began very early on, and I started collecting Marilyn related memorabilia when I was actually quite young.
2.        How did you make the transition from admirer to collector?
Well I've always been a collector. I believe that most "diehard fans" of Marilyn collect something related to her. Fans of Marilyn can collect anything and everything including postcards, magazines, photos of Marilyn, purses, Christmas ornaments, you name it! While I do feel that she's become a bit commercialized over the years, at least there are some amazing collectibles available for fans who want to start their own Marilyn Monroe collection, no matter what it might be that they collect.
My first love when it came to collecting Marilyn was books. I bought anything I could get my hands on. When I added "The Marilyn Encyclopedia" to my collection I took note of a section entitled "Memorabilia," and I was particularly intrigued by a trunk and its contents which had been owned by Marilyn. The trunk sold at a Christie's auction in 1995, and I remember to this day thinking, "Wow, imagine owning something that Marilyn herself had owned. Wouldn't it be incredible to own this trunk!" Of course, I added the catalog for the 1999 Christie's auction "The Personal Property of Marilyn Monroe" to my collection, (which many fans refer to as our "bible"). Almost immediately after the 1999 auction I started to notice pieces from that sale coming up for auction again on eBay and various other online venues. I thought, "Here's my chance. Let me see if I can actually own something that Marilyn owned." So I started participating in auctions, and that's how I started to build my personal collection of Marilyn Monroe owned memorabilia. Incredibly, I'm actually lucky enough today to own the trunk that was showcased in "The Marilyn Encyclopedia," along with many of the items that were auctioned with the trunk including Marilyn's first camera and some books from her childhood.
3.        Tell me about the first MM owned piece you got. What was the feeling of actually holding it in your hands?
The very first item in my collection was a script for a Broadway play titled "Maiden Voyage." This script sold at the 1999 Christie's sale. Marilyn was offered the lead role in the play. Even though she turned down the opportunity she did read through the script, making several annotations. She also wrote her initials on the first page of the script.
I just can't describe what it's like to hold something of Marilyn's in your hands. Frankly, it actually seems an impossibility. Marilyn is such a legendary superstar icon today with practically a cult following it's almost hard to believe she was actually a real person, so to own something that SHE owned is just incredible.
4.        What is your favorite thing in the collection?
It's really hard to have just one favorite item. I have a few pieces which are really important to me in my collection: Marilyn's mink collar, her green Pucci blouse, and the items from her childhood. Marilyn wore the mink collar to many different events so I think it was actually one of her favorites. The green Pucci blouse is the shirt she was wearing when she rehearsed "Happy Birthday Mr. President" at Madison Square Garden. This of course is one of her most famous public appearances ever. This Pucci is also the blouse she was wearing in the last ever photos of her that were taken at the CalNeva Lodge the weekend before her death. I'm fascinated to own Marilyn Monroe's Kodak Brownie camera, which was given to her by her Aunt Ana. For me, it's amazing to think I possess the first camera ever owned by the most photographed woman in the world.
5.        What special precautions do you take to preserve the items?
I do my best to preserve each and every item in my collection. All pieces are stored in acid-free paper and boxes, out of the sun, temperature controlled, etc. I don't display pieces for lengthy periods of time as that creates unnecessary wear and tear on the items. Some of these pieces are from the 1930s and 40s, making them 70 to 80 years old.
6.        What MM owned item is your Holy Grail, the one you would most like to own?
Without a doubt, the dress Marilyn wore when she sang Happy Birthday to President Kennedy. It's a phenomenal gown that symbolizes one of the most important moments in political and Hollywood pop culture history. The story behind the dress is phenomenal, and of course Marilyn looked stunning in it. It truly is the holy grail of Marilyn Monroe collectibles.
7.        What do you think of collectors who buy up MM pieces not because they're fans, but only because they see the investment potential?
I find I'm a bit conflicted on this issue. I do know that there are incidents of businesses and corporations purchasing high end Marilyn Monroe memorabilia. At times the company has an actual connection to Marilyn, for example Ferragamo bought back many pairs of Ferragamo shoes that Marilyn owned. The Erno Laszlo company bought some of Marilyn's Erno Laszlo cosmetic products. I can understand it if there is that kind of connection. For a large corporation to purchase solely for investment is disappointing as chances are the item will be placed in storage away from public view. Marilyn is really an icon for everyone, and we all feel like she is special to us so to have items from her life being purchased as an investment is unfortunate. Conversely, these types of activities validate, in a way, that Marilyn continues to be the world's quintessential pop icon.
8.        Many fans were upset by the 1999 Christies auction, sad to see her things scattered throughout the world or squirreled away from the public…what are your thoughts on that?
I feel what is most unfortunate about the 1999 Christie's auction is the fact that it's clear that Lee Strasberg didn't honor Marilyn's last wishes. Marilyn's will stated very clearly, "I give and bequeath all of my personal effects and clothing to LEE STRASBERG, or if he should predecease me, then to my Executor hereinafter named, it being my desire that he distribute these, in his sole discretion, among my friends, colleagues and those to whom I am devoted."
It's obvious that Strasberg didn't distribute Marilyn's personal effects to her friends, colleagues and those to who she was devoted. Marilyn's entire estate was placed in storage for years and then auctioned in 1999. Perhaps there was a good reason as to why Marilyn's will wasn't followed to the letter, but I don't know what that might be.
9.        When was the first time you put your collection on display for the public, and why?
My first exhibit was at the Hollywood Museum in 2007. I exhibited because I wanted to share my collection with people who were traveling to Los Angeles from all over the world for the 45th anniversary Marilyn Monroe memorial service.
10.        What drives you to be so sharing of your collection with MM fans, such as exhibits, museums, and benefits?
I feel very lucky to own these items in my collection, and I really enjoy being able to share these pieces from Marilyn's personal and private life with other fans. For some people, being able to see clothing that Marilyn wore, her handwriting, books from her library, her cosmetics…it's very powerful. I've seen people moved to tears just being in the presence of items from Marilyn's personal life. If I can bring people a little closer to Marilyn by sharing my collection, then I'll do that.
Marilyn was actually a very charitable person, so I find that being able to share my collection in a way that raises money for people in need is very rewarding for me. In a way, it's almost like carrying on Marilyn's legacy. The charity exhibit I sponsored in March of this year raised tens of thousands of dollars for local children in need of health care, food and housing. It's important to make a difference in the lives of others when you have the opportunity to do so.
11.        What advice do you have for fledgling collectors wanting to start their own collection of MM-owned items?
My advice for others wanting to start their own collection of MM owned items can be summed up in just a few words: "Save" and "Research." Marilyn is becoming more and more popular all the time. Items that just a few years ago sold for several hundred dollars are now selling for several thousand dollars. Along with being very popular, she's also becoming very bankable. Fans also need to conduct research on potential purchases to ensure what they're about to buy is actually authentic. There are many, many fake items on the market today. With that, there are unscrupulous sellers and dealers. Just be sure to investigate all options before closing the deal.
12.        Overall, what are your feelings on being a guardian of Marilyn's things?
It's an honor for me to own so many items from Marilyn's personal life. At times it's a bit hard to believe as I never dreamed that one day I'd own something that actually belonged to her, let alone an entire collection that would be showcased in museums around the country and even overseas. It's really quite incredible and nearly impossible for me to believe I'm in this position at times, and I feel extremely privileged and lucky to own this collection.
Interview conducted by Marijane Gray