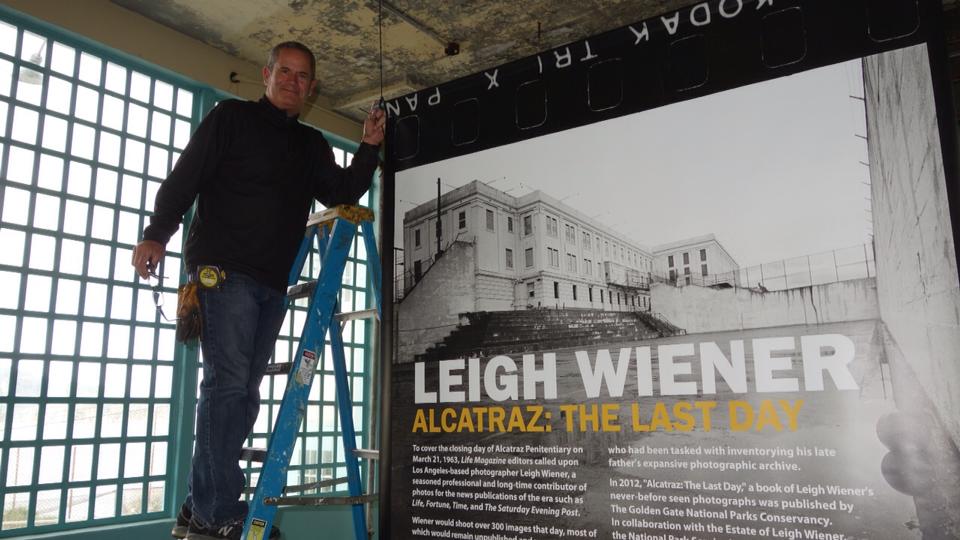 Among Marilyn fans and collectors, few books are as coveted as Leigh Wiener's Marilyn: A Hollywood Farewell.  Published in a limited run of only 500 copies in 1990, Leigh Wiener unfortunately passed away before any more could be printed. Today, demand far exceeds supply with the 250 or so signed editions selling for up to $2,000 each, and $500 for an unsigned copy is considered a good deal. The lucky few who own copies treat it with  reverence, like a holy relic. Marilyn's death in 1962 had an enormous impact on the world that continues to this day.  While there are many celebrity deaths that were felt deeply, no other star has ever had a book dedicated solely to their funeral. Every aspect of Monroe's life was under scrutiny from the press and her death was no exception.
However, Leigh Wiener elevates himself above the members of the press that were deemed "Vultures!" by a distraught press secretary on the morning of Monroe's death by presenting a photographic time capsule that treats its deceased subject with respect and dignity. Leigh Wiener was so concerned with preserving Marilyn's dignity even in death that he explained why he kept the photos unpublished for 28 years. "When she died, I did not want to let my pictures of her and the story of her death and funeral to contribute to the environment of scandal, sensationalism, and rumor-mongering that sprung up." Leigh Wiener's son Devik further explains, "I give Dad credit, it doesn't surprise me he waited 28 years, unlike other Hollywood photographers that would wait a few years. He pays homage to her passing and he does it very tastefully."
When the book was first printed it didn't receive much notice and was virtually unknown. "It was such a small run,  only 500 copies," says Devik Wiener.. "Even to this day, if you're not a hardcore fan, for lack of better term, you don't know about it. Dad died before it gained much publicity. If you did a query you wouldn't come across anyone  who knew about the book unless they were very into Marilyn Monroe. For the most part the public didn't know, Dad didn't do a book tour or go on TV. This was pre-Internet."
Devik Wiener wanted to bring to all Monroe fans what only a select few had ever seen and has thrilled Monroe admirers by releasing a download able version of this notable book. With the advent of digital technology, the images are even more striking. "Dad's images were printed 22 years ago," Devik says. "While the book looks nice, it was printed from enlargements Dad produced. The new edition has high resolution scans from original negatives so you see detail you couldn't see in the first edition thanks to digital technology."
From the perspective of hindsight, it's remarkable that the book didn't receive more attention, not only because of  capturing the funeral of the biggest star in the world but because Leigh Wiener had an esteemed reputation in his  own right. A photographer for the L.A. Times, he really made a name for himself by photographing for Life Magazine in addition to most other popular magazines of the day. He was frequently assigned to photograph celebrities, businessmen, and politicians but interspersed them with delightful photo essays featuring roller skating roosters or a time lapse progression of his own baby son. Whether serious or whimsical, Leigh's photos reflect what to him was the single most important aspect of photographing people. Not lighting or lenses, but psychology. In his book "How to Photograph People", Leigh Wiener writes, "Probably the best special equipment that a people photographer can
bring to his job is a superb understanding of people." He may have been referring only to understanding the subject in order to get relaxed, natural poses, but whether he knew it or not Leigh Wiener also exercised an understanding of the people who viewed his work. In Hollywood Farewell, he shows a profound understanding of the people who would view these photos that would remain unseen for nearly three decades. He provides what those of us–several generations removed from 1962–yearn for in order to understand what it was like to be there. Devik Wiener uses perhaps the most apt word to describe the photographs in the book by calling it a documentary. "Not that it answers any questions about mystery of her death, but it gives people the ability to see in photos and a few words what happened. There are rumors about everything; this proves the fact that Joe DiMaggio took over the situation, kept friends away, and there were only 30 chairs there. It's such a documentary-like piece. I think for people who loved her, thought highly of her, and want to see what happened, there it is in imagery. It takes away the rumors and mystery of what happened at her funeral."
There is no denying that there are rumors and mystery surrounding Marilyn's death and funeral, and many believe that Leigh Wiener held a large piece of the puzzle. The day Marilyn died, Leigh Wiener traveled over to the Westwood Village Mortuary armed with three bottles of whiskey and struck up a conversation with two morgue attendants charged with guarding Monroe's body. [It was not the first time he used clever means to go where photographers were not permitted. At the funeral of famed director Cecil B. DeMille, Paramount Studios had hired extra security to ensure that no photographers would be admitted into the church. Leigh Wiener rented an undertaker's suit and got his exclusive photo for Life magazine, much to the dismay of Paramount executives.]
After striking up a conversation and passing around the whiskey, one of the morgue attendants offered Wiener the exclusive no one else had, asking, "Want to see the body?" After being permitted into the morgue, Leigh asked if he might take a photo. Permission was granted and Leigh soon realized he had snapped five rolls of film of the star's body, both covered and uncovered. Knowing such photos could not be published Leigh tells, "I processed two rolls showing the body. I made one set of proofs…The next morning I secured a safe deposit box and I put into it the negatives and the proofs. No one has seen or will see this material." Devik Wiener confirms these photos have never been located. "Dad died with the mystery of these photos hidden in safe deposit box showing her from head to toe. Was it just part of the mystique of Leigh Wiener? It's something I'll never know. I spent 18 months cataloguing his archive, searched high and low and didn't come across them. There is no evidence of a safe deposit box. Dad was a
not big, safe-deposit-box kind of guy." Many have been interested in finding these photos, including the District Attorney's office, which opened an investigation into Marilyn's death in 1982. "The opened investigation had the DA's office knocking asking to see the photos," relates Devik Wiener. "Nobody's seen them," his father told them, "You're not going to. They wouldn't do anyone any good and would only do her a disservice." Devik echoes his father's stance when asked what he'd do if the photos were located. "If there was something within the imagery that might help solve her death I would like to think I'd approach the right sources, but I would not want to do a disservice to this woman (by making them public)."
An important point to stress is that the two post-mortem photos of Monroe's face were not taken nor released by Leigh Wiener, as many believe. "Heavens no!", Devik says. He would never have let that imagery out. It would have done her a disservice." As frustrating as it may be to those exploring the circumstances of her death who think the photos hold the key, it is also quite noble and speaks to the character of Leigh Wiener that they were never released out of respect for Marilyn. The photos in Hollywood Farewell are sad, they are poignant, they are sometimes heart rending, but they are never disrespectful or exploitative, which lends credence to him not being the source of the crude death photos that circulate the Internet. In Leigh Wiener's own words about the photos of her body, "The viewing of these pictures would contribute nothing of value and could only stain the warm memory we all  have of Marilyn Monroe."
Although Leigh Wiener was a man committed to the art of photography, he was more committed to his human subjects. He got to know them, figured out how to make them relax, and showed empathy for them. An example of this was when he was called to take a mug shot type photo of a woman arrested for armed robbery. Upon further learning that she was a mother with a deployed husband and no income, and had needed money to buy milk for her baby, Leigh was struck with compassion. Terrified of people finding out what she had done, she cried and begged him not to take her photo. He did take her photo but with her entire face obscured by her hands so she would be unrecognizable. Leigh Wiener shows the same empathy for Marilyn, presenting the aftermath of her death and funeral in a way to preserve Monroe's dignity.
Marilyn: A Hollywood Farewell rips at the heartstrings of Monroe fans, but that is why the book is timeless. It has frozen a moment in history and can transport those of us fifty years removed from it to exactly what it was like that hot August day. Looking at photos of bystanders and reporters crowded outside her home and the mortuary, we can feel the confusion and disbelief that Marilyn Monroe was really dead. The grief etched on the faces of mourners, both the known friends at the funeral and the nameless fans outside, reflects our own faces as we look at them. The overwhelming sense of loss at no longer having Marilyn Monroe in the world leaves a hollowness in our hearts that was felt by all the world fifty years ago.
On the legacy of this book, Devik Wiener says, "I think because of the legacy of Marilyn Monroe it will live on. I think the story that the book tells holds up as long as the wonderment and legacy of Marilyn is around. It tells the story of her funeral and death through my father's lens. I like to think it would have a lengthy one. It's so much a part of her I think it would live on as long as the legend of Marilyn Monroe does. "
The second eBook edition of Marilyn: A Hollywood Farewell was released July 31 for iBook, Kindle, and Nook. There are currently no plans to rerelease it in book format.
Interview conducted by Marijane Gray