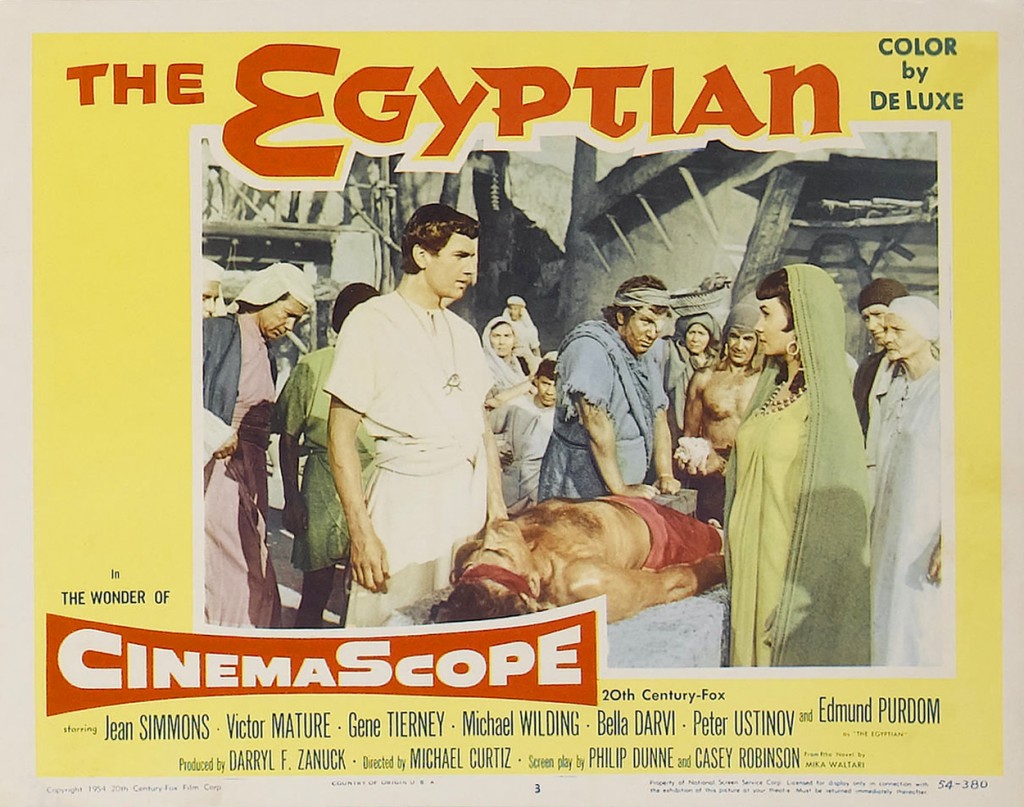 In 1953, Marilyn Monroe was the unofficial queen of Hollywood. Her last three movies had made her the most bankable of actresses, and she achieved her childhood dream of having her hand and footprints immortalised in cement outside Grauman's Chinese Theatre.
But in private, Marilyn had grave doubts about where her career was heading. She had just been assigned to River Of No Return, which she later derided as 'a Z-grade cowboy movie.' Determined to prove herself as a serious actress, she lobbied for a part in an upcoming blockbuster, The Egyptian.
Based on a historical novel published in 1945 by the Finnish author, Mika Waltari, film rights to The Egyptian were snapped up by Darryl F. Zanuck, head of Twentieth Century Fox. He and Marilyn were never close, and he was stunned by her success, considering her to be something of a joke.
When Marlon Brando declared an interest in The Egyptian, Marilyn's enthusiasm was whetted. She had in mind the character of Nefer, described in the script as 'a seductive Babylonian prostitute'. As the murderous Rose in Niagara, Marilyn had shown that she could play the vamp to perfection.
Her blonde beauty seems an odd choice for The Egyptian, but in photo sessions with Milton Greene she took on a variety of personas, from fortune-teller to saint. Later, with Richard Avedon behind the lens, Marilyn donned a black wig and Egyptian attire in homage to the original film siren, Theda Bara. To the casual eye, Mailyn is unrecognisable.
But in 1953 Marilyn was America's sweetheart, and her most popular roles were in comedies and musicals. She was still on a fixed contract, and her salary was well below that of her co-stars. What bothered her most was her lack of choice in the projects she worked on.
Her campaign to play Nefer was stymied by events beyond her control. During a trip to Europe, Zanuck and his wife had met an exotic young brunette. A concentration camp survivor, Bella Darvi was drifting through bars and casinos when Zanuck decided she had the magnetism of a young Ingrid Bergman.
He brought her back to Hollywood and they began an affair. And so Marilyn's bid to star as Nefer was ousted by an unknown rival.
Fox studios had spent two years researching what they hoped would be their most prestigious film to date. Earlier that year, Richard Burton had starred in a biblical epic, The Robe, now remembered mainly as the first movie made in Cinemascope. The advent of television led to a decline in cinema audiences, and Zanuck, like other studio bosses, fought back with technology.
Michael Curtiz, director of Casablanca, was to oversee The Egyptian. Brando initially accepted the lead, but he changed his mind and was replaced by Edward Purdom. Jean Simmons, also in the cast, reportedly said that Darvi was 'the actress who "nefer" was.' Darvi quickly tired of the lengthy delays involved in the filming process, and disliked acting.
The Egyptian was released in 1954, and was a sizeable hit. But critics thought it fell short of expectations. Fans of Mika Waltari felt that the philosophical nuances of his novel had been lost in translation. The most vitriolic criticism was reserved for Darvi, whose slight lisp and heavy accent made her difficult to understand. Nonetheless, she won a Golden Globe award as Most Promising Newcomer – an honour bestowed on Marilyn Monroe just two years before.
Meanwhile, Marilyn filmed River Of No Return and was sent another script, Pink Tights, about a schoolteacher who dances in burlesque to make ends meet. She considered it rubbish, turned it down and was put on suspension. During her weeks of idleness, she went to San Francisco and married longtime consort Joe DiMaggio.
While Marilyn went on to form her own production company and study method acting in New York, Bella Darvi hit rock bottom. Her affair with Zanuck was stormy, and she cheated on him openly. Zanuck's wife finally lost patience and insisted that Darvi must leave Hollywood. Back in Europe, her addiction to drink, drugs and gambling escalated. She finally committed suicide in 1971.
In recent years, Bella Darvi's screen debut has been reassessed. The feminist cultural historian, Camille Paglia, has argued that Darvi's portrayal of Nefer was 'hypnotic'. Marilyn was a greater star than Darvi, but her life also ended in tragedy. Nobody could replace her."
By Tara Hanks