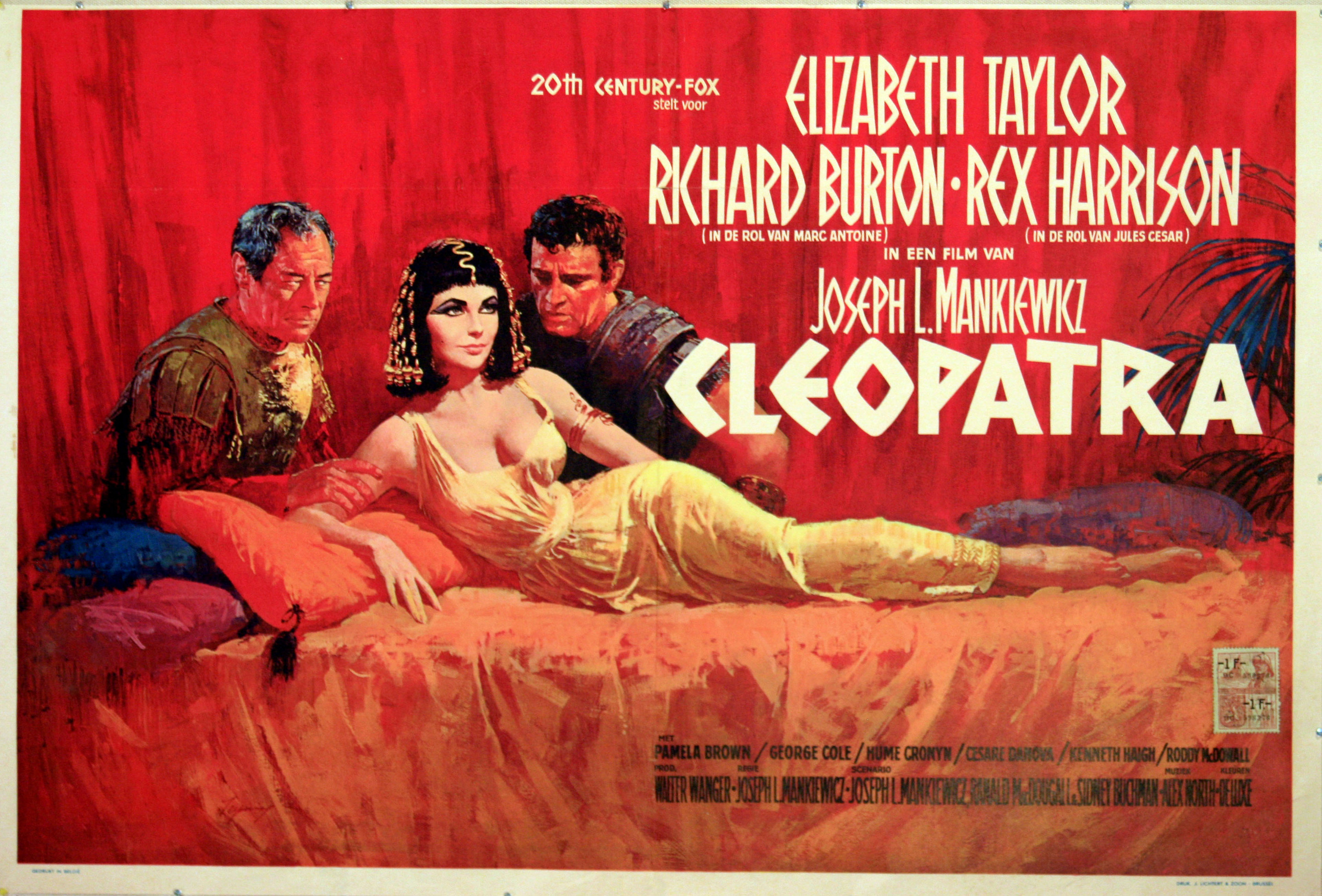 The 1950s were a time of prosperity in the USA, and conservatism. In Hollywood, some of the greatest American sex symbols found fame – among them a blonde, Marilyn Monroe, and a brunette, Elizabeth Taylor.
Monroe was born Norma Jeane Mortenson in Los Angeles and grew up, in her own words, as a "waif". At the time of the Great Depression, Norma Jeane queued daily with a foster parent for cheap, stale bread.
Elizabeth Rosamund Taylor was born in London in 1932, six years after Norma Jeane. Her American-born parents were both adept social climbers – her mother, Sara, was a former actress and her father, Francis, a wealthy art dealer. Pretty Elizabeth, with her violet eyes, would become the focus of her mother's boldest endeavour.
As World War II broke out, the Taylors emigrated to California. By 1944, Elizabeth Taylor was a child star in 'National Velvet', the story of a very English little girl and her beloved pony. She was quickly signed to MGM, and starred in a series of films between lessons at the "star academy." She would later bitterly regret her "lost" childhood.
In 1946, Norma Jeane changed her name and became the starlet Marilyn Monroe, but it would be several years before she too was a household name. As Elizabeth reached maturity, she blossomed into a dazzling, raven-haired beauty. Life mirrored art when she starred in 'Father Of The Bride', on the eve of her first wedding to hotel heir Nicky Hilton in 1950. However, in reality there was no happy ending – the marriage collapsed after just a few months.
Elizabeth played a rich debutante in the Oscar-winning 1951 film, 'A Place In The Sun'. The role proved she was a gifted actress and, privately, marked the start of her enduring friendship with co-star Montgomery Clift. He was as alluring as Taylor, but deeply insecure, forced by Hollywood to hide his homosexuality. He brought out Elizabeth's warm, maternal side.
By 1953, Marilyn Monroe was Elizabeth's only rival as Queen of Hollywood. Films like 'Niagara', 'Gentlemen Prefer Blondes' and 'How To Marry A Millionaire' made millions at the box office, but Marilyn felt increasingly trapped in a contract with Twentieth Century Fox.
As she fought for better roles, Marilyn reportedly told writer Truman Capote, "Everybody says I can't act. They said the same thing about Elizabeth Taylor. And they were wrong. She was great in 'A Place In The Sun.'" The conversation is depicted in Capote's brief sketch of Monroe, 'A Beautiful Child'.
While Elizabeth was well-paid by MGM, she too was dissatisfied by the roles she was assigned. She later said, "If you were considered pretty, you might as well have been a waitress trying to act – you were treated with no respect at all." This was a sentiment that Marilyn would have readily understood.
Elizabeth's second marriage, to actor Michael Wilding, lasted four years, and they had two sons together. In 1954 Marilyn was briefly married to baseball star Joe DiMaggio, but her career tore them apart. It is curious that in a small town like Hollywood, there is no record of any interaction between Monroe and her rival, Taylor, at this time.
In 1955, Elizabeth married the showman Mike Todd. It seemed that she had finally met her match, a man whose zest for life and extravagance matched her own. Marilyn, now on suspension from Twentieth Century Fox, moved to New York and rode on a pink elephant at a charity circus organised by Todd.
If Truman Capote's account is to be believed, Marilyn was curious enough to ask him what Elizabeth Taylor was really like. "Well, she's a bit like you," Capote replied. "She wears her heart on her sleeve and talks salty."Marilyn also embarked on a new affair, with playwright Arthur Miller, and a man more different to Mike Todd could scarcely be imagined. Earnest and cerebral, Miller had won the Pulitzer Prize in 1950 for 'Death As A Salesman', a dissection of the American Dream, and his later work, 'The Crucible', was interpreted as a criticism of the anti-Communist "witch-hunts" then being led by Senator Joe McCarthy.
In 1958, two years after Marilyn married Arthur, Mike Todd was killed in a plane crash. Elizabeth, who had recently given birth to a daughter, Liza, was devastated. Sympathy for Taylor turned to disapproval a year later when she fell for singer Eddie Fisher, Mike Todd's best friend, and the husband of wholesome actress Debbie Reynolds.
Elizabeth cared for Montgomery Clift after he was injured in a car crash, but his looks were permanently damaged and his melancholia, and alcoholism, spiralled. No stranger to suffering, Elizabeth was plagued by physical ailments. She drank too much, perhaps trying to ease her grief for Mike Todd, and she would soon become addicted to painkillers.
Meanwhile, Marilyn stood by Arthur Miller when he was indicted by the House Un-American Activities Committee. He was eventually acquitted, but domestic bliss was not to be. Marilyn suffered two miscarriages and grew more withdrawn, depending heavily on sedatives.
Despite the turmoil of their private lives, both Elizabeth and Marilyn's careers soared throughout the 1950s. Marilyn established her own production company and won critical acclaim for her performances in 'Bus Stop',' The Prince And The Showgirl', and 'Some Like It Hot'.Elizabeth began a series of "southern belle" parts with 'Giant' in 1955, and established a (professional) relationship with Tennessee Williams,
Arthur Miller's only true peer in American drama. Taylor starred in the film adaptations of two of Williams' plays, 'Cat On A Hot Tin Roof' and 'Suddenly Last Summer'.  Williams' lyrical style and torrid subject matter suited Taylor very well.
Marilyn's most demanding role was in 'The Misfits', written for her by husband Arthur Miller. The strain of playing a character so like herself took its toll on Marilyn, and though her performance was brilliant, her marriage to Arthur dissolved soon after.
One of the few bright points of 'The Misfits', from Marilyn's perspective, was the opportunity to work with one of her favourite actors, Montgomery Clift.  Marilyn bonded with Clift just as Elizabeth Taylor had done, and even in her darkest moments, did all she could to reassure him. Producer Frank Taylor described Monroe and Clift as "psychic twins" while Marilyn said candidly, "Monty's the only person I know in worse shape than I am."
Elizabeth Taylor was unflatteringly cast as a high-class call girl in 'Butterfield 8', a film she loathed but which nonetheless won her an Oscar. She believed that its success had less to do with her acting than a sympathy vote after she suffered a near-fatal illness in 1961. That May, Elizabeth and Eddie Fisher attended a performance by Frank Sinatra at The Sands nightclub in Las Vegas. A newly divorced
Marilyn, dating Sinatra at the time, was also there. It is the only known occasion when the two greatest beauties of their era were photographed together. Watching Marilyn sway dreamily to the music, Elizabeth allegedly remarked, "Boy, is she ever tight!" Whereupon Elizabeth, quite tipsy herself, then flopped her head onto Eddie Fisher's shoulder.
At the time of her illness, Elizabeth had just begun filming her most lavish production to date – 'Cleopatra'. Every actress in Hollywood had wanted the part, the most coveted since Scarlett O'Hara in 'Gone With The Wind'. According to Peter Brown and Patte Barham in 'Marilyn: The Last Take', Monroe had been campaigning to play the Egyptian queen for years. Moreover, the film was being made at her home studio, Twentieth Century Fox.
In retrospect, it is hard to envisage anyone but Elizabeth in the role. Her combination of earthy sensuality and regal manner made her an ideal choice. But it was far from the dream project she had hoped for. Her bouts of sickness led to lengthy delays, and what was, in its time, the mostly movie ever made, would lead Twentieth Century Fox towards bankruptcy. The final cut was overlong and rather static, though visually stunning.
What most people remember about 'Cleopatra' is the off-screen romance between Elizabeth and her co-star, Richard Burton. Both were still married to other people, and the ensuing scandal led, incredibly, to Elizabeth being condemned for "erotic vagrancy" by the Vatican. Paparazzi photographs of Taylor and Burton embracing changed the nature of celebrity permanently. After 'Cleopatra', stars could no longer rely on the influence of the studios to protect them from bad publicity.
In early 1962, Marilyn Monroe returned to Twentieth Century Fox, still floundering in the wake of 'Cleopatra', to make a lightweight comedy, ominously titled 'Something's Got To Give'. Despite her long tenure as Fox's most bankable star, Monroe's $100,000 salary was a mere tenth of Taylor's fee for 'Cleopatra'.
Despite misgivings about the weak script, Marilyn tried her best to make 'Something's Got To Give' a hit. At thirty-six, her future as a sex goddess was limited, but she was determined as ever to prove herself. She agreed to film a midnight bathing scene nude, and though the footage is tame by today's standards, this was a daring move for an established star. Shots from the set made news all worldwide, and Marilyn was delighted "to get Liz Taylor off the magazine covers."
Photographer Bert Stern, who worked with both Monroe and Taylor in 1962, later wrote in his book, 'The Last Sitting', "Marilyn was totally the opposite of Elizabeth Taylor. Liz Taylor's already 'there'. All she has to do is turn exactly straight and be still. Her beauty is formal. Liz is the fact of beauty. Marilyn was the fantasy. If Marilyn were still for an instant, her beauty would evaporate. With her it was like photographing light itself."
But Marilyn was not well – suffering from acute sinusitis, she was absent from the studio for long periods. When she flew to New York to sing at President John F. Kennedy's birthday gala, studio executives gave her a final warning. Less than a month later, Marilyn was fired.
It is clear that Twentieth Century Fox was already under pressure because of 'Cleopatra', and some observers have since suggested that executives must have decided that it would be less costly to dispose of Marilyn than to abandon 'Cleopatra'. But at the time, the blame was placed squarely on Marilyn.
Public reaction to Marilyn's plight was more sympathetic than Fox had anticipated, and Fox began negotiations to have her reinstated. Then, on August 5th 1962, Marilyn was found dead at her home, having overdosed on barbiturates.Marilyn's death caused shockwaves around the world. Her fans were confounded that a woman who seemed to have everything – fame, beauty, wealth – could die in such awful circumstances, and apparently by her own hand. Marilyn's tragic decline seemed like nothing less than a betrayal of the American dream. Hollywood had fallen from grace, and would never fully recover.
"I liked her enormously without really knowing her very well," Elizabeth told reporters in the days following Marilyn's passing. "Her death brings me an endless sorrow. From what I know of her, Marilyn had very human qualities. You will understand that I am very upset by this announcement."
Professionally, however, Elizabeth now had no rival as the world's greatest star. She embarked on a turbulent marriage with Richard Burton, lasting more than a decade, and won her second Oscar in 1965, for 'Who's Afraid Of Virginia Woolf?' But even Elizabeth had to live in the shadow of Marilyn, whose memory never faded from view. She was infuriated by an article in which Max Lerner stated, "Elizabeth Taylor was a legend, but Marilyn Monroe was a myth."
Elizabeth retorted, "You have a nerve saying that Marilyn was a myth and I'm just a lousy legend.  I'm much more beautiful than Marilyn Monroe ever was, and I'm certainly a better actress.  What the hell do I have to do to be a myth? Die young and by my own hand?"
It was an off-the-cuff remark which nonetheless reflects on Taylor in a less than positive light.
Perhaps the most important difference between the two stars is that while Elizabeth's fame was thrust upon her, at least at first, while Marilyn's success came from her own relentless need. She had no supportive family waiting in the wings, and her early life was traumatic enough to destroy a less courageous individual. In a sense, Marilyn's ascent is even more remarkable than Elizabeth's – despite her terrible fall.
Marilyn's life had all the elements of a fairytale, like Cinderella, but without the happy ending. Elizabeth Taylor's life went on long after Marilyn died, a cycle of love and heartache, triumph and struggle. It has not been easy, but Elizabeth is a Hollywood survivor.
Over time, Elizabeth came to feel a profound tenderness for her former rival. "Marilyn seemed to have a kind of unconscious glow about her physical self that was innocent, like a child," Taylor has observed. "When she posed nude, it was 'Gee, I am kind of you know, sort of dishy,' like she enjoyed it without being egotistical."
"I adored Marilyn," Elizabeth told The Times magazine in 1999. "I felt very protective towards her and there was no way of protecting her… she had brought this net of negativity and self-destructiveness around her that anyone could put their Machiavellian fingers through. She drank and took too many pills." When a journalist pointed out that Elizabeth had also battled addiction, she added, "But Marilyn didn't have the grit."
Whether Elizabeth's observations came from direct contact with Marilyn, or filtered from the Hollywood grapevine, is difficult to tell. But Taylor's deep compassion and empathy could, in time, have made her a strong ally for Monroe, who had all too few close friends.
Elizabeth may have had twinges of jealousy, but she is, according to those who know her well, a fundamentally kind woman. And Marilyn was valued by her friends for her immense generosity, and never saying a bad word about anyone.  Therefore it seems unlikely that their much-hyped rivalry was anything more than professional.
By Tara Hanks