You'd be hard pressed to think of another celebrity endorser that's been advertising products as long as Marilyn Monroe. From her first advertisements in the mid-1940s to almost 55 years after her death, companies know that using Marilyn's image is a sure sell. From beauty products to her recent Snickers commercial, Marilyn is still loved by Madison Avenue.
Vintage Marilyn Monroe Ads
During her lifetime, Marilyn's image was used to endorse a number of products. Some make sense, like makeup and hair products. Others, like lawn furniture and men's shoes,can be head scratchers. Regardless of what the product is, Marilyn's face in an ad certainly grabs attention.
Snickers Superbowl Commerical, 2016
Snickers candy bars introduced this latest installment of the successful 'You're Not Yourself When You're Hungry' campaign by having veteran actor Willem Defoe recreating Marilyn's famous subway scene from The Seven Year Itch. After being handed a Snickers bar, the grumpy Defoe transforms back into a sweet and lovely (although digitally tweaked) Marilyn. The commercial was aired to millions worldwide during the Superbowl, continuing to keep Marilyn in the public conscious. It was well received by Marilyn fans, although Snickers passed up a prime catch phrase opportunity by not using Marilyn's line from the film "Isn't it delicious?"
Royal Triton Motor Oil, 1950
The only television commercial Marilyn made during her lifetime, this Royal Triton ad seems very dated but somehow Marilyn still makes you want to buy Royal Triton to put in the little tummy of your car.
Coca-Cola, 1953

Marilyn's scenes from the movie Love Nest were spliced into Coke Time With Eddie Fisher, a 15 minute show that aired on Wednesdays and Fridays from 1953-57. The show was sponsored by Coca-Cola and would feature celebrities praising the soda.
Holsten Pils, 1988
Holsten Pils, a German beer brand, had a highly successful ad campaign in the UK that would feature comic Griff Rhys-Jones spliced with classic films. Although producers thought that they would never get permission to use Some Like It Hot, both Warner Bros and Billy Wilder gave their blessing. Because of the intercutting between Rhys-Jones and Monroe, impersonator Kay Kent was used as a body double.
Chanel, 1994

Marilyn Monroe advertising Chanel seems like a no brainer. One of the most recognized images of her is applying a dab of Chanel before a night out, and she famously said that all she sleeps in is Chanel No. 5. This 1994 commercial for Chanel No. 5 shows model Carole Bouquet morphing into Marilyn. The process required 900 hours of searching through film reels of Marilyn and precisely matching them for lighting and camera angles.
Giovanni Rana Pasta, 1997
Known as 'The King of Tortellini', Giovanni Rana did a series of ads for his pasta brand in his native Italy. Insisting to his marketing team that he wanted to appear in his pasta commercials himself, he made several that spliced him with Hollywood stars from Rita Hayworth to Clark Gable. This one, from 1997, puts him next to Marilyn in one of her scenes from How To Marry A Millionaire.
Grolsch Premium Premium Blonde Beer, 2006
When Dutch beer company Grolsch launched their Premium Blonde brew in 2006, there was no better representative for them than the Blonde Bombshell. This commercial uses vintage film reels of Marilyn while she sings "I Wanna Be Loved By You". The result could definitely make you thirsty.
Sunsilk, 2008
Sunsilk hair care products launched their "Life Can't Wait" campaign during the 2008 Superbowl. The ads featured Madonna, Shakira, and Marilyn as women who live life to the fullest. In addition to commercials featuring all three, this longer ad paid fitting tribute to Marilyn as the sexiest woman of the 20th century.
Citroen, 2010
Marilyn was used in this 2010 commercial for French carmaker Citroen. Footage of Marilyn was taken from a 1956 press conference and voice dubbing was used to make it appear that Marilyn was stating Citroen's message of 'Live Your Life Now'. While the Marilyn ad passed mostly unnoticed, a similar commercial starring John Lennon was met with outrage by his fans.
Sony Cybershot, 2011
This 2011 ad for the Sony Cybershot camera had the theme of "Stories Are Panaromic". It was first aired in Mexico and later dubbed in English. The ad crops a photo of Marilyn from her 1956 trip to England and pans out to a reimagined scene of Marilyn having caused a car accident.
This commerical for J'Adore Dior perfume featured actress Charlize Theron breezing past female icons Grace Kelly, Marlene Dietrich, and Marilyn Monroe. While most agreed that Marilyn and Dior were a good pairing, fans were not so favorable about the result. The CGI Marilyn that appeared in the commercial did not look realistic, and the overwhelming majority dubbed it "creepy".
Chanel, 2013
This 2013 Chanel commercial, using vintage film reels and Marilyn's own voice, was applauded by her fans as a fitting tribute and praised for being a product she actually used. It is generally regarded by fans as the best commercial utilizing Marilyn because it reflected the real woman behind the image.
Sexy Hair, 2014
Hair product company Sexy Hair launched a huge print and commercial campaign with Marilyn for their 'Sexy Is Forever' theme. In this 2014 commercial, a model dubbed 'the modern Marilyn' is interspersed with Milton Greene's photos of the star and some of her quotes.
Print Advertisements Starring Marilyn
Nike, 1991
This ad for Nike seems incredibly current with it's message of pro-woman empowerment,although it was released back in 1991. The ad implores women to be judged not by their measurements but by who she is and who she is trying to become, a sentiment that Marilyn herself echoed during her lifetime. Although it doesn't even show their product, Nike hit a homerun among Marilyn fans with their 'Statistics Lie' slogan.
Gap, 1993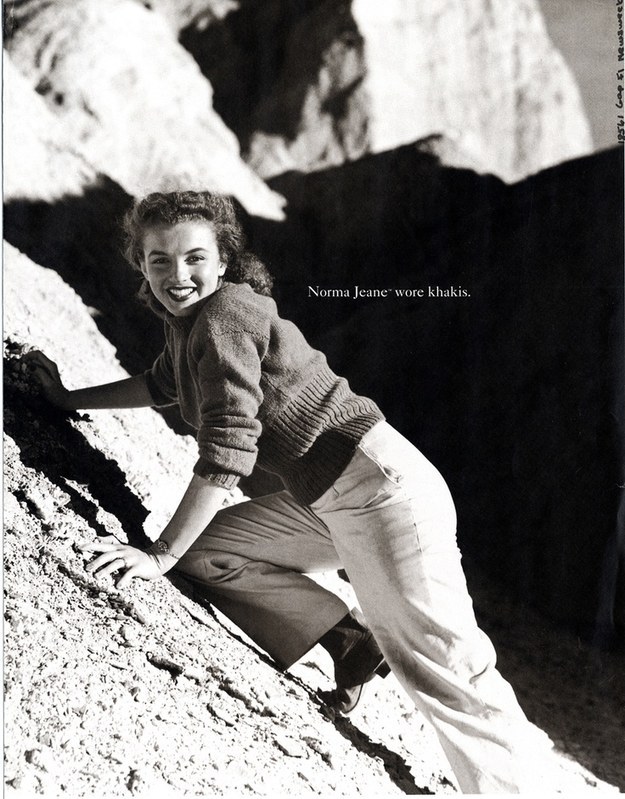 Fashion retailer Gap launched their "Who Wore Khakis?" campaign in 1993. The ad director researched photos of famous people wearing khakis and ads with Chet Baker, Humphrey Bogart, James Dean, Sammy Davis Jr., Amelia Earhart, Ava Gardner, Ernest Hemingway, Rock Hudson, Gene Kelly, Jack Kerouac, Arthur Miller, Marilyn Monroe, and Pablo Picasso were produced.
Kmart Marilyn Monroe Signature Jeans, 1995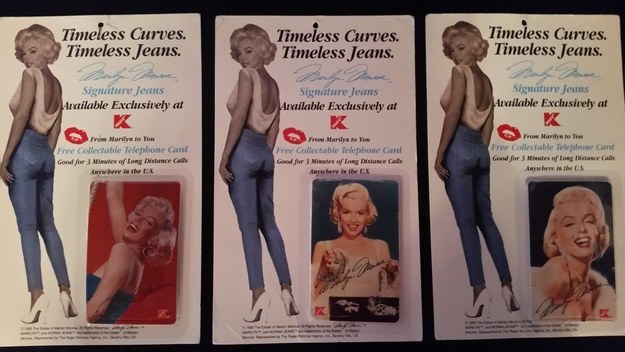 Discount retailer Kmart started selling Marilyn Monroe jeans in 1995. For their print campaign, they took a photo of Marilyn from 1962's Something's Got To Give and fashioned it to appear that she was wearing their denim line. The short lived jeans came with one of three collectible phone cards.
Mercedes-Benz, 1997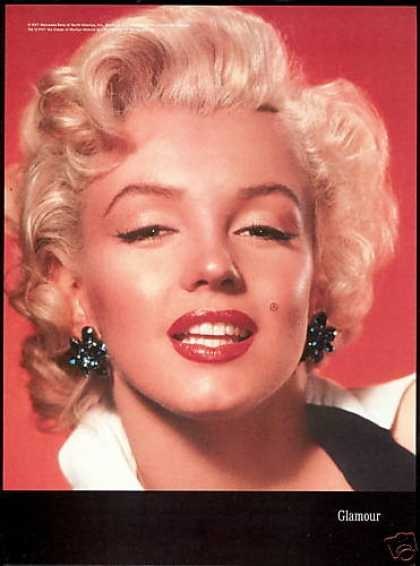 If you didn't look closely, you'd hardly know this 1997 print ad was for luxury car manufacturer Mercedes-Benz. Showcasing a full page photo of Marilyn, the only clue that it was an advertisement was that her famous mole had been changed to a Mercedes three pointed star.
Warner's, 1997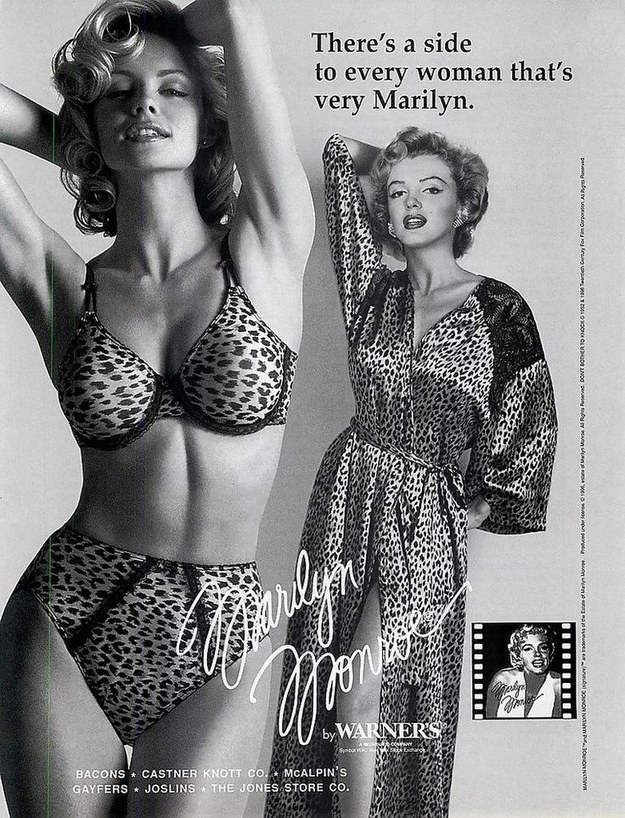 Clothing manufacturer Warnaco released a line of Marilyn Monroe intimate apparel under their Warner's label in 1997. To promote their peignoirs, nighties, and bra and panty sets, photos of modern model Emily Flint were juxtaposed with pictures of Marilyn from her films. However, the ad above actually took an image of Marilyn's face from Don't Bother To Knock and put it onto another woman's body.
Volkswagen, 1999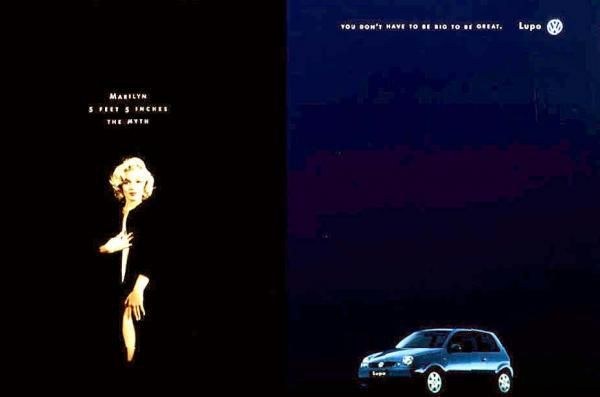 This print campaign for the Volkswagen Lupo was released in Italy in 1999. It features a Milton Green image of Marilyn with the caption "Marilyn: 5 feet 5 inches" and "You don't have to be big to be great."
Max Factor, 1999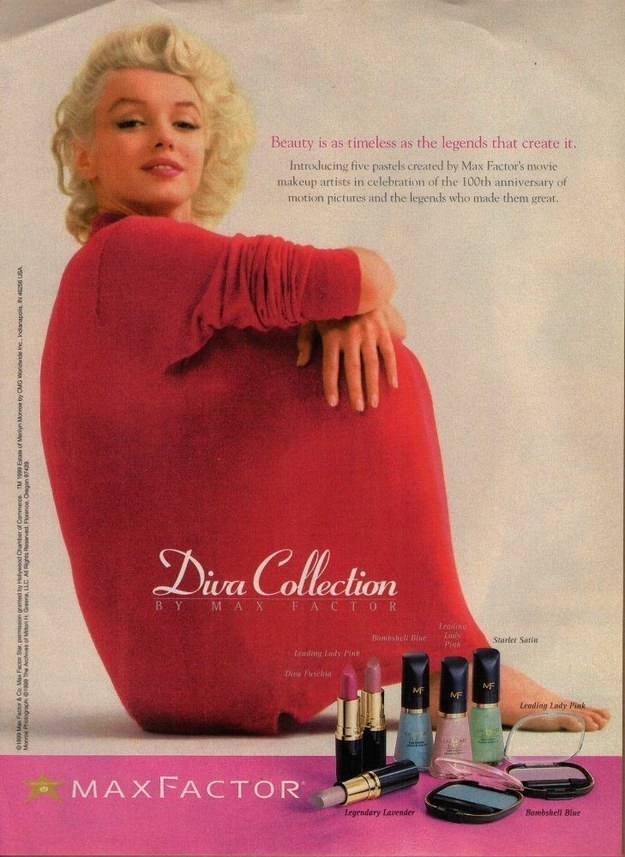 Max Factor makeup launched The Diva Collection in 1999. The ad campaign showcased Marilyn, Marlene Dietrich, and Ava Gardner as the divas of old Hollywood. The palettes were named with titles like Leading Lady Pink, Starlet Satin, and Bombshell Blue. It was evidently successful, as the Diva line is still being manufactured.
Max Factor, 2015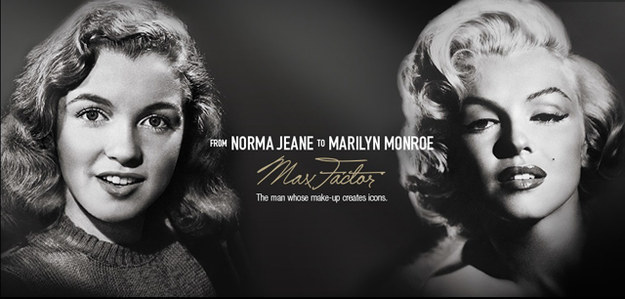 In 2015, Max Factor once again utilized Marilyn in their latest ad campaign, 'From Norma Jeane To Marilyn Monroe' and appointed her their 'global ambassador'. The ads implied that Norma Jeane was transformed into sultry Marilyn Monroe by Max Factor, however, sticklers for accuracy weren't pleased with the insinuation and corrected the company that Marilyn's transformation was a result of her modeling agency and Marilyn herself.
Mikimoto Pearls, 1999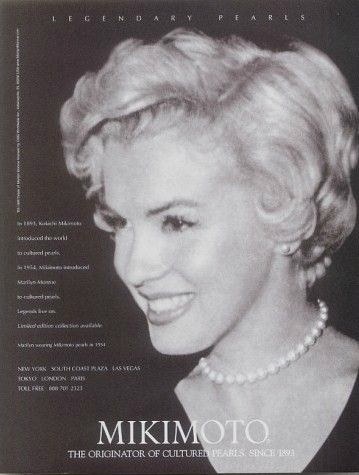 In 1954, on her honeymoon trip to Japan and Korea, Marilyn received a strand of Mikimoto pearls. Where she got them from gets a little more convoluted- some say they were a gift from new husband Joe DiMaggio, some say from the Emperor of Japan. Mikimoto claims that they gave her the pearls directly. Regardless of how she got them, Mikimoto's luminous print campaign of Marilyn wearing the pearls debuted in 1999. (Mikimoto obtained Marilyn's necklace in 1998)
Levi's, 1998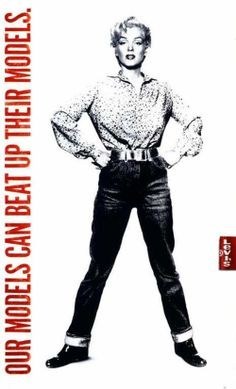 Levi's jeans took a swipe at the 90s 'heroin chic' trend of waiflike models with their 'Our Models Can Beat Up Their Models' campaign, branding themselves as a 'tougher' denim option. Ads featured Marlon Brando, John Wayne, and this image of Marilyn from 1954's River of No Return. The ads appeared in billboards, buses, and subway stations.
Levi's 1968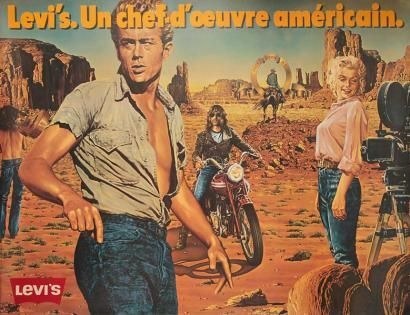 Levi's first used Marilyn way back in 1968. Again with an image from River of No Return, she joins James Dean in this print ad by artist Pierre Peyrolle.
Absolut Vodka, 2006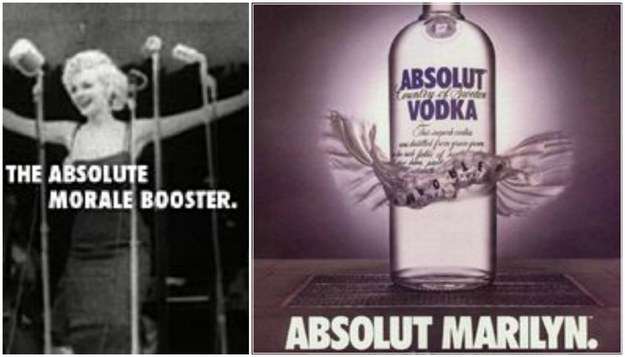 Absolut Vodka's iconic print campaign was inspired by none other than Andy Warhol, who loved the asthetics of the bottle. Running for over 25 years, the marketing strategy featured Marilyn in a 2006 double page ad. Using a photo of Marilyn entertaining the troops in Korea titled 'Absolute Moral Booster' and a bottle of vodka recreating the skirt scene from the Seven Year Itch, the ad secured it's place in the annals of advertising history.
Dresden Kleinwort Investment Bank, 2006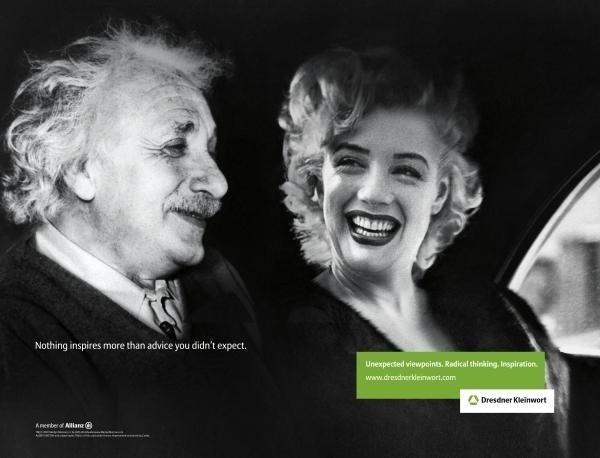 This print ad from Dresden Kleinwort Investment Bank in Germany shows a digitally altered photo Marilyn with her idol Albert Einstein, with the tag line 'Nothing inspires more than the advice you didn't expect'. Other ads in the campaign paired Muhammad Ali with Mahatmas Gandhi and Maria Callas with Jimi Hendrix.
Clyda Paris Watches, 2008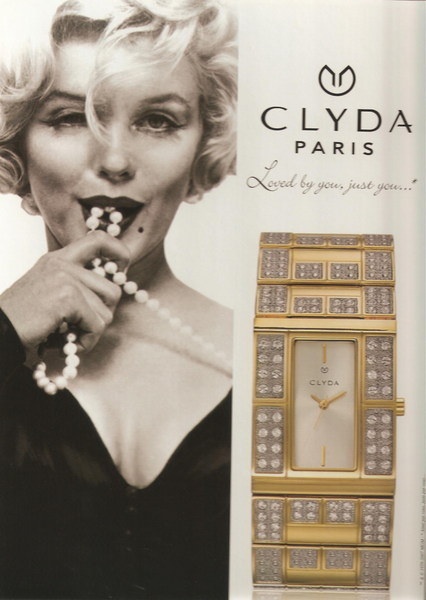 French luxury watchmakers Clyda paired with Marilyn Monroe in a number of print ads in 2008. The ads used photos from Some Like It Hot with the tagline 'Loved by you, just you". They dubbed Marilyn their muse and said that "just like Clyda, Marilyn embodies elegance, refinement, glamour, sensitivity, fragility, provocation, charm and femininity."
MAC Cosmetics, 2012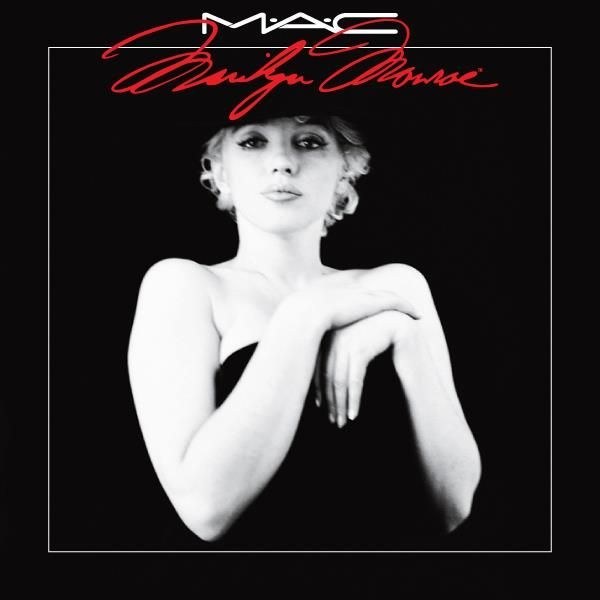 MAC cosmetics found a muse in Marilyn. A line of Marilyn inspired makeup was gorgeously packaged with stunning images from Milton Greene's famous Black Sitting. With shades named Preferred Blonde, Showgirl, and Love Goddess, the collection was all Marilyn. Hugely popular, it sold out in hours when it debuted in October 2012 and is still highly sought after as collectible pieces.
Coca-Cola, 2015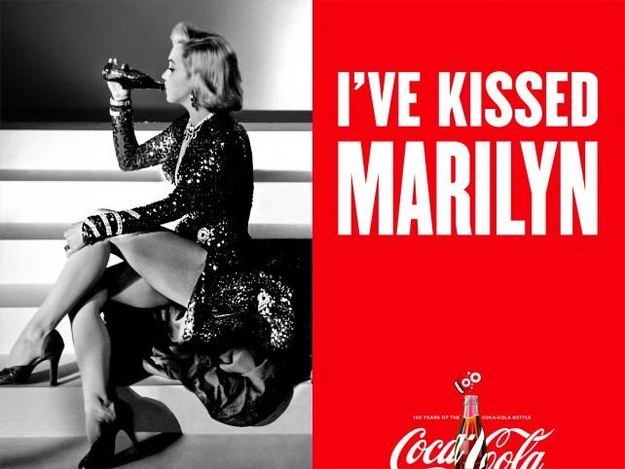 Coca-Cola launched their 'I've Kissed' campaign last year, featuring a mix of modern and classic celebrities drinking Coke. Appearances included Elvis Presley, Ray Charles, Lana del Ray, Rita Ora, and this photo of Marilyn drinking a Coke on a break from filming Gentleman Prefer Blondes. The image,originally published in Life Magazine, was a hit on posters and billboards around the world.
By Marijane Gray for Immortal Marilyn