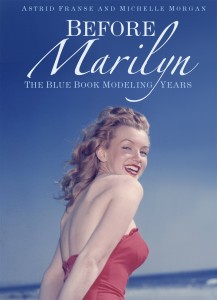 This book takes us to the beginning of Marilyn's professional life as a model for the Blue Book Agency run by Emmeline Snively. Snively saw great potential in 19 year Norma Jeane Dougherty who she was introduced to in August 1945 by photographer Potter Hueth, who had been introduced to Norma Jeane by David Conover after he took photos of her that summer while she was working in a factory. Over the next few years Snively transformed the shy teenager into the young woman the world would come to know as Marilyn Monroe.
So much had been written about those years, often shady accounts of how Norma Jeane was discovered, but for the first time we have the real first hand account of how this came to be from the extensive archives of Miss Snively now owned by Astrid Franse, which has original documentations, letters, photos and Miss Snively's own anecdotes on Norma Jeane aka Marilyn.
This is all brought to life by the wonderful writing style of Michelle Morgan, who offers us a glimpse of what it must have been like to be in Miss Snively's shoes as she witnessed Norma Jeane's hard work and determination to be a success. Often facing rejection, but always keeping positive and never giving up, as she evolved and blossomed into Marilyn Monroe. The book gives us a wealth of information and is like an insiders view of how it was.
As many books seem to focus on the rumours surrounding Marilyn's untimely death and the myths created about her, we are given an opportunity to see here the young woman before the myths began to take hold. Her early career and how far she came and in the memorable words of Lee Strasberg, "a warm human being, impulsive and shy, sensitive and in fear of rejection, yet ever avid for life and reaching out for fulfilment."
Highly recommended as it offers an insight into one aspect of Marilyn Monroe's life that has not been examined so closely before.
Hardcover: 240 pages
Publisher: The History Press; 1 edition (6 July 2015)
ISBN-10: 0750961171 ISBN-13: 978-0750961172
By Fraser Penney