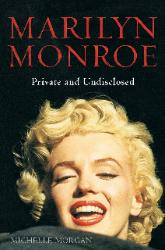 As a life long admirer of Marilyn Monroe, I can remember a time when the announcement of a new book about my heroine would bring me as much excitement as a child looking forward to Christmas. These days it's a very different feeling indeed, usually one filled apprehension and dread as through time I've come to learn that most biographers start of with the best intentions but end up making mistakes by relying on previous publications that contain poor research based on hearsay and gossip and mostly not very reliable sources.It is with great joy then that I come to review 'Marilyn Monroe: Private and Undisclosed' which in my view is the best biography in over 40 years.
Not since Fred Lawrence Guiles' "Norma Jean," which I have always held in high regard, has there been such a book. In fact, I have enjoyed Michelle's style of writing so much I'd say it even eclipse's Guiles work!I found myself reading things for the first time about someone whom I thought I knew very well. Michelle, through her meticulous research has uncovered new stories about Marilyn's childhood, the Knebelkamp family and Aunt Minnie, new details about Natasha Lytess, her frustration with her mother and the true depth of her relationship with her father, her painful suffering from endometriosis, her struggles to improve herself, her ambitions, having her dreams turned into reality but all the while failing to find the personal happiness and professional fulfilment she ultimately sought.
In the fifty years since Marilyn died it seems that every few years there is a revival and a fresh flurry of interest in her. But the way the world is now, the Internet and with YouTube it would appear that Marilyn's popularity is at an all time high as it has soared to new heights. For anyone new to the Monroe world, perhaps through films like My Week With Marilyn garnering new interest in the legend, Michelle's account of Marilyn's time spent in England in 1956 will be of particular interest as we have a more historically accurately description of that time.
Each chapter covers a period in Marilyn's life and is like a short story in itself. I found myself going back and re-reading chapters I enjoyed the most and also because of this it's a good source of reference for clarifying incidents and dates. Michelle has been lucky enough to count among her sources, people who were there at the time and were a privy to what was happening behind the scenes.
Marilyn Monroe: Private And Undisclosed is an honourable and respectful portrait of the woman who came to define Hollywood glamour, stardom, female sexuality who had many human qualities, but at the same time could be difficult, complex and her own worst enemy. It's the most compelling account of the life of Marilyn Monroe yet and it's the one book everybody should read in this, the 50th Anniversary year of her premature death.
By Fraser Penney