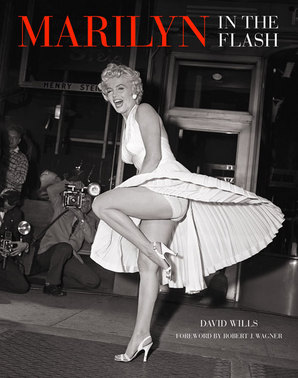 Hardcover: 256 pages
Publisher: Dey Street Books (Oct 2015)
Language: English
ISBN-10: 006238970X
ISBN-13: 978-0062389701
"She had a light that belongs only to her. She had something very special. When you see a photo of Marilyn there is something that comes from her that belongs to her, but is beyond even her. It's something that happens when the camera loves you that much." So said Catherine Deneuve in a 2011 interview. Which is the perfect way to describe this beautiful new book, 'Marilyn In The Flash', by David Wills.
This is the story of Marilyn's two longest love affairs – the press and the camera! It's an amazing assortment of press photos, clippings and restored images of classic images and rare unpublished shots that haven't been seen in print form before.
It begins at the Blue Book years and Marilyn's success as a photographer's model through to the film and weekly magazines that ran stories and pin-ups of her as a starlet, which helped to popularise her before her film career took off. Each page is evidenced with memorabilia and press and publicity stills in a chronological order which presents a visual documentation of her rise to fame and beyond; to her last film appearances on the ill-fated, Something's Got To Give, which she never lived to finish.

No detail is spared as we see Marilyn on her travels to Japan, England and Mexico. Her marriages to DiMaggio and Miller are covered as well as her film premiers and award ceremony appearances. If the press were there then it's documented here, along with the press captions for each photo, giving the book a real vintage scrapbook look.

The quality is exceptional, as you would expect from David Wills, as his other books testify and this one is surely the best one yet. The photos are crystal clear, even the old vintage magazine covers and articles are re-produced so well that they look much better than they ever did due to all the love and care and attention to detail.

This book is essential to any Marilyn Monroe fan or collector and just anyone who may have heard her name and wanted to explore her more. With the recent 'Before Marilyn, The Blue Book Modelling Years' still fresh in my mind, this book is the perfect companion as it shows us what came after those formative years, covered so brilliantly by Michelle Morgan and Astrid Franse in their book from a few months ago.