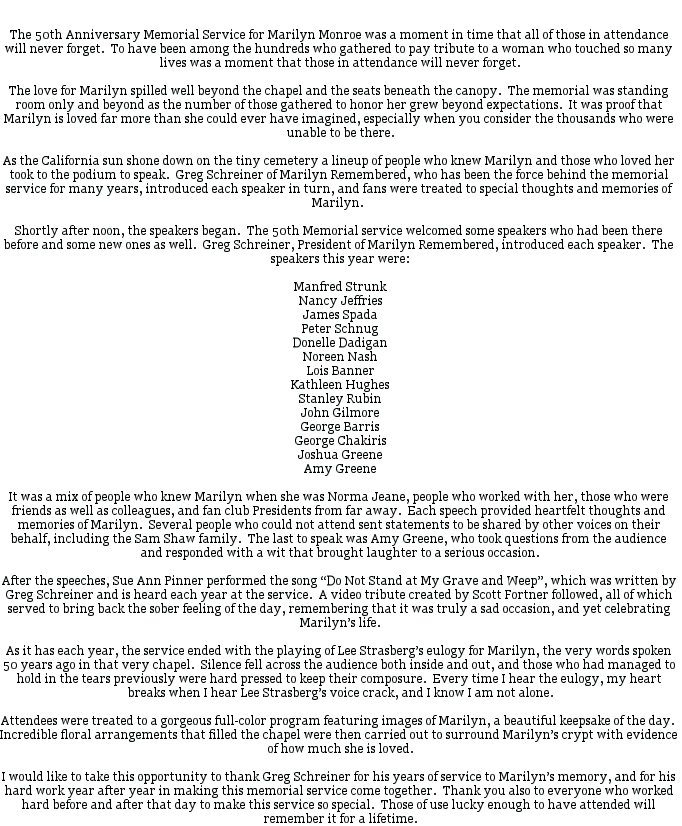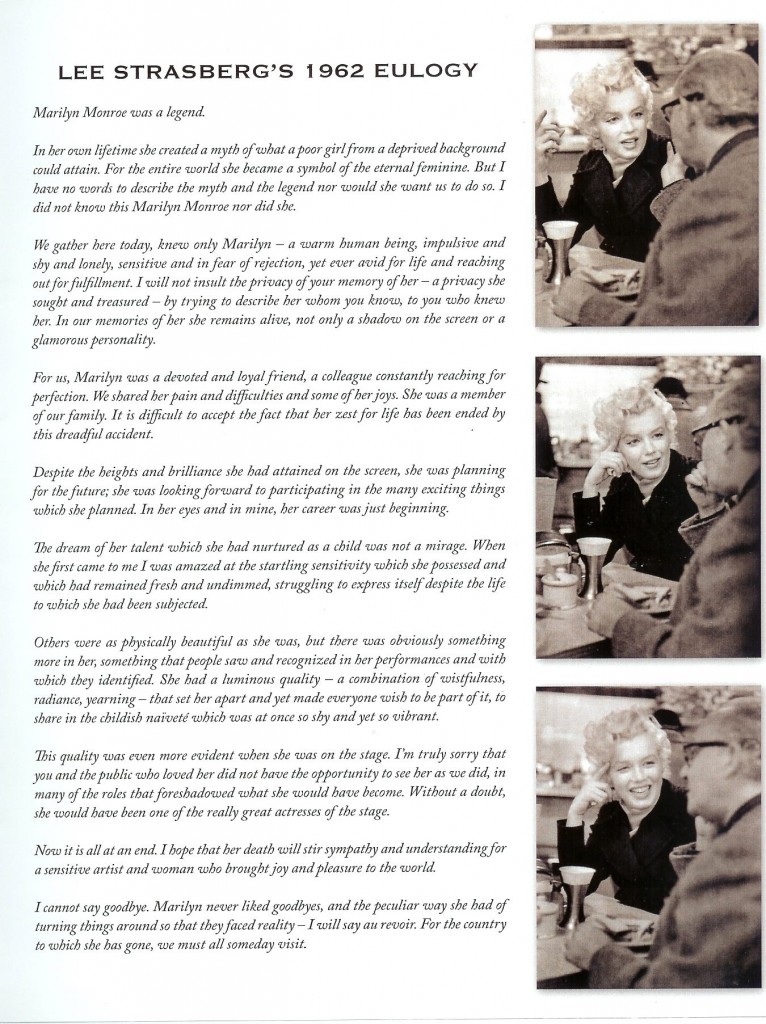 Post Memorial Reception by David Marshall
The thing is with the memorials is that for days you get so caught up in the thrill of being in Los Angeles and seeing so many folks you know from online and previous memorials that it isn't until the service is nearly over that you remember you are in a cemetery. Sitting in the chapel on the fiftieth anniversary of Marilyn's passing, it wasn't until the recorded voice of Lee Strasberg came on that it all comes crashing home and you realize the overpowering truth that a very loved and very human woman had died and that that her death was fresh to him and all the others who were there fifty years ago. You sit in that same space they had sat and hear Strasberg's voice, still somewhat in shock, hear him choke up and there is no way that you can't help but tear up as well. After the high of the pool party, the book signings, the dinners and the Fox luncheon, all of a sudden you remember the reason we are all here.
Once Strasberg's recorded voice ends and you all begin to shuffle back outside to that intense LA sunshine, there's no way you can instantly bounce back to the joy of the weekend. It doesn't really hit home until you are out there in the blinding sunshine after several hours inside that tiny chapel. You stand there blinking and unlike before the service when everyone is still excited they are now slightly hushed. That's when you remember that this is where Joe DiMaggio stood weeping, this is where Inez Melson and Eunice Murray sat and watched the end of the story, just over there is where Sammy Davis and Ella Fitzgerald were turned away. Now there's no way to forget that you are in a cemetery. Right there is where the Pierce Brothers rolled her casket out and loaded it into that pale colored hearse. Right here is where Greenson and his wife, their son and daughter stood in that photo we all know by heart. You remember not only the haunted look in Greenson's eyes but how pretty and sophisticated Joan Greenson looked and you wonder if maybe she was remembering that day that only a few months earlier she had given Marilyn her copy of "The Little Engine That Could" to help her get over her stage-fright before singing Happy Birthday to the President. And as all the folks from the chapel and all those who had sat outside begin to flock across the grass towards Marilyn's fifty-year-old crypt, you can't help but remember the faces of the fans lining the chain-link fences that long ago weekend. All those people, young and old, and white and black, and all so damned sad.
So here we are fifty years later, maybe not the same hundreds of fans who had dressed up in their summer finest to say good bye to their favorite Movie Star but the next generation that now forms The Marilyn Community. Only instead of walking over from Westwood or driving in from West Covina and Compton, we've come from all around the globe. And from the look on the faces of the people slowly moving along that short distance to the crypt, I can see that fifty years later the shock of Marilyn Monroe's death may not be as intense but the loss is still as strongly felt.
Like most of the people after this year's memorial, I took some time to pause at Marilyn's crypt and share a quiet moment with her and my own memories. And then, again like many others, took a few moments to go stand at Ana Lower's grave and Grace Goddard's. And now there is Enid Knebelcamp's grave next to Grace's, the only one of the three who had been here and made that long slow walk from the chapel to the chairs set up next to the crypt on August 8, 1962.
The church where the reception was held is right around the corner from the hidden Westwood Memorial Park. And, like the nearly impossible to find if you don't know exactly where it is cemetery, it is of that same long ago era, the era where Marilyn Monroe was a young girl with a brand new name trying to get her break in Hollywood. In fact although it might not predate the cemetery, the reception hall and the attached church buildings are likely from the Twenties or Thirties, built in that LA pseudo Spanish style that could easily pass for a set on one of Fox's old lot where Westerns had been filmed, parts of it easy double for one of the old California missions.
First off you stop at the steps and ask for either a small, medium or large where they are passing out gift bags—T Shirts were one of the goodies and by the time I arrived, (the same problem I have in most department stores), only the Large and XX Larges were left. No problem, the T Shirt was still plenty cool.
Inside you have to stop for a second to adjust to the dim light after the killer LA sunshine. But when your eyes adjust there are three kajillion people milling around and the now familiar shouts of "Look who's here!" are being called as MM fans meet up with people they haven't seen since the year before, or five years before, or only know from online names. But the one voice that overwhelms all others is even more familiar, Marilyn signing "When Love Goes Wrong". It feels kind of like cross between a high school reunion and a college mixer where even though you may not recognize people right off, after a few slightly embarrassed questions of What's your name, you realize you know quite a bit of the people here. A lot you've seen from the earlier events like the Fox Luncheon and the kick off Pool Party at the Orchid. There's a last chance to get Gary to sign his book and to tell Marijane what a hoot it's been to meet her. A moment to thank Jackie Craig for her work and, of course, to grab hold of Mary and tell her again what an amazing job she's done, even topping the previous memorial events she's put together. There's Scott and Joel and Joey and Lois and on and on and on. The feel of the high school reunion and college mixer merges into more of an old home feel and you relax, grab some grapes and melon and maybe even try one of the fading egg salad sandwiches… And you see again, just like the fans who came in August of '62 and waited outside in the hot sun, the 2012 Marilyn fans are an incredibly diverse group, old and young, any race and creed you can think of, gay and straight, male and female, some with walkers, some in wheelchairs, and all of them with the smarts to recognize Marilyn Monroe was an exceptional human being and worthy of our appreciation fifty years later.
And, major treat, there's George Barris and you have a chance to actually talk with the man and tell him how much his work has meant to you and how envious you are of his spending an afternoon with Marilyn on Santa Monica Beach, to be able to just kick back, share some champagne and talk and watch the waves. Believe me, after the somewhat uncomfortable feel of his book signing at the Hollywood History Museum, it was a true pleasure to be able to just say a few words with the man—without someone shouting at you to toss down your money and move along.
That's about it. There were a few moments to speak with artist Victoria Fuller and discuss her work and the piece she put together for the memorial – money from the sale of that piece, (if it did sell), to go to Hollygrove. And the obligatory sounds of Elton John singing "Candle in the Wind". But after an hour or so, like most of LA in August, it's a little too hot, a little too crowded and it's time to move on. As this may be the last I'll see of many of these people, at least for this year, I made a point of saying goodbye to many, even though a lot of us would meet up that night for dinner and then the screening of "River of No Return" (Big screen and in CinemaScope!) at the Egyptian. I stepped back outside and put on the sunglasses and started walking back to the rental car. Only there's Dawn and I love that woman so I stop and share a couple dozen hugs. And just when we were wondering where Suzie was, just like the woman who she's come to represent all across the globe, here saunters in Miss Kennedy, a little late and behind schedule but my God, what a delight to behold. And you know, that was a perfect ending for the memorial. Plus I could still hear Marilyn singing in the background.
I miss Marilyn and I know I'm going to miss all the people here this weekend. But even though the missing part still holds on, it gets a little easier as time passes and you get caught up with your own day to day real world. Still, just like Marilyn, there's something magical about these memorials. And you know, I think Marilyn would have gotten a kick out of them too. Old friends, good weather, lots of laughter, terrific memories. What's not to like?
---
DAY 1 – HOTEL DEL CORONADO
A Day At The Del Coronado by Rebecca Swift
Wednesday 1st August dawned warm and sunny as we took our places on the coach excitedly awaiting a day at the Hotel Del Coronado. Much grateful thanks goes to Melinda Mason who had arranged the trip.
This was to be the first day of all our arranged activities and it certainly brought a sense of what fun there was to be had, and memories to be made, throughout the rest of the week. I had already been in LA for four days, but this was the first day for some people, so, along with those friends I had already met up with, there were lots of people I was excited to see today.
I've been to The Del once before, and I absolutely loved it. It's just, put simply, a magical place, even without the Marilyn connection. The hotel has so much history all on its own (it was opened in 1887), and its atmosphere is one of breathtaking beauty, opulent surroundings, fun and relaxation. It feels perfect to be there, as if the hotel has been waiting for you to arrive, and now you are there, you might as well stay.
Melinda had brought with her a Some Like it Hot soundtrack on vinyl and she asked everyone on the coach to sign it. A completely fabulous idea. The finished item looked absolutely stunning, covered with its various inscriptions in silver pen. What a fantastic keepsake.
It is quite a long journey from Hollywood to Coronado Island, but fortunately, we weren't hampered much by traffic and managed to make pretty good time. As we approached the large (and very high) bridge from the mainland to the island, everyone started to get very excited, it was clear where we were, even to those who had not been before. We got our first glimpse of The Del and cheers were heard and cameras clicked. You couldn't see much though, apart from the top of the hotel, but everyone recognised it at once.
Well, we were here, the excitement was palpable as we made our way off the coach, the first stop being to pose for photographs in front of the hotel sign and fountain.
Well now, what to do, and there is no shortage of that at The Del. There are many wonderful places to eat and shop, or even just take a stroll down one of the most beautiful, if not, the most beautiful, beaches in existence.
The little group that I was with decided unanimously that the first stop should be the hotel gift shop to check out the Marilyn items for sale, and I must say, I was impressed with their choice of merchandise. I managed to buy three bottles of Marilyn wine, they had a wonderful selection for sale, and also a large mug for my husband, with photographs of The Del. As I spent over a certain amount, I also got a free reusable shopping bag too, one side photos of the modern Del, the other, photos of The Del throughout history, including photos from Some Like it Hot. I think the staff in the shop were a little surprised to see so many of us, and I heard one say to the other, we'd better get more Marilyn out!
Once everyone was satisfied and had paid for their booty, rumbly tummies prompted us to go in search of food.There are a few places to eat at The Del, but we decided to patronise the Sheerwater restaurant. We were seated at a table outside, right in front of the sea. To anyone who hasn't been to The Del, I just can't describe how marvellous it is. Suffice it to say it's just sublime. Sitting there, you can't think of anywhere that you'd rather be.
You can just sit and soak it all up, other diners, people by the sea, the navy jets flying overhead. Which, curious as it sounds, do not spoil a thing, indeed, they seem to be a part of The Del too.
The food is beautiful, as you would expect from a first class hotel, but it's not that expensive either, which is surprising. We had the most gorgeous meal and then decided what we would do next.
Walking around you are very aware of The Del's amazing past, there is an exhibited history of the hotel which makes very interesting reading and there are references all over to Some Like it Hot. The hotel seems very proud of its connection to the movie and I am sure that much of its tourist trade must come from people eager to see the 'Seminole Ritz'. You can see scenes from the movie in your mind everywhere, as the exterior of the hotel and the beach have not changed at all, even the trees are still the same.
We decided next to go for a walk along the magnificent beach. We walked for a quite a way until The Del was just a speck in the distance. Of course we had a paddle too, and even on that hot day, the water was still cool and refreshing on the ankles. One of the most incredible things about the beach at The Del is the sand, which is gold. It's full of mica which makes it glint and shine. I've never seen anything quite like it before; it covers your bare feet with a sparkly golden coat. It's the perfect complement to a hotel that also sparkles and shines.
As we returned from the beach, the day was nearing the time for us to go and find the coach, but we still had an hour or so to spare and decided (very wisely) to sample the tempting ice cream parlour. We each bought a scrumptious creation and ate it on benches in front of the hotel, watching the world go by, the busy life of a hotel, cars, valets and luggage coming and going.
As we boarded the coach, I was sad to leave, it had been a perfect day at The Del. It's a place that just grabs you, and you don't want to say goodbye, I am sure I would be quite happy to stay there forever. But a lot of fun had been had that day, and many memories had been created.  As we drove back to Hollywood we watched Some Like it Hot on the coach's entertainment system and it finished the trip off in the nicest possible way.
Nobody's perfect, but it seems The Del is. I can't wait for my next visit there.
---
DAY 2 – HOLLYWOOD MUSEUM AND POOL PARTY
Hollywood Museum 
Our Pool Party by Marijane Gray
On August 2, 2012, Marilyn fans from around the world descended on the Hollywood Orchid Suites for the Immortal Marilyn Pool Party. It was an international affair, with attendees  representing not only most of the United States but at least a dozen other countries as well: Canada, Venezuela,Mexico, Germany, Belgium, France, Italy, Spain The Netherlands, Scotland, England, Wales, Russia, Australia, and New Zealand. In spite of some language barriers, we were all fluent in Marilyn and the feeling of camaraderie was undeniable. Those who had met at previous IM gatherings were delighted to be in the company of their Marilyn family again. Those who only knew one another online up until this point were surprised by the immediate rapport they felt with dozens of people that they had never actually met, and felt like lifelong friends within an astoundingly short period of time.
The Orchid Suites graciously hosted the party for over 100 diehard Marilyn fans, with nearly the entire hotel overrun with IM members. Hotel room doors were wallpapered in Marilyn posters, Marilyn banners flew from balconies, and even the sign in the lobby welcomed Immortal Marilyn to Hollywood. Scott Fortner generously sponsored the party, even going so far as to personally deliver the pizzas to the hotel. Guests were resplendent at the 50s themed affair, with women decked out in their best pinup dresses and vintage hats and the men looking suave in colorful bowling shirts. We were surrounded by a bevy of Marilyn beauties–Suzie Kennedy was Seven Year Itch Marilyn, Nadine Banville was River of No Return Marilyn, Hanna Nixon was both Some Like It Hot and Korea Marilyn, Memory Monroe and Holly Beavon both did their best cheescake Marilyn pinups.
The party also doubled as a book signing, where fans were delighted to meet some of their favorite authors. Jeff Mantor of the Larry Edmunds Bookshop provided pre-ordered books for people to have signed as well as a supply of signed Douglas Kirkland books. Guests were thrilled to get their books signed by James Spada (Monroe), Gary Vitacco-Robles (Cursum Perficio:Marilyn Monroe's Brentwood Hacienda), Lois Banner (Marilyn:The Passion and the Paradox and MM:Personal) , Joshua Greene (Milton's Marilyn), Christopher Nickens (Marilyn In Fashion), Eric Woodard (Hometown Girl and and Film Fashions by Travilla Paper Dolls) , and Gloria Pall (The Marilyn Monroe Party). Gary and Oscar Vitacco-Robles held court in the center of things, taking time to sign beautiful bookplates they provided for each guest. Christopher Nickens also thoughtfully brought signed bookplates from his co-author, George Zeno, who was unable to attend. Eric Woodard had everyone excited by entering each person who bought a copy of his paper doll book in a raffle for an authentic hair clip that belonged to Marilyn. Deborah Bakker of the Netherlands was the lucky winner, and brought smiles to everyone with how overcome with joy she was at receiving such a prize. Many others were made happy by winning wonderful Marilyn related raffle prizes.
There were more emotionally elated moments at the party. Unbeknown to Immortal Marilyn President Mary Sims, a secret group of over 60 members all chipped in to present her with a token of our gratitude for all the hard work she put in planning the Memorial Week events. Jackie Craig and Marijane Gray gave her one of the happiest shocks of her life when she was called up to be presented with a beautiful George Barris print and a gift card to get it framed on behalf of appreciative Immortal Marilyn members. Everyone was touched by seeing our Mary so happy.
Happy tears flowed again when Immortal Marilyn had it's first Memorial Week proposal. Morgan Blackbyrne waited until Nadine Banville finished her spot on rendition of 'I'm Going To File My Claim' and asked her to marry him. Naturally she said yes and the newly engaged couple beamed as the crowd erupted in applause. Morgan had also provided a special treat for the party by showing for the first time in public his grandfathers 8MM film of Marilyn and Joe DiMaggio on the beach in Florida in 1961.
As the evening wore down and the champagne flowed, people who hadn't seen each other in years and people who had just met a few hours earlier were not only the best of friends but one big Marilyn family. The Immortal Marilyn Pool Party was the perfect kickoff to the events of Memorial Week because it cemented a bond that those of us who were blessed enough to be there will have for the rest of our lives.
DAY 3 – TOUR
---
DAY 4
Fox Studios
MFB
---
DAY 5
Memorial Service
Miceli's
Theater Egyptian
Night Light Pool
---
DAY 6 – FREE TIME