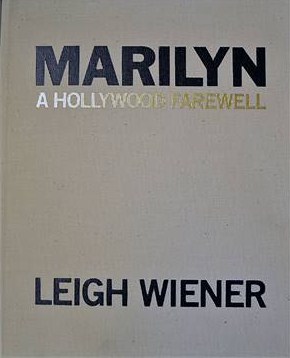 Marilyn- A Hollywood Farewell by Leigh Wiener
1990 7410 Publishing Company, Inc.
ISBN 0961914637
In 1990 I happened upon a new book about Marilyn and of course, snatched it up immediately. It was while on my way to the checkout stand that I noticed the price: $85.00. Like a complete fool, I stopped in my tracks and spent the next several minutes telling myself to get a grip. Yes, Marilyn is wonderful. Yes, the book looked really good. But I also had bills and a couple of shelves full of Marilyn books as it was. Did I really need to spend nearly a hundred dollars on yet another? Especially one that was under a hundred pages? I told myself I was doing the wise thing, told myself I was finally becoming an adult, and walked the book back to the shelf and got out of the bookstore before I could change my mind.
The next day I was right back in the bookstore, having spent the night thinking of the book and explaining to myself that when it came to Marilyn, what was another hundred bucks? You guessed it. The only copy the store had was gone, sold the day before. For the next fifteen years, I looked for this book, searching used bookstores, doing online book searches, checking eBay. I watched as the book rose in price from the original $85 to $150, $250, $300, $400. Last year just before Christmas, the book made a rare appearance on eBay. The opening bid? Over six hundred dollars. I gave up at that point. Marilyn or not, there was no way I was going to spend over six hundred dollars to own what had by that time become a sort of personal Holy Grail.
When I would go to L.A. for the memorials I would glance through the copy Jill Adams owned, through the copy Greg Schreiner owned and think of the sin about coveting what your neighbor owned. Jealousy is such an ugly emotion but I tell you, whenever I would come across the book on someone else's shelf, that old green monster would surge up inside of me no matter how much I smiled and thanked the owner for letting me look as I carefully put the book back.
All this to tell you that a Very nice person finally took pity on me a couple years back and sent me a copy for my birthday. Now I'll be honest with you– I have no idea what it is that I did that made this person think I was worth it, but I'm asking no questions. Something like this comes along once every millennium or so and I'm not giving it back. I'd like to think that I did something really nice in a past life, (like saving a child from a burning building maybe), and this is just my karma being rewarded. Whatever possessed this person to be so incredibly generous, they know how very grateful I am.
The book, if you haven't guessed it as of yet, is Leigh Wiener's "Marilyn- A Hollywood Farewell". And why is it so expensive, why is it so hard to find? Here's how the books were released:
Limited Deluxe Edition:
Only 26 of these were produced, each signed by both Leigh Wiener and Richard Stolley. Cloth. This edition included an additional two 11 x 14 photographs signed by Wiener.
Price: $3,500
Limited Signed Edition:
275 copies signed by Wiener and Stolley.
Cloth.
Price: $295
Unlimited Trade Edition:
Cloth.
Not signed.
Price: $85
Now that last might have been listed as "unlimited" but as soon as the book appeared on the shelves of select bookstores, it simply disappeared. From that moment on, those who had talked themselves out of spending $85 were kicking themselves. Word is only 2,000 or perhaps 2,500 were printed. I have no idea if that is true or not. But 2,000 or 20,000, the fact remains that the book is extremely rare.
So yes, it's hard to come by. Yes, it's only 93 pages long. But what is the book about?
As the title might give a hint at, the book is focused on Marilyn's August 8, 1962, funeral service. Sound depressing? Well, to be honest, it is. But for those of you who were alive at the time or find an interest in her passing and the questions it generated, or even those of you who wish that you might have been one of the hundreds dressed up in your Sunday summer best so as to stand with the other fans on the outside of the gates to watch this near-mythical figure of the 20th century be laid to rest, this book is just about as close as you will ever come.
In 1962 Richard Stolley was bureau chief for LIFE magazine. Wiener was a former Los Angeles Times photographer now working freelance. On the morning of Sunday, August 5, 1962, it was Stolley's job to find a reporter and a photographer and get them out to cover what looked to be the biggest story to hit since John Glenn's historic flight. He quickly located Wiener and then tracked down Thomas Thompson, LIFE staff correspondent for the L.A. LIFE bureau. Filling them in on the news, he ordered the two out to 12305 5th Helena where Marilyn's body had been found just hours earlier.
From that hurried drive to Brentwood, through the trip to the Los Angeles Morgue and finally over to Westwood Memorial, Wiener and Thompson followed Marilyn's last movements. Right up to the last moment when her brass coffin was slid into crypt 24 while Joe DiMaggio, Joe Jr., Ralph Roberts, Pat Newcomb, Eunice Murray, Berniece Miracle, and the rest of the invited and uninvited mourners looked on. That includes the hundreds of television and print reporters who hung from the crypt rooftops, atop scaffolds and clustered across the grass of Westwood Memorial Cemetery. All along the way, Wiener did what his job was– take pictures.
LIFE magazine never did run the story, nor did they print the many pictures Wiener had taken as Marilyn's remains made their way across Los Angeles that hot August so many years ago. Instead, the August 17 issue carried a fond look back at the career and life of one of the most astounding and titillating celebrities ever to work Hollywood. The focus of that LIFE issue was to be kept light, upbeat; it would be at least another year before the American readership would feel comfortable with public grief.
Wiener's photos do show up on the net every so often. But to give yourself an hour's time of seclusion, to sit back and slowly read the book and study the photos without interruption is to not only relive that heartrending set of days but to feel as if you finally have been able to do what you've longed so for so very long– simply say farewell to a good friend and pay your last respects in silence.
Of course, no book is going to replace the experience of actually visiting Marilyn's crypt, but to be able to literally see what that last farewell was like is an experience none of us will ever be able to share. What strikes one while looking through this chronological series of photos, is the once again sense of disbelief that one so loved, so alive, so very real, could suddenly be no more. With "A Hollywood Farewell" we cannot only once again see the grief-stricken faces of DiMaggio, Newcomb, and Greenson, but the view for the first time the expressions playing on the faces of those respectfully dressed fans who watched from the other side of the chain link fence.
Remember that line from the Meryman interview? The one where Marilyn said that if anyone made her a star, it was the people, not some studio. Well here are the faces of "the people" as they watch the burial ceremonies for a woman they likely felt about as we do– not just a movie star but someone we have come to know and to love, a member of our own family. In the searing heat of that August afternoon, they stand beneath the sun dressed in white shirts and ties, tasteful summer shifts, children in their summer Sunday best. Sure, a few of the men are in open shirts but for them most part, all of these people had journeyed to the fringes of Westwood Memorial with their single strand of faux pearls and white gloves, with their straw purses and sunglasses, to simply say good bye to a good friend. Many wear a look of disbelief even though the news was at this point four days old. For every stoic face among the invited, an equal amount of tightly clenched expressions appears on those of the uninvited.
At the dawn of a decade that would bring one sudden death after another, that August afternoon can now be looked at as a harbinger of things to come. But before the assassinations, riots, and war would leave a nation in numbed shock, it was the simple memorial service of a dead movie star that would cause a nation to question the permanence of life, the sudden silencing of joy. "Marilyn – A Hollywood Farewell" allows us all to look back at a time when we were all so much younger, so much more innocent and so much more believing. That might not be worth $600 but surely $85 was a reasonable price after all.
By David Marshall