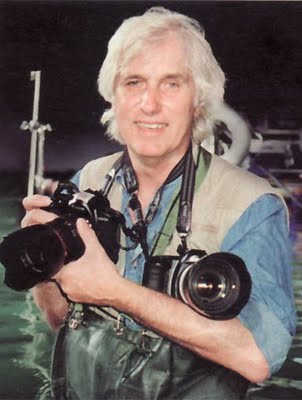 Douglas Kirkland remembers Marilyn as a humble woman who was very different from the movie star he expected to  meet.  When he arrived at her Doheny Drive apartment on an evening in 1961 to discuss her photo shoot for Look magazine, he was prepared to meet a star in a lavish setting.  Instead, he says "she was quite the contrary."  He met a  girlish Marilyn in a simple home who "laughed easily" and was "very gentle" with a young photographer new to the world  of celebrity photography.  She invited him to sit on the bed as she had only two chairs "She slapped the bed and said 'just  sit here, I think of it like a couch.'"
As he prepares for the release of the new version of his book With Marilyn: An Evening 1961, Mr. Kirkland speaks candidly about Marilyn and his memories of her, which are as clear as they ever were.  He's very excited to share the  new version of the book with Marilyn's fans all over the world, and says we can look forward to seeing his intimate  images of her with the best quality yet.  "It's the best it's ever been," he says, adding that fans will "really cherish it."  The new version of the book has a higher quality printing and a larger format that the previous US release, more like the  European version of the book.
The evening when he took the now-famous photos of Marilyn beneath white silk sheets has become a part of history, and looking at the pictures, it is truly as though we can see her in motion – "like a small motion picture".  The photographer says that the moves were all Marilyn's.  "She had a lot to do with creating these images.  Ultimately, it was Marilyn who went into those positions."  As many other photographers have said of Marilyn, when the camera was on  her, she responded to it naturally.  And with Douglas Kirkland on that night in 1961, she responded to the camera and the man behind it with a heat no other actress he had photographed before offered.
"She had this edge.  That sizzle, that blaze is what went into the pictures.  She didn't hold herself back at all."
Marilyn was very different from the other superstars he had photographed recently – especially her alleged rival,  Elizabeth Taylor with whom Kirkland had recently done a photo shoot.  When I asked him how the two differed, he said that Elizabeth was "like nobility".  She was "extremely beautiful, quiet and pristine."  Nothing like the lively woman he met on Doheny Drive in 1961.  "[Elizabeth] was a brilliant actress, but she did not have the blaze Marilyn had."  Marilyn was different from the other stars of her time, a difference that has kept her star shining to this day.
It's evident in the photos of Marilyn taken by Douglas Kirkland in 1961 that she was feeling free, playful, and letting her sexuality shine.  Although Marilyn had struggled for many years to be taken seriously as an actress, she never lost sight  of the fun side of being a star.  If there was some sadness in her, returning to Los Angeles at the end of her marriage to Arthur Miller and returning to her sex symbol status, it doesn't show in the photos found in this book.  And Douglas Kirkland doesn't think she was sad about putting her body in the spotlight again, or at least that side didn't show.  Instead, she was excited to be photographed after a long time away from the camera.  "I am sure that was part of her, but that was not the Marilyn I spent the evening with.  The Marilyn I was with just had an intense heat.  She's seducing, and that is what remains in these pictures."
But there was a side to Marilyn Douglas saw on his last meeting with her that was very different from the woman in the  photographs, and certainly some of the darker side is evident in that other Marilyn.  "There were three Marilyns," Kirkland says, "the girl next door, the hot Marilyn; and yet there was a different person the last time I was with her.  There were many dimensions.  The evening we photographed, nothing showed but the excitement."
When Kirkland and Marilyn parted, they had plans to work together again the future.  Sadly, that opportunity never came.  Douglas Kirkland was working with Coco Chanel when he got word of Marilyn's death and knew he would never see her through his lens again.  A little while after Marilyn's death, Kirkland got a new contract that gave him more freedom to photograph whom he chose; had he been under that contract before Marilyn passed, he might have been able to do another shoot with her.  As it was, he photographed as he was instructed by Look magazine.
"There were so many ways you could interpret Marilyn," he said when asked what sort of photo shoot their second  meeting might have been.  He suggests they might have done more of a fashion shoot, not an overtly sexual shoot like the one with the white sheets, but certainly not lacking Marilyn's sizzle.  "I probably would have tried to keep that charge of sexuality."
As for his thoughts on her death and what she might have become had she lived, Douglas Kirkland has an interesting  view of her that goes beyond her movie career.  "I don't know what she would have done.  She might have gotten pictures that elevated her to a different level…she might have become a fashion icon…she might have tried to write."  This last thought is definitely an interesting one.  Kirkland went on to talk about her relationship with the written word.  "Her diaries were done for her psychiatrist and apparently there was interesting material in there.  She was capable of expressing herself in written words."
"[Marilyn] was a worker, that's how she got to where she was, she worked a lot to get to where she was." Whatever Marilyn might have done had she not passed away on August 4th, 1962, she would have used the same determination  she put into everything, the same hard work.  And the same fire that Douglas Kirkland saw in her in 1961.  That fire proves that she was in no way an aging star on the way out. "Marilyn went out at the top," Kirkland says.
"I think that Marilyn is more significant because she was taken from us.  We miss her, we want her, we'd like her to be still around, and being the same person."
With Marilyn: An Evening/1961 is set for official release on July 16th, 2012, but can be ordered from Amazon right now.  It's sure to be a true collector's item for Marilyn's fans all over the world, filled with images of Marilyn without  inhibition and showing the world that she is still, as Douglas Kirkland says, the "superstar of the world."
Interview conducted by Leslie Kasperowicz