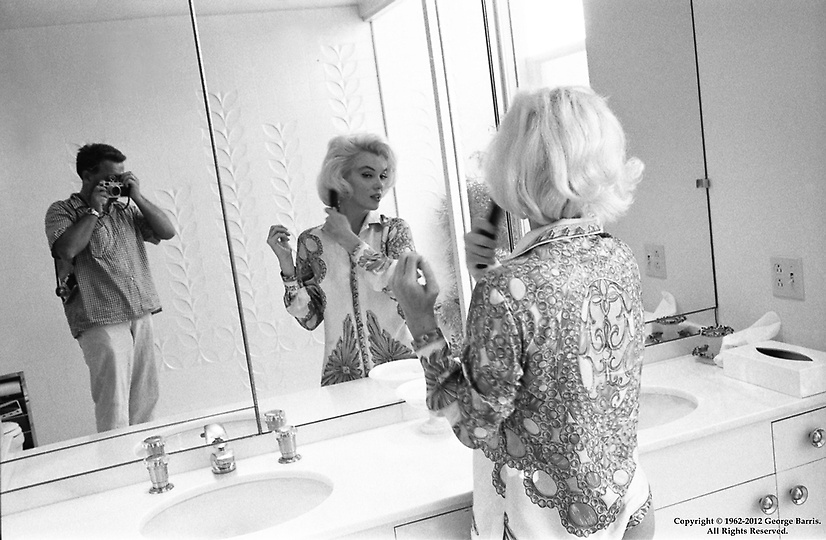 In hindsight, his photos of Marilyn as the sun set on Santa Monica Beach in July of 1962 stand as a metaphor for the sun setting on her life; within weeks of George Barris' beach shoot, Marilyn's life came to a too-soon end.  And today the Marilyn world mourns the passing of the man behind the lens.
Barris' daughter Caroline confirmed to The Hollywood Reporter that George, who was a familiar face at Marilyn memorials year after year, passed away on September 30th at the age of 94.
George was present on the set of Something's Got to Give on June 1, 1962 for Marilyn's 36th and final birthday, and what would also be her final day on a movie set.  He photographed Marilyn in the home of a friend, in a borrowed car high in the hills, and then, finally, on Santa Monica Beach as the wind blew her hair and she danced in the waves.  His conversations with her would later be recorded in the book Marilyn: Her Life in Her Own Words, which has become a frequently-quoted source of Marilyn's own thoughts and views on fame and her life.
Known mainly for his photos of Marilyn in the last weeks of her life, George Barris also photographed many other Hollywood stars, including Elizabeth Taylor, Steve McQueen, Marlon Brando, Frank Sinatra, and Clark Gable.  His career also included service in WWII and the position of Eisenhower's personal photographer in 1945 for the Victory Parade.
George Barris attended many Marilyn memorials and events and was one of the most accessible of Marilyn's photographers to fans from around the world.  He spoke frequently at the Memorial service held at Westwood and signed books and photos for fans at public and private events.  Immortal Marilyn was honoured to have him present at several of our own events.
George leaves behind his daughter Caroline, who was also a frequent presence at Marilyn events, another daughter Stephanie, his wife Carla, and legions of Marilyn Monroe fans who have spent nearly 55 years appreciating his work and his willingness to lend us his ear and tell us his stories of that summer of 1962.
Rest in peace and say hi to Marilyn, George.