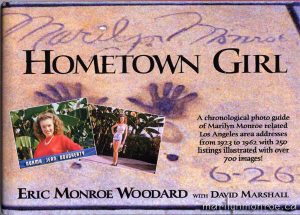 Hometown Girl
By Eric Woodard
2004 HG Press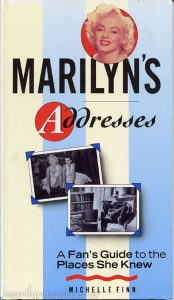 Marilyn's Addresses
                               By Michelle Finn (Morgan)
                               1995 Smith Gryphon Limited
For those of you who weren't able to go to this year's annual MM Community gathering in Los Angeles, I've two books to tell you about that will allow you to see Marilyn's hometown from wherever you are. Or maybe you are planning to head to LA at some point in the future and want to create your own tour of those spots where Marilyn Monroe once worked, played, lived and laughed. Used to be you either went ahead and booked a trip and once there just kind of winged it but with the aid of Michelle Finn and Eric Woodard you can sit down and map out every single place you want to see in person.
Eric Woodard took his time in researching everything from addresses, vintage phone numbers, gathering visuals be they matchbook covers or old postcards, and it paid off big time with Hometown Girl. The resulting book is a class act from the first page to the very last. The colors are vibrant. The paper is of the highest glossy quality. And again the research that went into this project is astounding. As Eric mentions in his introduction, "most people don't understand when I try to explain what Hometown Girl is all about. But then again, this book isn't for them. It is for those fans like myself who have an obsessive need to know the minutest tidbit of information about, to us at least, one of the few iconic symbols of the twentieth century and beyond."
The text on the cover pretty much explains the concept of the book: "A chronological guide of Marilyn Monroe related Los Angeles area addresses from 1923 to 1962 with 250 listings illustrated with over 700 images." What the cover doesn't tell you is that the visual images leap off the page to grab the reader and pull them deep into a world that for the most part is no longer: the actual world Marilyn Monroe inhabited. Yet this is not a presentation of photo after photo but a nearly 200 page collage created by an incredible graphic artist. In the hands of any other author the information would be welcomed but in no way could it have been presented in such a dazzling manner.
Many authors can write about Marilyn's life and I'm pretty sure you've read a good deal of them. But it is one thing to read a four hundred page biography, (even those with a sizable photo section), and quite another to enter Marilyn's environment with Eric Woodard as your visual guide. You can see a picture of the young MM dining with her first husband and her mother, everyone at the table grinning for the likely souvenir photograph, but to see the restaurant in color, see a menu or a matchbook cover and know what now stands there—this is a totally different experience. Or how about trying to find where the famed Macambo nightclub once stood, the place where Marilyn Monroe used her growing stardom as leverage to break the color barrier and land Ella Fitzgerald a booking? Or maybe you're halfway through Donald Spoto's biography and would love to figure out the distance between Peter Lawford's Santa Monica home and 12305 5th Helena? Curious to see what the exterior AND interior of the home Marilyn and Milton Greene rented during the filming of Bus Stop? You've read that Marilyn was looking for a place like Dr. Greenson's house but have no idea what his home looked like? It's all right here in this book.
From the very first page Hometown Girl guides you through Marilyn's day to day life, seeing her world through her eyes, from the quiet of Grace Goddard's backyard, to the skating rink Norma Jeanne and Bebe escaped to, from the Beverly Hilton where she accepted her last Golden Globe to poolside at the Lawford's Santa Monica beach house.
And that's' the joy of this book: to see Los Angeles as it she saw it. Any book that can tell me on which corner to stand and then describe the famous Schwab's Pharmacy to the point where I can actually see Sidney Skolsky rather than the Crunch Gym that stands there today, is more than okay with me. It is a treasure to hold onto and retreat into whenever the spirit moves me.
While Hometown Girl concentrates on the many places Marilyn lived, played and worked in and about Los Angeles and is presented in a chronological-biographical format, Marilyn's Addresses also encompasses many of the locations Marilyn traveled to—from Los Angeles to New York, from Canada to Japan, from England to Mexico.
After she compiled Marilyn's Addresses, Michelle Finn got married, became Michelle Morgan and went on to write Marilyn Monroe: Private and Undisclosed and The Ice Cream Blonde: The Whirlwind Life and Mysterious Death of Screwball Comedienne Thelma Todd , among others. What you've got to remember though is Michelle is not a California native—she was simply a talented fan living in England when she put her self-published "The Marilyn Monroe Address Book" together in 1993. That bit of fan research turned into her first published book Marilyn's Address in 1995. And although this may have started out as more of a fan's hobby, thanks to her impeccable research it has led to Michelle's standing as one of the foremost Hollywood historians.
What I found surprising, (although having now read her other books I realize I should never be surprised by Michelle Morgan), was the amount of information that I had been unaware of. Take Las Vegas for example. I knew that Marilyn had traveled to Vegas for the Dougherty divorce, knew that she had met up with Roy Rogers while there and even got to ride his horse Trigger, but I had no idea where she had stayed. Well, here in Marilyn's Addresses you will discover that it was at The Last Frontier, (still in existence as The Frontier), one of the very first hotel casinos in what was then a sleepy little town out in the Nevada desert. Or take her entry on Paramount Studios. I knew that the last scenes for The Misfits were filmed there but had no idea which scenes or that it was during the two weeks of final filming that Marilyn posed for the Arnold sitting. And although you might already know where Marilyn and Joe went on their first date, not many MM fans know the exact location in New York where Marilyn scrawled "Marilyn Monroe Was Here" in a patch of wet cement. Michelle Finn, all the way over in England made it a point to find out and includes this information in her book.
If I haven't made it clear yet, comparing Hometown Girl  and Marilyn's Addresses is like apples and oranges- both are wonderful additions to any Marilyn collection. Look at it this way: even though two books might be similar, you really should own both. As is the case with The Marilyn Encyclopedia and Marilyn A to Z, both editions of Eve Arnold's Appreciation, or The Complete Films of Marilyn Monroe and Blonde Heat, what you might find in one you won't find in the other. And if you are as entranced with Marilyn as I am, you'll want ALL the information you can get. You read both Donald Spoto and Barbara Leaming, why not both Hometown Girl and Marilyn's Addresses?
David.