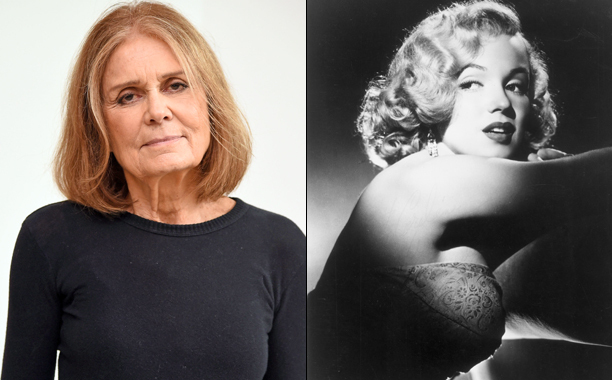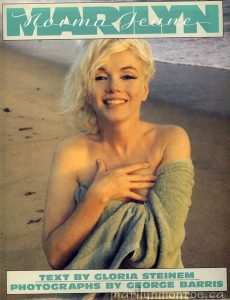 Marilyn: Norma Jeane
By Gloria Steinem
Photographs by George Barris
1986 Henry Holt and Company
ISBN 0805000607
By this time you realize that there are literally countless books focused on the life, career, and physical beauty of Marilyn Monroe. There have been novels, coffee table picture books, memoirs with chapters devoted to the legendary movie star, conspiracy tomes, silly books, scholarly studies, scandal books and gossipy books, books written by friends, pseudo friends, maids, even one by her dog. So this month, looking back on all these choices, I wanted to talk about one that really stands out for me, now and when it was first published.
You have to be of a certain age to fully grasp the impact Gloria Steinem's book had when it first came out, but then one of the perks of growing older is filling in those younger on things that happened in the past when you too were young. In 1986 Gloria Steinem was in her early fifties, the icon of the feminist movement, a women of considerable intelligence who had stood at the head of a movement that had literally been changing America's perception of women for well over twenty years. For her to have written a book about Marilyn Monroe was nearly as surprising as say, Elizabeth Warren writing a book on Taylor Swift. The author and subject just didn't seem to mesh, the differences between them so vast that one wasn't sure if it was a joke, a put on or a put down. The bigger surprise was that with one book Gloria Steinem presented Marilyn Monroe with the respect she'd ached for all of her life. What's more the book forced people to stop and consider that there might be more to Marilyn than anyone had ceded her during her lifetime let alone over the twenty-four years since her death. If Gloria Steinem, THE feminist intellectual of the day, was telling us to take another look at the wiggle-giggle gal of the 1950s, maybe we'd misjudged Monroe; maybe there really was something there of depth that had escaped all the countless newspaper reporters, movie critics, gossip columnists, and moviegoers.
Mailer's Marilyn  was the first to try to explain this. But his book, filled with incredibly gorgeous photos one after another, was, after all, written by Norman Mailer, a great intellectual, granted, but whose prose, especially when writing about Marilyn, tended to be even a bit more purple than his usual output. Mailer, love him or not, made it clear that he was infatuated with Monroe and in between his drooling wolf observations of her life, made it even more clear that he'd wanted her as badly as every male of his generation and to heck with her mind or any other qualities. That he ended his book with a contrived conspiracy theory that he'd later admitted he'd made up only because scandal sells almost as well as sex and he'd needed the money, did him and his subject a disservice.
But Steinem doesn't share Mailer's testosterone infused perspective. Ms. Steinem, in 1986, stated flat out that Marilyn Monroe not only deserved our respect, she deserved a second look by all those who had pooh-poohed her impact not only on American film but American culture and history. Before Steinem's book, it was a given that the majority of women both during Marilyn's lifetime and after held a sort of resentment against her, considered her more of a joke than an actress. Marilyn Monroe was a male fantasy, a buxom blonde with a child's innocence, someone men joked about and elbowed their pals over while women found her somewhat vulgar and rather embarrassing.
Steinem addresses this perception directly. She admits that as a young women she did find Marilyn Monroe, in her tight dresses and cooing voice an embarrassment. But when she admitted that there was something there, something that wasn't allowed to come through in those early 50s films, she began to view Marilyn Monroe as an incredibly strong figure who had risen to the very top of her field in a heavily male dominated industry. Most readers in 1986 tended to forget what a powerful figure Marilyn Monroe truly has been. Sure Bette Davis and others had fought their studios and helped actors break out of the studio restraints, but when Marilyn risked everything to follow her own path by deserting Hollywood and heading off to New York, she proved that a woman could be a one hell of a powerful force to reckon with.
We, in 2017, know this but it took someone of Steinem's stature to point the fact out to Middle America. If the online groups had been around in the 1980s, maybe it wouldn't have been such a surprise that the majority of her fans are women, that it took a feminine perspective to see beyond the moistened and parted lips, the bleached hair and perfect proportions. And that is what Steinem brought to the table. There are drawbacks to the work; like most authors covering the Monroe story in the 1980s, she too sources a lot of her research to Robert Slatzer and there's a lot of Kennedy finger pointing, a connection that was still a major shock even ten years after it had first reached the popular press. But beyond that, Steinem brought a near lyrical sense of Marilyn, aided greatly by illustrating the majority of the book with the wonderful George Barris sessions from the summer of 1962.
Steinem could have, like Mailer, used any of the hundreds of talented photographers who had worked with Marilyn, each with their own unique perception of the ultimate star. But by using the Barris photos taken shortly before Marilyn's passing, Steinem was able to illustrate that there was a stronger connection with the everyday woman than anyone had noticed before. Sure, Marilyn looks beautiful and desirable but she also looks like a woman in her thirties with windblown hair on a cold day at the beach. And when she and Barris got together for a second session in the Hollywood Hills, Marilyn doesn't come across so much as the va-va-voom sex symbol of the day as an easily accessible woman of her era in her Jax slacks and Pucci jerseys.
Steinem presents a Marilyn most often overlooked– the Marilyn of 1962 rather than say 1954 or 1957. Even in 1986 the Barris photos show a woman who could easily be contemporary and that brings Steinem's point across even stronger; there is very little difference between the hurdles and obstacles a woman alone in Hollywood faced in Marilyn's day and the untold crap a woman has to put up with in the workplace of 1986, let alone 2017.
There's another reason why I want to point this book out and encourage anyone who hasn't found it yet to make an effort to do so: Steinem is a great writer. The talent she has shown in her essays for Ms. Magazine, the periodic pieces that appear in the New Yorker, or in the several collections of her work and her recent autobiography, is possibly even more evident here. The book has the feeling that Steinem  has allowed herself the sheer space to fully explore her own feelings rather than restrict herself to a single column. Let me give just one example:
"In the 1930s, when English critic Cyril Connolly proposed a definition of posterity to measure whether a writer's work had stood the test of time, he suggested that posterity should be limited to ten years. The form and content of popular culture were changing too fast, he explained, to make any artist accountable for more than a decade.
"Since then , the pace of change had been accelerated even more. Everything from the communications revolution to multinational entertainment has altered the form of culture. Its content has been transformed by civil rights, feminism, an end to film censorship, and much more. Nonetheless, Monroe's personal and intimate ability to inhabit our fantasies has gone right on. As I write this, she is still better known than most living movie stars, most world leaders, and most television personalities. The surprise is that she rarely has been taken seriously enough to ask why that is so."
– David Marshall