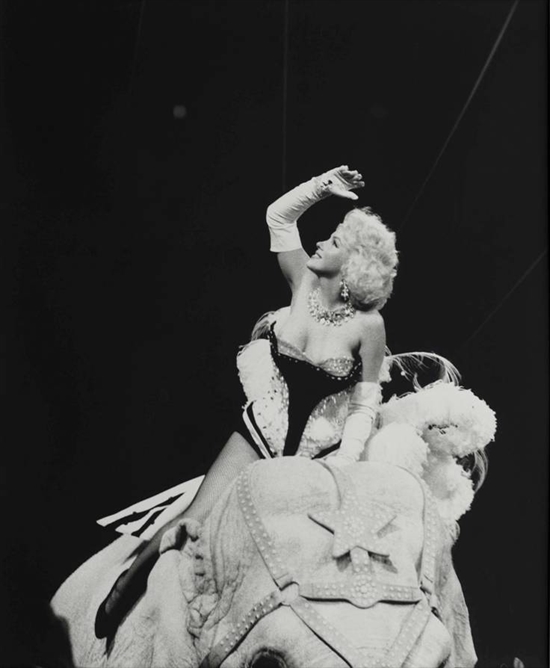 In celebration of Marilyn Monroe's 90th birthday, Immortal Marilyn presents our favorite 90 Marilyn Moments!  From the well-known to those that are less publicized….here are 90 moments that made Marilyn….Marilyn.
That time her Travilla dress flew up as the subway went by and made history.
The time she performed Diamonds are a Girl's Best Friend so well Darryl Zanuck had to convince people it really was her singing.
The time she performed nearly a dozen shows for troops in Korea, rendering her own self ill with pneumonia as a result of performing in the cold in a spaghetti strap dress.
The time she married one of America's greatest sports stars…Joe DiMaggio
That time she refused to be embarrassed by the calendar scandal, when the world found out she'd posed nude, and simply said "I needed the money".
That time she become one of a few women in history up until then to form her own production company, Marilyn Monroe Productions
When she made history for the longest scene of a woman walking away up until that moment, as she strolled away  from the camera in Niagara.
That time she starred in one of the top-rated movies of all time, Some Like It Hot
When she hilariously toasted President Taft in The Prince and the Showgirl.
When she started a Heat Wave by performing it in There's No Business Like Show Business.
That time she sang Happy Birthday, Mr. President and made history (again).
When she rode into Madison Square Garden on a pink elephant for charity.
When she returned to Hollywood triumphant to film Bus Stop, a movie she actually wanted to make.
The time she married one of America's greatest playwrights, Arthur Miller.
The time she won Best Actress at the Golden Globes for Some Like It Hot.
The time she won World Film Favorite at the 1962 Golden Globes.
When she arrived in England to film a movie and set off a press frenzy.
That time she was the Miss Universe parade Grand Marshall.
When she arrived looking like the most glamorous movie star ever at the How To Marry a Millionaire premiere
When she showed up sick and exhausted to smile for a charity event on her 36th birthday, June 1, 1962, at Dodger Stadium.
The time she filmed a nude swimming pool scene for Something's Got to Give and made headlines.
That time she told the Marx Brothers men kept following her, and we all knew why.
When she filmed her Oscar-worthy close-ups for Bus Stop and blew the critics away,
That time she arrived at the Photoplay awards in the gold lame dress and the press lost their minds.
The time her spaghetti strap broke at a press conference for The Prince and the Showgirl and the press lost their minds…again.
The time band leader Ray Anthony threw a party for her and debuted a song about her.
Her first Life magazine cover in 1952.
The time she was invited to open the Lincoln museum in Bement, Illinois, and judged a beard contest.
That time she arrived at the premiere of The Rose Tattoo and posed for pictures with the iconic Marlon Brando.
That time she met the Queen of England.
When she received David di Donatello Award from Italy for acting in The Prince and the Showgirl.
…and then won the French Crystal Star for the same role.
The time she got Ella Fitzgerald a gig at the Mocambo club in Los Angeles.
When she posed for the Fabled Enchantresses series for Richard Avedon and Marilyn was lost in the amazing transformation into actresses past.
The time she rocked the March of Dimes fashion show and charity event.
When she placed her hand and footprints at Graumann's Chinese Theatre, becoming a solid part of Hollywood history.
That time she kicked off the ball at an Ebbets Field soccer game.
The time she rocked a potato sack dress to show up her critics.
When she blew everyone away at the Seven Year Itch Premiere in NYC.
The time she presented an Oscar.
When she appeared on the Jack Benny Show.
When she defended her decision to leave Hollywood on the Person to Person show.
When she appeared on the classic Charlie McCarthy show.
When she was a part of the Oscar-winning classic film All About Eve
When she was photographed lifting weights and once again proved she was ahead of her time.
That time she was the first Playboy cover and centerfold and launched a dynasty..
When she posed in a bathing suit and crutches during filming of River of No Return and proved even crutches can look good.
When she walked into walls with perfect timing, playing the blind Pola who won't wear glasses in How to Marry a Millionaire.
When she starred with iconic actor Clark Gable in The Misfits.
When she was photographed eating hot dogs and splashing in fountains in New York.
When she won the 1952 Henrietta Award – technically her first Golden Globe.
When she was an Usherette for Baby Doll and everyone wanted to be shown to their seats.
When she lost her earring at The Prince and the Showgirl premiere and Ed Sullivan could not get it back on.
That time she showed the world she was still on top at the Some Like it Hot premiere.
The time a party was thrown for her and The Seven Year Itch at Romanoff's, and Marilyn was officially a star.
That time she outshone everyone at Walter Winchell's birthday party.
Her first starring role in Ladies of the Chorus, when she saw her name in lights.
When she showed she was a force to be reckoned with at the Don't Bother to Knock Premiere.
When she posed on the USS Bennington.
The time she supported Arthur Miller against The House Un-American Activities Committee.
When she defied the odds and started studying at the famed Actor's Studio
When she refused to be forced into making How To Be Very, Very Popular, defying Fox, and winning.
When she refused to continue to be a studio pawn and moved to New York, and won…AGAIN.
When she spoke out for civil rights and equality in her final interview
That time she posed with some bears in the Canadian Rockies and blew away her image.
When she sang "I Wanna Be Loved By You" and rocked it.
When she was named Artichoke Queen.
The time she became the first major American star to speak out about childhood sexual abuse.
When she defied the odds in her career and made The Misfits with Clark Gable, an artistic film featuring Hollywood greats.
When she starred opposite one of the greatest actors in history, Sir Laurence Olivier.
That time she wrote a $10,000 check to an orphanage in Mexico after tearing up a $1000 one.
When she caught the press with dropped jaws by saying she sleeps in Chanel No 5, of course.
When she happily posed with African-American children in the heart of segregation.
When she refused to be misquoted in interviews.
That time she tried to save the birds in New York by paying kids to set them free.
When she wrote sweet letters in the voice of Hugo the Bassett Hound to her step-children.
When she was among those who attended a dinner for Nikita Khrushchev at Fox, and declared it "interesting".
When she outshone wonder of the world Niagara Falls in movie stills.
When she starred in the first Cinemascope production to be completed (although the Robe was released first).
Every single time she stopped to sign an autograph for a fan, no matter what was going on.
That time an enormous image of Marilyn rose above a New York Theatre to promote The Seven Year Itch.
The time she wowed the Mexican press in 1962.
When she attended Yankees Spring training like it was no big deal, just Marilyn Monroe.
Every single iconic Milton Greene photoshoot.
That Bert Stern Vogue photoshoot where she showed she was more than just our Marilyn Monroe.
That time she made Emilio Pucci a household name.
When she wore jeans before it was popular.
When she played a deranged babysitter before anyone saw her as a dumb blonde in Don't Bother to Knock.
How she made the Rat Pack look even cooler than anyone thought was possible.
90. That day in 1926 when she was born….Happy Birthday Marilyn!