The countdown is on to the 2017 Memorial Week in Los Angeles, marking 55 years since Marilyn Monroe left us and honouring her memory.  Immortal Marilyn is working hard to bring fans several memorable events, and this is the page to visit to keep up on the latest!
Memorial Week takes place from August 1-5, 2017 and is a gathering of Marilyn fans from around the world.  Immortal Marilyn is proud to plan and sponsor a number of special events during this week once again!  Check out all the details and check back regularly for updates and news!
Accommodations
As it has been for many years, Immortal Marilyn's "home base" will be the Hollywood Orchid Suites Hotel.  Walking distance from Hollywood Boulevard and attractions such as the Walk of Fame, Kodak Theatre, and Graumann's Chinese Theatre, the Orchid is ideally located for a visit to Hollywood!  The hotel is taking reservations from IM members already – book soon, as it fills up fast.
There are a number of other hotels in the are fans can consider for their accommodations, especially as the Orchid fills up, including the famed Roosevelt Hotel, the Hollywood Celebrity Hotel which is in close proximity to the Orchid Suites, and the Magic Castle.
If you would like assistance with finding a roommate to share the costs of a hotel room, please feel free to contact us at immortalmarilyn@gmail.com.
Memorial Week Events List
Immortal Marilyn is in the process of planning all of our events for Memorial Week.  Other events will be hosted by Marilyn Remembered, which has a schedule and details here.  Here is a schedule of events as they currently stand.
August 1, 2017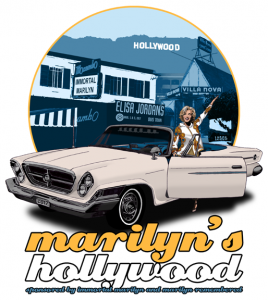 Marilyn's Hollywood:  A Fact-Based Tour of Cinema's Greatest Icon
In conjunction with the Marilyn Remembered Fan Club, join us for a guided tour of Los Angeles and Hollywood, lead by Elisa Jordan of LA Woman Tours.  You'll learn about the people who helped shape Marilyn's life and the places that inspired her. What you'll see:
The orphanage where she dreamed of becoming a star
The former beauty salon where she first became a blonde
The restaurant where she met Yankee Slugger Joe DiMaggio on a blind date
The house (well, the gate anyway) where she passed into eternity.
The tour will start at 10:00 AM.  Marilyn's Hollywood takes place in a comfortable mini coach. We will be getting out at various stops for photo opportunities, so remember to bring a camera.  Note:  Seating is limited, we recommend you purchase tickets as soon as possible.
To learn more about the tour and to reserve your seat, click here.
August 2, 2017
Immortal Marilyn Pool Party
Location: Avalon Hotel Beverly Hills (formerly the Beverly Carlton).
Time:
RED CARPET ARRIVAL: 2:30pm
POOL PARTY: 3-6pm
VIEWING OF MARILYN'S ROOM: 6-7 pm in small groups
Cost: $80 per person.
Details: The kick-off event for Memorial Week is IM's traditional pool party!  This year we will gather around the pool at the Avalon Hotel where Marilyn herself lived in her starlet years and was frequently photographed.  This event will include a buffet-style meal and drink credit in the ticket price.  To make this day extra-special, attendees will have the opportunity to visit and take photographs inside Marilyn's suite at the hotel, where her famous 1952 Life magazine cover was shot!  Although it's not required, it's traditional to attend the pool party in 1950s attire, and feel free to come in your 50s swimsuit for a dip in the hourglass shaped pool where Marilyn was photographed!  SOLD OUT, NO TICKETS AVAILABLE
A variety of fantastic raffle prizes are being gathered, and each attendee will receive ten raffle tickets as part of the ticket price.  Additional raffle tickets are available for purchase, priced as follows:
$1 each
7 for $5
15 for $10
30 for $20
Tickets will be sold at the pool party.  Cash only please.  Must be present to win!
August 3, 2017
Marilyn's Hollywood Tour.  Hosted by Elisa Jordan of LA Woman Tours, a second tour will take place based on demand (tour requires minimum of 10 guests.  (See above for full information)  To learn more about the tour and to reserve your seat, click here.  SOLD OUT FOR THIS DATE.
Gentlemen Prefer Blondes On The Big Screen.  Marilyn Remembered is hosting Gentlemen Prefer Blondes on the big screen at the famous TCL (Graumann's) Chinese Theater in Hollywood.  Details and ticket pricing as follows, ticket can be purchased at Fandango.
6:00 PM – VIP Package Tour
7:00 PM – Gentlemen Prefer Blondes
9:00 PM Private Reception
Pricing:
$39.00: VIP Package
– Movie ticket, a large popcorn, a large drink
– Tour ticket
– Private reception with a glass of champagne
– A Marilyn souvenir
$10.00: Gentlemen Prefer Blondes Showing Only
August 4, 2017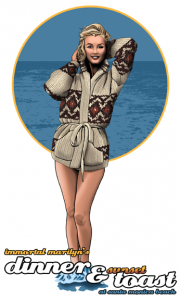 Santa Monica Beach Dinner and Sunset Toast.
Location: Mariasol Restaurant on the Santa Monica Pier
Time: 5:30 – 8:30 PM
Cost: $40
Details:  Join us for a private dinner in the Del Sol Room at Mariasol Restaurant, located over the water on the world-famous Santa Monica Pier with unparalleled views of the beach and the Pacific Ocean .  Ticket includes a buffet dinner, non-alcoholic beverages (a bar with private bartender will be available on an individual tab basis), and a sparkling wine toast at sunset, all hosted by the fabulous staff at Mariasol.  After dinner, join us as we go out to the beach put our feet in the sand where Marilyn once walked and raise a second glass to her memory on the eve of her passing.
Tickets can be purchased via Paypal at lkasperowicz@gmail.com.  Please email for information on purchasing by mail. TICKET SALES ARE CLOSED.
August 5th, 2017  
Memorial Service at Westwood Memorial Park.  The annual memorial service for Marilyn Monroe, held by Marilyn Remembered, will take place at 11 am in the chapel at Pierce Brothers Westwood Memorial Park. Inside seating for the service is fully reserved at this time, but attendees can still listen to the service from outside.
An Evening With Marilyn: A Special Charity Event at Hollygrove.  A charity event at Hollygrove, formerly the Los Angeles Orphan's Home, hosted by Marilyn Remembered.  Details can be found here.  SOLD OUT.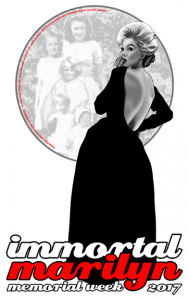 LOVE OUR LOGOS???  Check out IM's Memorial Week store at Red Bubble featuring all of Melody Lockard's incredible designs and get your souvenir gear!
To keep up on the news, join the discussion, and enjoy the excitement of planning this amazing week of Marilyn events, please join us in our Memorial plans Facebook Group!