[vc_row][vc_column width="1/1″][/vc_column][/vc_row][vc_row][vc_column width="1/1″][vc_column_text]
1953
1954
1955
1956
1957
LIFE OF MILTON GREENE
Milton Hawthorne Greene was born in New York in 1922 with a passion for photography. At the early age of 14 he began taking pictures. His first love of photography was for fashion photography. He received a scholarship to Pratt Institute to continue his love of photography. Shortly after that he sculptured himself into being a photojournalist and wizard of composition. He then began assisting Louise Dahl-Wolfe, distinguished fashion photographer known for her unique covers and pages in Harper's Bazaar. By the age of 23 Milton Greene was known as "Color Photography's Wonder Boy."
In the 1950 & 1960's most of his work appeared in the big national magazines such as Life, Harpers Bazaar, Town & Country, Look and Vogue. Although he was known for his fashion photography, what he's most remembered for are his photos of musicians, films, television, theatre, celebrities and famous artists. Some, if not most, of these photographs are known legendary.
Milton was also a director which enabled part of the qualities he had to best personify the "real" person he was photographing. That helped to make his photo's eloquent and unique, as he converted his remarkable vision into compelling art.  Milton's belief was that he wanted to capture people's beauty, beauty in their heart and to show them in a natural – but elegant – way.
Milton photographed numerous celebrities including Marilyn Monroe, Marlene Dietrich, Cary Grant, Frank Sinatra, Grace Kelly, Sophia Loren, Audrey Hepburn, Andy Warhol and many many more. However, it was his unique friendship and partnership, and numerous photographs of Marilyn Monroe for which he is mostly remembered. Milton & Marilyn first met in 1953 while on assignment for Look Magazine. They quickly became close friends and eventually created their own film production company, producing the films Bus Stop & The Prince and the Showgirl. Marilyn even lived with the Greene's at their Connecticut home. It was this time that Milton was able to capture many beautiful images of Marilyn showcasing her moods. They were close friends for almost 10 years, and Milton photographed countless sittings of Marilyn, one of his most memorable was the "Black Sitting".
Marilyn also trusted Greene to tell her autobiography, titled "My Story". Milton also worked with Norman Mailer on factual auto-biography called "Of Woman and Their Elegance".
Along with other photographers, such as Richard Avedon, Irving Penn, Cecil Beaton and Norman Parkinson, they are credited for bring fashion photography into the realm of fine art. Milton's work won him many national and international awards and honors, medals, and among them was the American Institute of Graphic Arts and Art Director's Club of NY, Chicago, Los Angeles, Philadelphia, San Francisco and Detroit. The Art Director's Club of New York awarded him one of his last awards for his work in Harper's Bazaar.
MARILYN & MILTON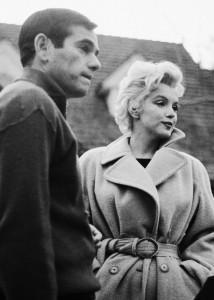 Marilyn was first turned on to Milton by his photographs. The two met one another in 1953. Milton was photographing some of the most famous people, and his name was pretty well known. Look Magazine had assigned him to shoot the up and coming sex pot – Marilyn Monroe. Marilyn was excited to meet him, and upon meeting him (seeing a 27 year old man in front of her) exclaimed "But you are just a boy!" Milton was confused and said back "And you are just a girl." However, the two hit it off and became close friends. They developed the sort of deep bond that she would have with no other photographer or friend, only Milton. One of their first, if not their first, sessions together took place in Laurel Canyon, California, known as the Rock Sitting…
A year later in 1954 Milton brought up the idea of Marilyn moving to New York and one of their most famous sessions took place this year, the Ballerina Sitting, along with the Wicker Chair Sitting that same month of September 1954. The Ballerina Sitting was inspired by an ill-fitting dress with a crinoline. This enchanting series of photographs was taken at Milton's studio on Lexington Avenue, NY.
FROM 'MILTON'S MARILYN'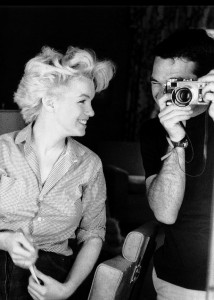 "On September 9th she flew without Joe to New York for location filming for 'The Seven Year Itch'. The next day she reported to Milton's Lexington Avenue Studio. With the festive participation of Dom Perignon, he shot her in various buoyant juxtapositions to a wicker chair, but the highlights of that sitting resulted from a mistake. He captured her as a ballerina – which certainly she was not – when the costume he ordered proved to be too small. "That's all right" he said, "just hold it up against you." Some of the most poignant photos of Marilyn Monroe emerged, to be sure, but something more. The pictures became more generic portraits of a dancer to challenge even the sketches of Degas."  
At the time of these sittings things were about to change for Marilyn. In September of 1954 she was still married to Joe and in the process of making "The Seven Year Itch" for Fox. Both these situations would change, she would soon divorce Joe, and shortly after move to New York in an effort to negotiate a better contract with Fox after refusing to make films they had picked for her and abandoning Hollywood. She would also join the Actor's Studio and begin studying with Lee Strasberg. What Marilyn didn't know was that these things would also bring contribute to her eventual break-up with Milton and dissolution of Marilyn Monroe Productions.
When Marilyn did move to NY in 1955, Milton thought that Marilyn's move to NY may be a fresh start for her. She was extremely unhappy with her business and personal relationships and upset from her recent divorce to Joe DiMaggio. Along with Milton, and attorney Irving Stein, they sued 20th Century Fox.
Marilyn was now focusing on her career more than ever. She worked hard and took up classes at the Actors Studio in New York. Milton arranged for her to have some free time to take classes, while he was in court with Fox. In the meanwhile she was living with the Greene's in their New York and Connecticut homes. Also in 1955, on April 8th, Marilyn was featured on the Edward R. Murrow 'Person to Person' television show. Something new and exciting for her as this was all live, no prefilming.
In their battle with Fox the outcome was successful. Furthermore, they went on to form their own Production Company "Marilyn Monroe Productions." This made Marilyn feel her life was back in control, she was getting 51% from MM Productions and on January 7, 1955 Marilyn held a press conference to announce the formation of Marilyn Monroe Productions, in partnership with photographer Milton Greene. Right away Milton got to work, he had up to 4 movie offers going with MM Productions. Their first film, Bus Stop, was signed with 20th Century Fox, and the second, the Prince and the Showgirl, with Warner Brothers.
Between all of this going on, in 1956, came the Black Sitting. Done in early 1956 in New York City, the Black Sitting is perhaps the most celebrated session between Marilyn Monroe and Milton Greene. According to the book Milton's Marilyn, Joe Eula sat in on the shoot as it became more relaxed with the consumption of champagne and caviar. He is quoted as saying, "The clothes go off and the g*dd*mned hat goes on and the pictures are always just perfect and they are never vulgar. They aren't glamorous pictures, in fact they border on being funny, on being a joke, comedic with fishnet stockings and a black hat and black this and that and a glass balanced on her knee and a big rip going up the ass, but they are gorgeous. They have that wonderful little-girl attitude, having a good time playing dress-up."
"Milton made this black velvet womb. Velvet was draped over chairs, they must have cornered the black velvet market on 7th Ave, and strobe lights, remember strobe lights? There is something about black velvet that is very sensuous and very rich, 'Look at me, here I am a street kid but here I am in black velvet, wow!" – Amy Greene
The Greene's and Marilyn rented a home on North Beverly Glen Blvd. They were there to make a film and the house revolved around that. Milton and Marilyn were up at 6am. They worked all day. They got home late after viewing the rushes, had dinner, and Amy would read line's with her to prepare for the next day. Everyone was in bed by 11pm to start the cycle all over again the next morning.
By the time Marilyn began Bus Stop Milton was acting as a buffer between her and the world. One unhappy reporter noted, "No one gets to Marilyn without first clearing through him." Milton also had creative input in most things Marilyn. On Bus Stop he designed the look of the picture, supervised the lighting, and some say came up with Cherie's incredible pale makeup.
One person who denied this was Whitey Snyder, Marilyn's long time make-up man. "That's BS, Milton Greene was a pain in the butt. He worked his way in there and he kind of represented her, but he didn't design her makeup. Marilyn and I had a meeting before the shoot began, and she decided that, being a chanteuse who was asleep all day, in the nightclub all night and never seeing the sun, she had to be absolutely white. Well, Milton Greene came up with the idea of putting clown white on her, but hell, I used a little clown white and mixed that with some other colors to make it a little more natural. Otherwise it would have been too damned white. I think it was still too white, but she wanted it that way. I tried it a shade or two darker and it made her look so much prettier, her teeth stood out better, but I was overruled and so I thought, 'What the hell, I don't care.'" Milton was not credited at all on Bus Stop. The partners were in England when the picture opened on August 31, 1956.
After Bus Stop was completed and work began on the Prince and the Showgirl Marilyn had been in a relationship with Arthur Miller, and by 1956 the relationship had grown so much that they were married.
There are many different stories into the feelings that Arthur and Milton had for one another. However, it seemed that Arthur wanted to replace Milton, and in a sense was jealous of MM Productions. He was not being the supportive kind of husband Marilyn needed according to the Greene's, and he drew apart one of the best & secure things she had going for her. It also was the end of protective and loyal friendship she & Milton had.
Arthur was shocked to know that Milton did not want the millions of his share of MM Productions, but only the amount of money he had put in. Milton said he did this to not be one of the many people in Marilyn's life who took advantage of her. When Milton had said this Marilyn had tears in her eyes. It was a sad way for a wonderful friendship to end, and one can only imagine what they both must have felt.
Amy Greene and Marilyn met for the first time in months at the premiere of the Prince and the Showgirl. Amy was pregnant with her second son, Anthony, and showing it. Marilyn came over, threw her arms around her and kissed her. "Can I feel your baby?" she asked, before placing her hands on Amy's stomach. "I don't think there were any hard feelings on her part; I think there were hard feelings on my part," Amy reflects nearly forty years later. "I was so disappointed in what she hadn't seen in Milton. She didn't mean anything in my life one way or the other, she meant something in my husband's life. I was never jealous of Marilyn. Arthur was always jealous of Milton, which is interesting in a way. Arthur had another life. Why should he be jealous? I didn't need Marilyn Monroe, but she sure as hell needed Milton Greene, and he needed her, because both of them were never the same after that. These two people should have been together through thick and thin. Nothing….nothing should have put them apart. I was smart enough to realize that. If Arthur had been smart enough to realize that, it would have been a whole other life for both of them."
At the end of January in 1957 Milton & Marilyn had their last photo session together, the Red Sitting. It took place 2 months after their homecoming from England, for filming on 'The Prince and the Showgirl.'
Their friendship was on thin ice at this time. Milton and Arthur both were blaming one another for things that went wrong with Marilyn Monroe Productions. Milton was shocked that Marilyn was leaving him, and yet she was caught in the middle between Milton, her long time friend and business partner, and her husband. Despite Millers insinuations, no evidence of foul play on Miltons end ever emerged, no indications of skullduggery. It was just personal, Millers greed and Marilyn's need to trade one champion for another. However, Marilyn did return to Milton's studio for the formal Red Sitting session. Milton arranged a series of black drop cloths to dramatize her simple red dress. The results were among their best, the quintessential Monroe-Greene creation – playful/provocative, innocent/wanton – without a hint of dissension or turmoil. In the final frames, with her body outstretched, her head turned away from the lens, she seems to be fading into an infinite black. It would be the last time they would work together.
In July of 1962, Milton's wife Amy had a dream that Marilyn was in trouble. She begged Milton, who hadn't spoken to Marilyn in 4 years, to call her. She felt that Marilyn needed him, their friendship again. Milton agreed to call her and said if she needed him he would drop his current assignment and be there for her. He called Marilyn and they talked. She was so happy to hear from him. Milton asked if she'd like him to come out there and be with her for support, she had told him no that she would be okay.
Milton called Marilyn one more time before he left for his assignment in Paris and she seemed ok. On Sunday August 5th the Greene's had a picnic lunch at Fontainebleau. When they got back to their hotel room they received a phone call from Alicia Corning Clark, who told them arrogantly that their friend Marilyn Monroe had just killed herself (Alicia Clark had said something derogatory about Marilyn the day before which really upset Amy). Amy didn't believe her on the phone and gave the call to Milton. Milton spoke for a while and then called Arthur Jacobs, the MM Productions publicist, spoke for a bit and hung up. He then turned to his wife, his face colorless, and said "You were right, I should have gone to her."
Milton took the widest range of photos of Marilyn, she emerged as many different people in their sessions. She was standing on sets of 20th Century Fox, the streetwalker, a gypsy fortune teller, a peasant, a saloon girl, a boater. In Laurel Canyon they looked for more rustic settings, and in Connecticut took pictures in a neighbor's pool.
Furthermore, Milton never believed she killed herself.
Milton Greene returned to work as a photographer, but the madness of Marilyn's world had done its work. He became bitter and disillusioned, as his dependence on alcohol and drugs increased.  In a 1982 interview he told a Los Angeles newspaper that he remembered Marilyn as "ultrasensitive, and very dedicated to her work whether people realize this or not. She came through magnificently in 'Prince' and she was great in 'Bus Stop.' All I did was believe in her. She was a marvelous, loving, wonderful person I don't think many people understood."
MARILYN & MILTON'S SON, JOSHUA GREENE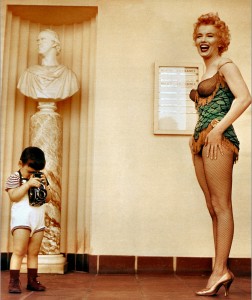 When Milton Greene first met Marilyn in 1952, on assignment for LOOK magazine, he was already a well known celebrity photographer. Famous among many, especially for his photo's in LOOK and LIFE magazines. In the years that followed he not only became Marilyn's personal photographer, but also her artistic advisor, her agent, and then business partner in 'Marilyn Monroe Productions'.
Marilyn lived with Milton's family, his wife Amy and son Joshua, for some time experiencing the support she desperately needed for her work. Many years after Milton's death, in 1985, his son
Joshua finally presented them to the public in the book 'Milton's Marilyn' which has now also been re-released in a larger hardback copy.
Joshua Greene was just a young boy when Marilyn was living with his family.
JOSHUA GREENE TODAY
Joshua Greene also became a photographer, like his father, and began working with digital imaging in 1993. Nash Editions founder Mac Holbert introduced him to the pressures and cruelties of the "Mac" mistress. Greene's company 'The Archives' is committed to the restoration of photography and is currently working with the collections of David Sutton and the estate of Art Kane. 'The Archives' is collaborating with Hewlett Packard to introduce inkjet prints as fine art.
Here is a link to the Archives website – http://www.archivesmhg.com/[/vc_column_text][/vc_column][/vc_row][vc_row][vc_column width="1/1″][vc_column_text]
"I thought I'd seen them all; being in the business I'd seen so many models and actresses. But I'd never seen anyone with that tone of voice, that kindness, that real softness. If she saw a dead dog in the road, she'd cry. She was so supersensitive you had to watch your tone of voice all the time. Later I was to find out that she was schizoid – that she could be absolutely brilliant or absolutely kind, then, the total opposite." – Milton Greene
"I was never jealous of Marilyn. Arthur was always jealous of Milton, which was interesting in a way. Arthur had another life. Why should he be jealous? I didn't need Marilyn, but she sure as hell needed Milton, and he needed her, because both of them were never the same after that. These two people should have been together through thick and thin. Nothing… nothing should have put them apart. I was smart enough to realize that, it would have been a whole other life for both of them." – Amy Greene, wife of Milton
"All I did was believe in her. She was a marvelous, loving, wonderful person I don't think many understood." –  Milton Greene
[/vc_column_text][/vc_column][/vc_row][vc_row][vc_column width="1/1″][vc_column_text]
Please see disclaimer page for sources and copyright information. Dates have been taken from the Milton Greene website. 
[/vc_column_text][/vc_column][/vc_row]