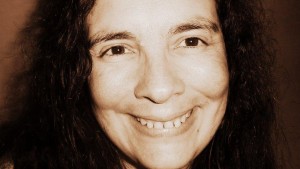 I first became aware of Marilyn as a child, through images like her famous pose in that revealing gold dress, and her face in photos taken not long before she died. The first time I saw her in a film was Bus Stop, on TV in my grandad's house. Her character, Cherie, is described as an angel, and that's how she seemed to me. A few years later, I saw her in Some Like it Hot.
When I was twelve years old and spending the summer in Ireland, my dad bought me a copy of W.J. Weatherby's book, Conversations With Marilyn, and I realized she was much more than a great beauty. Back home in London, I began collecting mainly posters, cards, records and books. I didn't have television, so my friends would videotape her films for me.
As I grew older, Marilyn remained important to me. Aged thirty, I began writing The Mmm Girl, a novel about her life, which was published in 2007. While researching my book, I became a member of Immortal Marilyn. I later joined the staff, and have contributed articles to the website. Since 2010, I have also maintained a daily blog about Marilyn, ES Updates, as part of the Everlasting Star community.