[vc_row][vc_column width="1/1″][/vc_column][/vc_row][vc_row][vc_column][vc_column_text]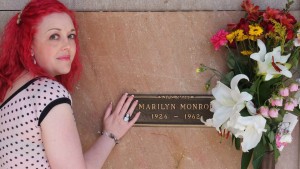 I first became aware of Marilyn when I was a child watching 'Some Like it Hot' with my Mum. I didn't really know who she was, but she was captivating, beautiful and almost ethereal to me. I couldn't quite believe that she had died sixteen years before I was born.
I carried on watching more of her films and in my early teens started collecting posters and postcards of her. I was probably about 14 or 15 when my full blown fascination and love for her started.
All that time, I thought that there was only me that felt that way. When I got a computer in 1999 I realised how wrong I was. I joined Immortal Marilyn (Hollywoodland, as it was then), and a whole new world was opened up to me. I became IM staff in 2004.
I can't really pinpoint what it is that I love so much about Marilyn. There is so much more to her than her obvious physical beauty. She came from a horrendous start and became the most famous woman in the world. She did all that with only herself for support. She spoke out about various issues before it was popular, for instance, civil rights and sexual abuse. She was strong and ambitious. She was an extraordinarily gifted actress and strove constantly to improve. I love watching her on screen. She was a savvy businesswoman and started her own production company. She was a self-taught intellectual after years of self-improvement and study. She was kind, generous and supported many different charities.
Most of all, I think she was fun, I think we would get along if we met. I don't see her at all as she is portrayed as a depressed, helpless, tragic victim. That was not her. She had sad times, but she also had very happy times in her life, just like all of us. She struggled with the same things that we all do. She was human. She was inspirational.
I am proud to be in a position to be able to stand up for her with Immortal Marilyn. There is no-one who has her interests at heart, not even her own estate. There are more lies, myths and misinformation accepted as fact when it comes to Marilyn than probably any other famous figure and I find this extremely sad. The public image of Marilyn is so far away from whom she really was, and I hope in my small way I can help to show people the real woman.[/vc_column_text][/vc_column][/vc_row]