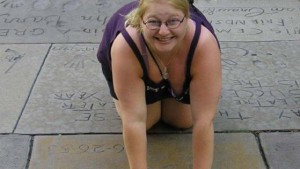 I first discovered Marilyn around 1981 while visiting my sister. She had a copy of 'The Joy of Marilyn – In the Camera Eye' by Sam Shaw on her coffee table. I had no idea who this woman was, but she was beautiful and clearly much loved. Looking through the book made me very happy for some reason. She was a wondrous discovery to that 10-year-old.
I was reminded of her about a year later when my father's August LIFE magazine came in the mail. The pictures by Bert Stern were a bit naughty, but innocent, too. What struck me, though, was the shock that this beautiful lady had died so soon after they were taken. That fact helped to boost my interest. Who was this woman who left the world do young? What happened to her? Then came my first purchase perhaps a year later – 'Finding Marilyn' by David Conover was on display at the local bookstore – discounted. I bought my copy and flew through it. And that really started it.
I then bought/rented/watched/loved anything and everything related to Marilyn for the next several years. People I knew in junior and high school still say any time they hear of Marilyn, they have to think of me because my interest in her was such a huge part of who I was. And everyone knew it. And that's still the case today. I am much more choosey about the items I collect now – I prefer books, magazines, and pictures. But I have lots of other little items to accent my collection, like pillows, purses, Christmas ornaments, … I once had a penpal in the US who shared my love for Marilyn, but aside from him and – to a smaller extent – my sister, I felt rather alone.
Until I joined some online groups. Eventually I dropped them all except the one which stood out far above the others. In Hollywoodland, people not only shared pictures, but really talked about her, discussing events and dates from her life, talked about her personality, really got into the woman behind the persona. There was a real intelligence and knowledge there that just didn't exist in the other groups. So, it was my exclusive.
Later, the name changed to Immortal Marilyn. I have made so many friends through IM, all of whom I cherish. I attended Marilyn meets in Los Angeles in 2004, 2005, and 2007. There, I saw and experienced things that I just never would have without the group and the planning of its staff. I am still in awe of it all. Immortal Marilyn is my Marilyn home and my IM friends make up my Marilyn family. I can't imagine a life without Marilyn and don't particularly want to imagine it either. There has been too much joy in my life in so many ways thanks to Marilyn Monroe.